When it comes to talk about Mac cleaning and optimization, you will think of "CleanMyMac" firstly. However, unless you subscribe to the "monthly plan" of SetApp to use CleanMyMac for free, it is a little expensive to buy it alone.
But besides CleanMyMac, there are many cost-effective and useful utility tools on macOS, such as MacBooster 7. It is priced at about a quarter of CleanMyMac, but it's functions are on a par with CleanMyMac's. It has complete functions of the maintenance/optimization/cleaning for macOS, and it can also keep your Mac running at its best.
MacBooster 7 – High Cost-effective Mac Cleaner Tool
Because CleanMyMac is popular with Mac users, the price of CleanMyMac seems to be getting higher and higher. If you are not a SetApp subscriber, it would be uneconomical to clean up junk files on Mac once or twice a month if you buy CleanMyMac on its official website. In this case, MacBooster 7 will be more suitable! Most importantly, it is cheaper and more cost-effective.
MacBooster possesses almost all the cleaning functions as an "excellent" Mac cleaner tool, ranging from simple one-click performance optimization to deep system junks cleaning, optimizing the Login Items, killing the virus and malware, searching for the duplicate files on Mac, completely removing apps on Mac, etc. Not only it is fully functional and powerful, but the MacBooster interface is also very simple and clear. So it is easy to use and everyone can easily try it.
1. Uninstall Applications on Mac Completely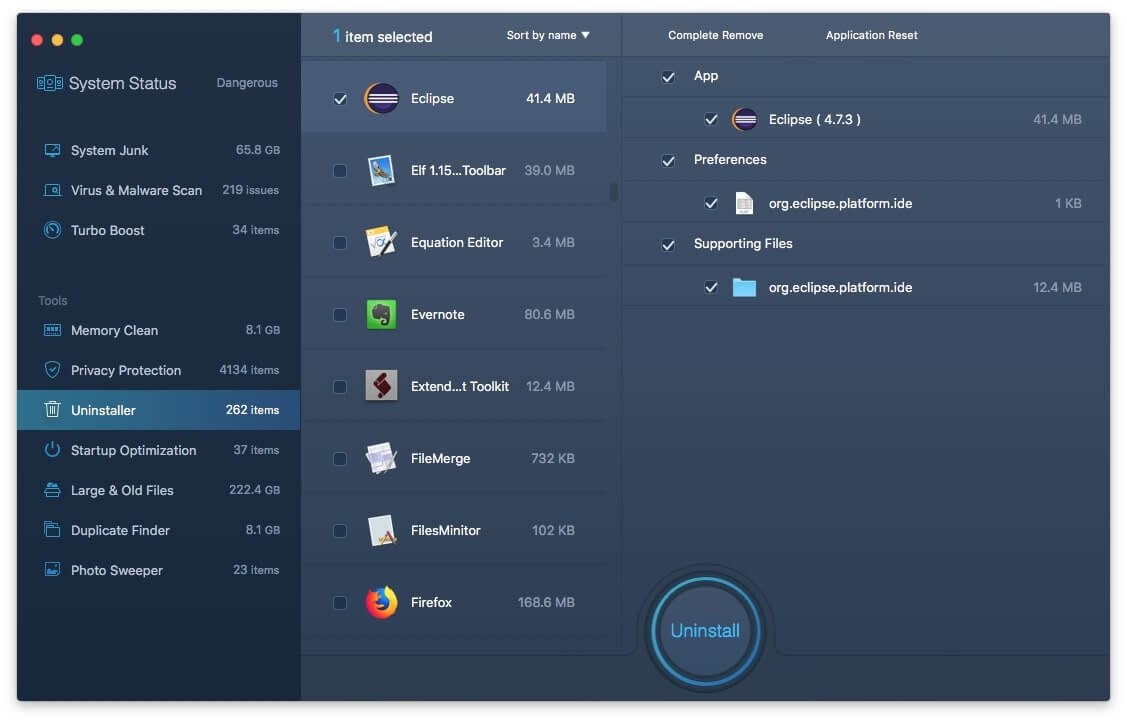 Most of the time, After people drag the apps to the Trash, they may think those apps are deleted. In fact, this cannot completely uninstall the apps, because there are still a lot of files left in the macOS system. As days go, maybe your Mac's precious hard disk storage space is occupied by this garbage.
Before uninstalling apps, Mac will automatically scan in-depth to help you find out the setting files, support files, caches or other associated files of the apps, so that you can choose what files should be cleared when removing the apps.
2. Improve macOS Performance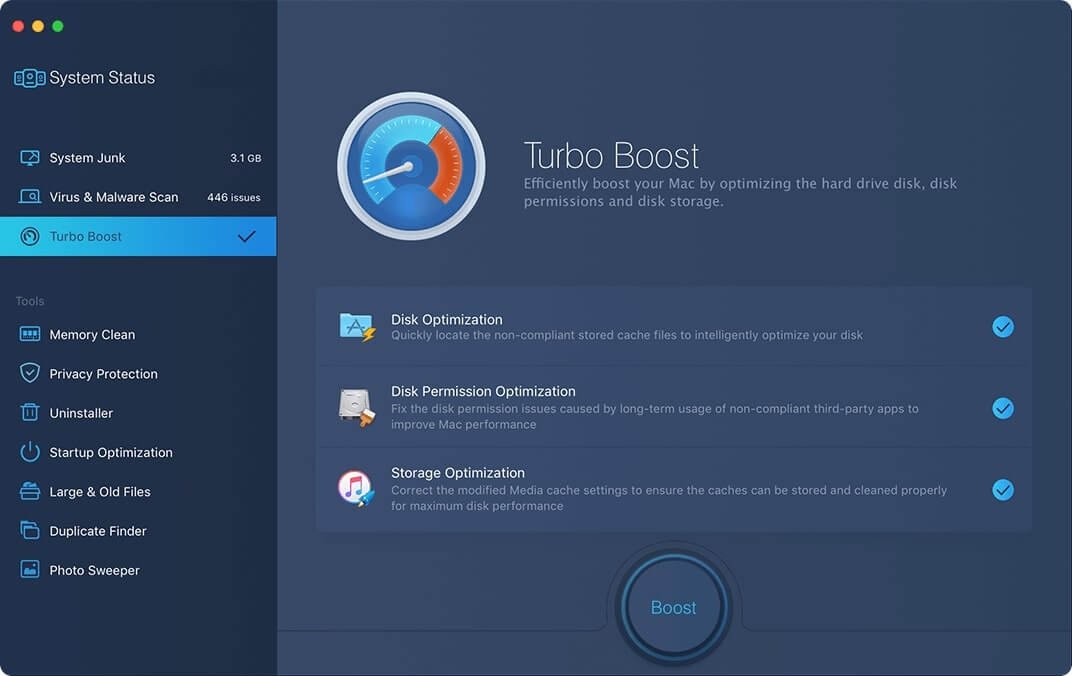 In terms of the system performance optimization, MacBooster provides Turbo Boost and MacBooster Mini functions. Turbo Boost can automatically improve the performance of Macs and solve the problems of various abnormal permissions on the hard disk. And MacBooster Mini allows you to view the network speed and memory usage at any time in the menu bar and prompts you to remove junk files, residual documents and so on, which is convenient.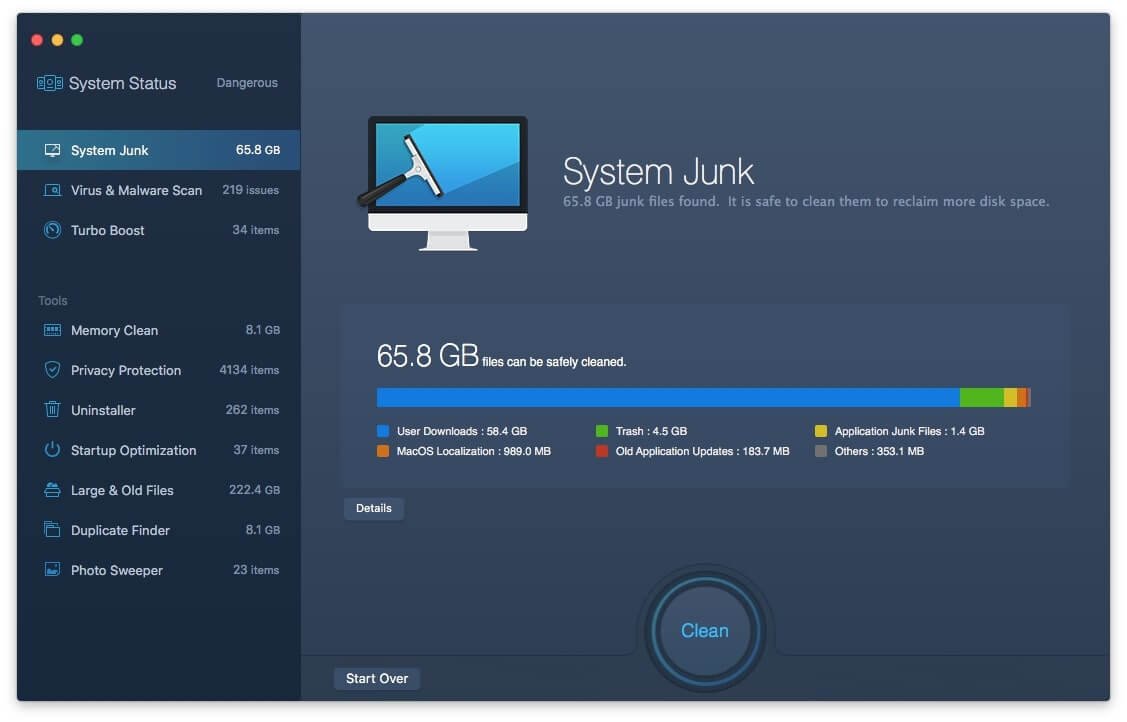 With MacBooster, you can easily solve all of Mac's issues:
Clean Junks up: up to 20 types of garbage files can be cleaned up.
Free up Memory: improve the system performance by releasing multi-occupied memory space.
Search for Duplicate Files: quickly find all duplicate files/photos/videos and more on the hard disk and provide cleaning suggestions.
Protect Your Privacy: search for the browser/app usage history on Mac and provide one-click deletion function.
Uninstall Applications: automatically find all kinds of the cache/associated files of applications, and remove the unwanted applications on Mac completely.
Conclusion
Basically, MacBooster can complete all sorts of cleaning and optimization tasks for your Mac with a few clicks. Both the master or the newer of Mac can do it easily and keep your Mac in good conditions all the time. And MacBooster is cheaper than CleanMyMac. If you haven't subscribed to SetApp, MacBooster is the more cost-effective Mac cleaner tool for your MacBook Air, MacBook Pro, iMac, etc.