Yesterday, I was working on an Adobe Photoshop project, then the app crashed without warning me to save the Photoshop file. The project was my whole day's work. I suddenly became panicky, but soon calmed down and managed to recover the unsaved PSD files on my Mac.
You may come to a similar situation and I understand how important it is to restore the unsaved Photoshop files on Mac. By following our guide, you can recover Photoshop files on Mac no matter if your PSD files are unsaved after crashing, disappearing, deleting, or lost on Mac.
Part 1. 4 Ways to Recover Unsaved Photoshop Files on Mac
Recover Unsaved Photoshop Files on Mac with AutoSave
Like Microsoft Office app or MS Word, Photoshop for Mac (Photoshop CS6 and above or Photoshop CC 2014/2015/2017/2018/2019/2020/2021/2022) also has an AutoSave feature that can automatically save Photoshop files, and users can use this AutoSave function to recover unsaved Photoshop files even after crash on mac. The AutoSave feature should be enabled by default and you can change the AutoSave option by following the guide below.
Steps to Recover Unsaved Photoshop Files in CC 2022 on Mac
Go to Finder.
Then go to Go> Go to Folder, then input: ~/Library/Application Support/Adobe/Adobe Photoshop CC 2022/AutoRecover.

Then find the unsaved Photoshop file on your mac, open and save the file.
PhotoShop CC 2021 or earlier versions AutoSave Location on Mac
Above is just an example to find the autosave location of Photoshop CC 2022, go to the autosave location of your Mac Photoshop CC 2021 or earlier, and you can replace the following XXX with any version of your Photoshop: ~/Library/Application Support/Adobe/XXX/AutoRecover;
Tips: Configure AutoSave in Photoshop for Mac (Include CC 2022/2021)
Navigate to Photoshop > Preferences > File Handling in Photoshop app.
Under "File Saving Options", make sure "Automatically Save Recovery Information Every:" is checked. And by default, it is set to 10 minutes.
Then open the dropdown menu and you can set it to 5 minutes (recommended).

If the Photoshop app crashes without warning during the interval time, any changes you made since the last save will not be saved automatically.
If you have configured the AutoSave setting, then you can auto-recover unsaved Photoshop files. The next time you open Photoshop app after a crash or unexpected quit, you will see the auto-saved PSD files. If it wouldn't show the AutoSaved PSD automatically, you can also find them manually in the paths as follows.
Recover Unsaved Photoshop Files on Mac from Temp Files
When a new PSD file is created, its temporary file is also created to contain information. Normally, the temporary file is supposed to be automatically deleted after closing the Photoshop app. But sometimes due to the crappy file management of Photoshop, the temporary file may still stick around. In such a case, you can simply follow the steps below and get hands-on how to recover unsaved PSD files from the temp folder on mac.
Steps to Recover Unsaved Photoshop Files from Temp Folder on Mac
Go to Finder>Application>Terminal, and run it on your mac.
Enter "open $TMPDIR" and press "Enter".

Then go to "Temporaryitems", find the PSD file and open with Photoshop to save it on your mac.

Recover Unsaved Photoshop File from PS Recent Tab
Many Photoshop users may not know that they can recover Photoshop files directly in Photoshop app whether the files are unsaved, deleted, or lost. Here are the right steps to recover unsaved Photoshop files from the Recent tab in Photoshop app. Though it is not 100% sure to restore an unsaved Photoshop file on Mac in this way, it is worth a try.
Steps to Recover Unsaved Photoshop Files on Mac from Recent Tab
On your Mac or PC computer, open the Photoshop application.
Click "File" in the menu bar and select "Open Recent".
Choose the PSD file you want to recover from the recently opened list. Then you can edit or save the PSD file as needed.

Recover Unsaved Photoshop Files from Recent Folders on Mac
In the case that your Photoshop file is unsaved and missing after a crash, you can check the Recent folder on your mac to find back the unsaved Photoshop files.
Steps to Recover Unsaved Photoshop Files on Mac from Recent Folder
Click on Finder App on the Mac dock, and launch the program.
Go to the Recents folder on the left side.

Find the unsaved Photoshop files and open them with Adobe Photoshop to save them on your Mac.
Part 2. 2 Ways to Restore Lost or Deleted Photoshop File on Mac?
Best Photoshop Recovery Program for Mac 2022 (Monterey Compatible)
Among many solutions to recover PSD files on mac, using a dedicated Photoshop recovery program is always the most popular one. Since a professional program is capable of bringing a higher recovery rate and allowing users to find back various types of files.
According to users, MacDeed Data Recovery is highly recommended for photoshop recovery because of its effectiveness, high file recovery rate, and easy-to-use interface.
MacDeed Data Recovery is the best data recovery software for Mac users to recover photos, images, documents, iTunes music, archives, and other files from hard drives or other storage media. Whether your Photoshop files are lost due to app crashes, power failure, or improper operations, you can always get them back with this Photoshop file recovery tool.
Steps to Recover Lost or Deleted Photoshop Files on Mac
Step 1. Download and Install MacDeed Data Recovery on Mac.
MacDeed offers a free trial, you can download the program and follow the instructions to install it.
Step 2. Choose the location where stored the deleted/lost Photoshop files.
Go to Data Recovery, and choose the hard drive where stored the PSD files.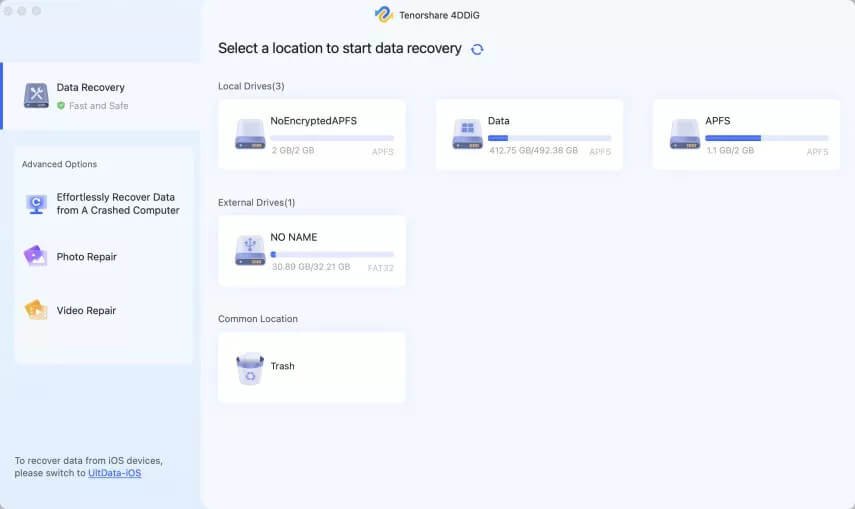 Step 3. Click on Scan to find the Photoshop files.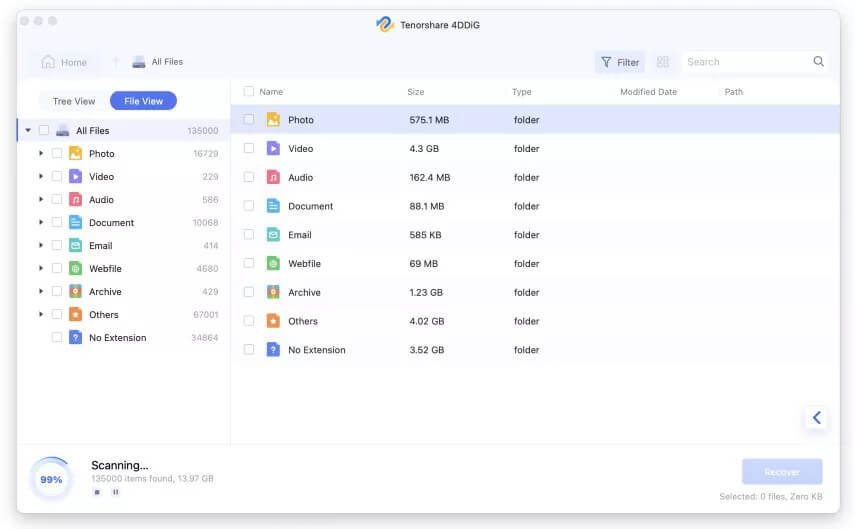 Step 4. Preview and Recover Photoshop files on Mac.
Go to All Files> Photo> PSD to find the files, or use the filter to quickly search a Photoshop file on Mac.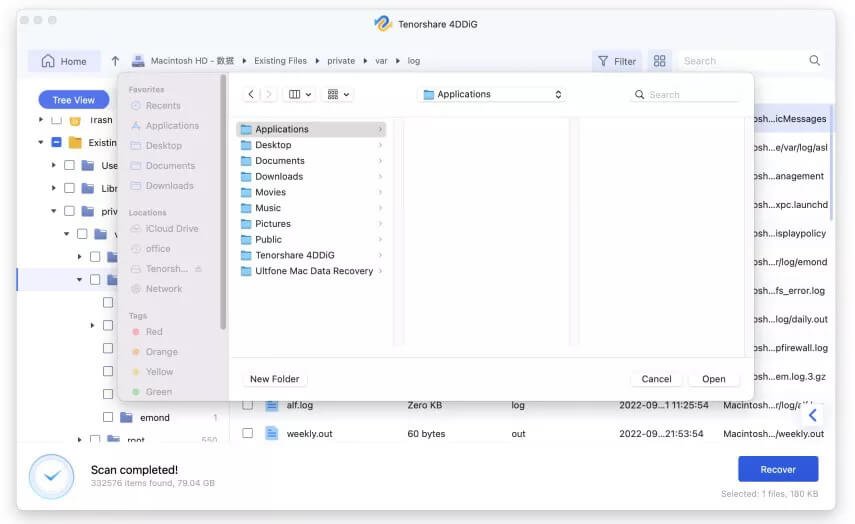 Free Software to Recover Lost or Deleted Photoshop Files on Mac
If you don't mind spending some time recovering lost or deleted Photoshop files on Mac but want a free solution, you can try PhotoRec, a text-based program to do data recovery with command lines. It can restore photos, videos, audio, documents, and others from both internal and external hard drives.
Steps to recover lost or deleted photoshop files on mac free
Download and install PhotoRec onto your Mac.
Launch the program by using Terminal, you will be required to enter your Mac user password.

Select the disk and partition where you lost or deleted the Photoshop files, and press Enter to Continue.

Choose the file system type and press Enter again.
Select the destination to save the recovered Photoshop files on your Mac, and press C to start Photoshop recovery.

Once the recovery process completes, check the recovered Photoshop files in the destination folder.

Conclusion
It is really heartbreaking to lose an Adobe Photoshop file especially after you have spent lots of time working on it. And above 6 proven solutions can handle all of your unsaved or deleted Photoshop file recovery needs. Moreover, to avoid data loss, it is best to manually save the PSD files after any change and regularly back up them or other important files elsewhere.
Best Data Recovery for Mac and Windows
Quickly Recover Photoshop Files on Mac or Windows
Recover formatted, deleted, and disappeared Photoshop files
Retrieve files from internal hard drive, external hard drive, SD card, USB, and others
Recover 200+ types of files: video, audio, photo, documents, etc.
Quickly search files with the filter tool
Preview files before recovery
Fast and successful file recovery
Recover files to a local drive or Cloud