When it comes to supplying data storage devices, Seagate is one of the world's most recognized brands. Seagate devotes itself to manufacturing internal and external hard drives with high quality and capacity for users. Though these hard disks provide many benefits, the owners still can't avoid severe data loss from Seagate's internal or external hard drives. What kind of scenarios can lead to Seagate hard drive data loss? How to perform Seagate hard drive recovery for Mac? Let's get to know the answers.
What kind of scenarios can lead to Seagate hard drive data loss?
Losing data from Seagate's external hard drives or internal hard drives is very painful, so you need to know the scenarios which will cause data loss and avoid the occurrence of these situations as far as possible.
Unintentionally formatting your Seagate internal or external hard drive will result in the loss of valuable information preserved in the hard drive.
Electronic Failure or sudden loss of power when you try to copy files from Seagate's internal or external hard drive to others using cut-paste commands can cause loss of precious data that was getting transferred.
As a result of virus infection, malware attack, or due to the presence of bad sectors, the Seagate hard drive can also get corrupted due to which all the data present in it becomes inaccessible to the user.
Partitioning your Seagate hard drive before making a backup can also cause data loss on the hard drive.
Theft of your Seagate hard drive will lose both the hard drive and data at the same time. So it is recommended to back up your data to online cloud storage services.
Other incorrect or careless user operations like deleting files mistakenly will lead to data loss from your Seagate hard drives.
Tip: Please stop using your Seagate hard drives when you find some files lost to avoid overwriting. If your lost files are overwritten by new files, there is no chance you can get them back. And you need to follow the below guide to perform Seagate hard drive recovery on your Mac computer.
How to perform Seagate hard drive recovery on Mac?
Losing data from Seagate portable hard drive is really bad, as the large amount of important data lost from it is not that easy to collect. Though Seagate Inc. offers in-lab Seagate hard drive recovery services, it can be extremely expensive, charging anywhere from $500 to $2,500 for service. And its data recovery tool which helps you recover just photos, documents, and media costs you $99.
To recover all lost data from your Seagate hard drives, you don't have to pay so many dollars. Well, there is effective and cheaper Seagate data recovery software named MacDeed Data Recovery.
It recovers all types of files, including but not limited to photos, videos, audio, emails, documents like doc/Docx, archives, notes, etc.
It recovers all data from virtually any storage device including Mac's hard drives, USB drives, memory cards, SD cards, digital camera, MP3, MP4 player, external hard drives like Seagate, Sony, Lacie, WD, Samsung, and more.
It recovers files lost due to mistaken deletion, formatting, unexpected failure, and other operation error.
It allows you to preview files before recovery and recover files selectively.
It quickly searches lost data based on keywords, file size, created date, and modified date.
It recovers lost files to a local drive or cloud platform.
Steps to recover data from Seagate hard drives on Mac
Step 1. Download and install MacDeed Data Recovery below, and then open it to start your Seagate hard drive data recovery process. Then connect your Seagate hard drive to your Mac.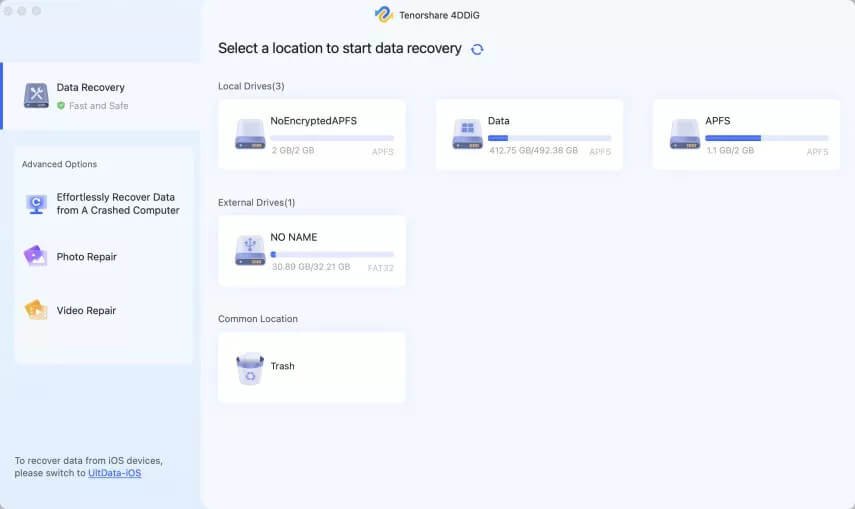 Step 2. Go to Disk Data Recovery.
Step 3. All your Mac's hard drives and external storage devices will be listed, and you should choose your Seagate hard drive to scan. Then click "Scan" to start scanning your lost or deleted files from Seagate hard drive. Wait till the scanning ends. You can preview files during the scan.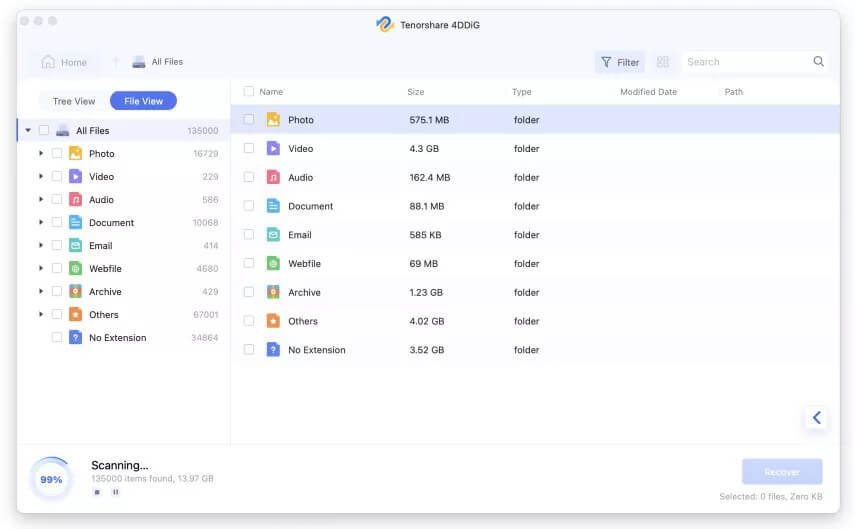 Step 4. After it finishes scanning, it will show all found files in the tree view. You can preview them by checking them one by one, then select the files you want to recover and click the "Recover" button to recover all deleted files from Seagate hard drives.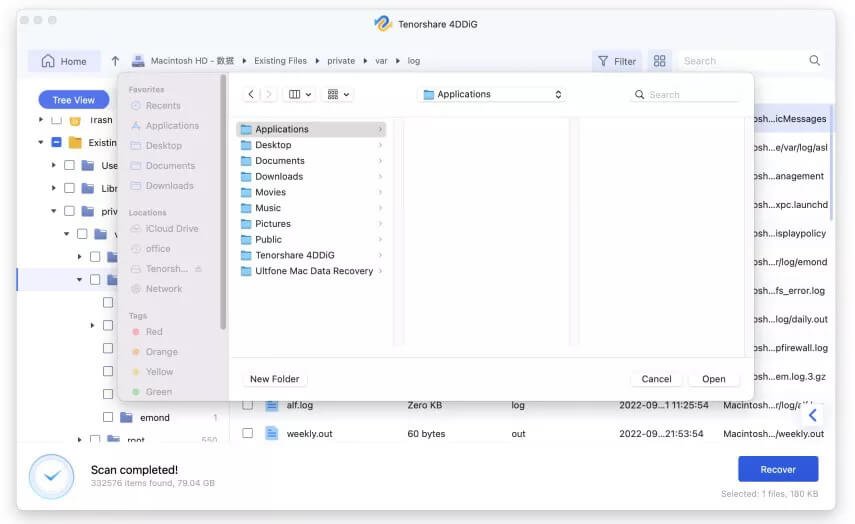 Tips to protect Seagate hard drive from further data loss
To avoid further damage to your Seagate hard drive and prevent extended data loss, below are some useful tips:
Do not perform any operation on the storage device that will cause physical damage to the device or the data on it.
Do not write to any of the files on the Seagate hard drive or add additional files.
Do not format the hard drive.
Do not modify the partitions on the Seagate hard drive (using FDISK or any other partitioning software).
Do not try to open your Seagate hard drive to see what is wrong (Hard drives including Seagate are particularly sensitive to contamination and should only be opened in a microscopically clean environment).
Do back up your Seagate hard drive currently on a reliable medium or online cloud service.
Do put your Seagate hard drive in safe, dry, and dust-free areas.
Do install anti-virus programs and keep them updated to protect your Seagate hard drive from viruses.
To protect your hard drives from static electricity that can erase data or damage components.
Do upgrade software or hardware with a complete, verified backup available in case you need to restore data.