For a person who likes watching movies and TV series, he must subscribe to Netflix, and so do I. Watching movies and TV series through Netflix is an important part of my entertainment activities. What a relaxing thing it is when we can enjoy movies or television on the couch after a day's work.
Netflix has launched its own official applications on different mobile platforms and it offers a good experience to people. In addition, Netflix supports Apple TV, which provides people with a better watching experience. However, it is a pity that Netflix hasn't launched an application for the macOS platform yet. That is to say, if you want to watch movies and TV series on the macOS platform, the only way is to watch through a web page which doesn't provide a good watching experience that can be provided by the native application. Thus, I am satisfied with the third part of the client – Clicker for Netflix when I learned about it by chance. Because both its interface design and user experience make me feel fresh.
Nearly Native Interface Design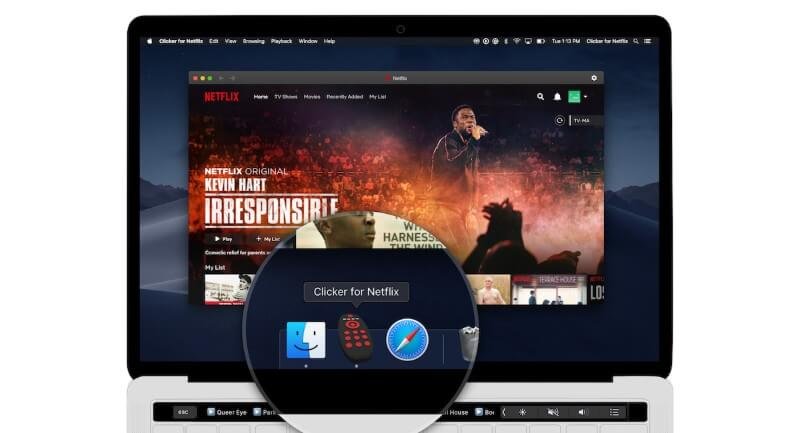 Opening Clicker for Netflix for the first time, you will be familiar with its interface because its interface is almost the same as that of the web page version.
After careful experience, you will find it is actually an application that is implemented through web page encapsulation, but the developer has optimized it and given it more functions. Nevertheless, it is more refined in interface design and UI than the web page version of Netflix, which makes me feel that it seems like an official client.
Almost Perfect User Experience
As mentioned above, Clicker for Netflix is developed on the basis of Netflix's web page version. Clicker for Netflix also has some indispensable basic functions, such as adjusting subtitles, controlling volume, and selecting TV series. But as an excellent third-party client, these are not enough for Clicker for Netflix to attract users. Consequently, developers have made great efforts in optimizing and adding functions of Clicker for Netflix in order to bring a relatively perfect user experience to users.
The following are several points of Clicker for Netflix's functions:
Compared with viewing directly on the browser, it can achieve rich interface control.
The native Touch Bar touch experience allows users to perform many quick operations directly.
Supporting picture-in-picture playing.
Normal screenshots of the playback interface can be achieved, but it won't appear Black Screen Phenomenon.
A quick view of unfinished content that hasn't been watched before.
Now let me focus on the function of picture-in-picture playback. It is one of the great functions I love. Netflix's official client on the iPad has not yet supported this function.
When movies or TV series enter the playback interface, we can see that there is a "window" like sign in the upper-right corner of the interface. By clicking on it, you can enter picture-in-picture playback mode and play the videos in a small immediately.
Compared with the native web page version, the great advantage of picture-in-picture playback is that users can have one eye on watching movies and one eye on doing other things. For example, I can surf Facebook or reply to emails while watching movies. Thus it is really possible to work and entertain at the same time.
It should be noted that Clicker for Netflix, the same as the web page version, doesn't support 4K playback and will maintain the 1080P playback of the desktop version. Originating from Netflix, this function is limited by Netflix but it doesn't affect the user experience.
Meanwhile, after the latest version update, developers allowed users to activate two devices at the same time, whereas previously only one device could be activated. Here's a compliment for developers.
Is it worth buying?
It's obvious that Clicker for Netflix implements many functions that the web page version does not have. In addition, as the first third-party client of Netflix on Mac, the user experience is very good. So here we recommend it to you who like watching movies and TV series. I believe you will like it after using it. It only takes you $5 to buy the application on the developer's official website.
While learning about this application, I also took the opportunity to sort out the movies and TV series I had seen before and found that I was not a real fan of movies and TV series, because the times I watched them were not as many as I expected. But I still insist to subscribe to Netflix every month by reason that I prefer the form of "streaming media", no matter if it is Apple Music or Netflix. Which way do you prefer to listen to music or watch movies and TV series in your daily life? Welcome to share your opinions with me in the comments.