Photo Booth is a popular program developed by Apple Computer to take digital photos through the camera iSight, with 17 built-in special effects and high quality. We use it to take photos very often, but sometimes we find the Photo Booth library missing or we just mistakenly deleted the photos.
No worries, to recover our cherished Photo Booth photos, we've learned some practical methods, by getting back the deleted or missing pictures from Photo Booth with or without third-party software. Step by step, we want to share our experience with you.
Where is Photo Booth Photos Stored and How do Find them?
Maybe, we did not delete our photos and they were stored somewhere we don't know on Mac. Thus, it is important to find Photo Booth Photos first, before any recovery process.
Where are Photo Booth Photos Stored?
On Mac, photos taken by Photo Booth will be saved in the following location by default:
/Users/Pictures/Photo Booth Library/Pictures
If you still feel confused to get access to these pictures, continue reading the following tips to quickly find your Photo Booth Photos.
How to Find Photo Booth Photos on Mac?
There are 3 methods to quickly find the photos in your Photo Booth app.
Method 1: Check the "Finder" App
Open the Finder app and go to Recents.

Type the name of your photo booth photo in the Search spotlight.
Method 2: Go to "Folder" directly
Go to the Finder app menu, and choose to Go>Go to Folder.

Enter the location "/Users/Pictures/Photo Booth Library/" and click Go.

Right-click on Photo Booth Library and choose Show Package Contents.

Go to Pictures and find the photos stored in the Photo Booth library.

Method 3: Search the "Photos"
In some cases, the photo booth photo may be unintentionally stored in the Photos software rather than in the photo booth library. Following the steps to find out the photo:
Click and open the Photos app.
Type the name of the photo we want to find in the Search spotlight.
How to Recover Permanently Deleted or Missing Photo Booth Photos?
If you still cannot find the photos from all possible places we have mentioned above, the photos may be deleted by us indeed. Don't worry, we'll show you 5 methods for deleted Photo Booth photos recovery.
Method 1: Easiest Way to Get Back Deleted Photo Booth Photos on Mac
Downloading data recovery software may be the most convenient way for lost Photo Booth photos recovery, no matter if the photos are temporarily deleted, permanently deleted, or missing on your Mac. After trying over 10 different software, I eventually found MacDeed Data Recovery is exactly the one I need. This software quickly recovered my cherished photos from Photo Booth.
MacDeed Data Recovery: Quickly Recover Deleted Photo Booth Photos and Videos!
Recover both permanently deleted and missing Photo Booth photos, videos
Restore 200+ file types: docs, photos, videos, audio, archives, etc.
Support data recovery from both internal and external hard drive
Apply both quick and deep scan modes
Preview photos before recovery, also preview video, document, and audio
Quickly search files with a filter tool based on keyword, file size, date created, date modified
Recover files to a local drive or cloud platform
High recovery rate
Furthermore, this software has many other features: it recovers documents, photos, songs, videos, emails, archives, etc. from both internal and external hard drives on your Mac. In other words, MacDeed Data Recovery can recover both deleted Photo Booth photos and videos quickly.
Follow the steps to quickly recover deleted Photo Booth Photos on Mac
Step 1. Download the software and run it on your Mac.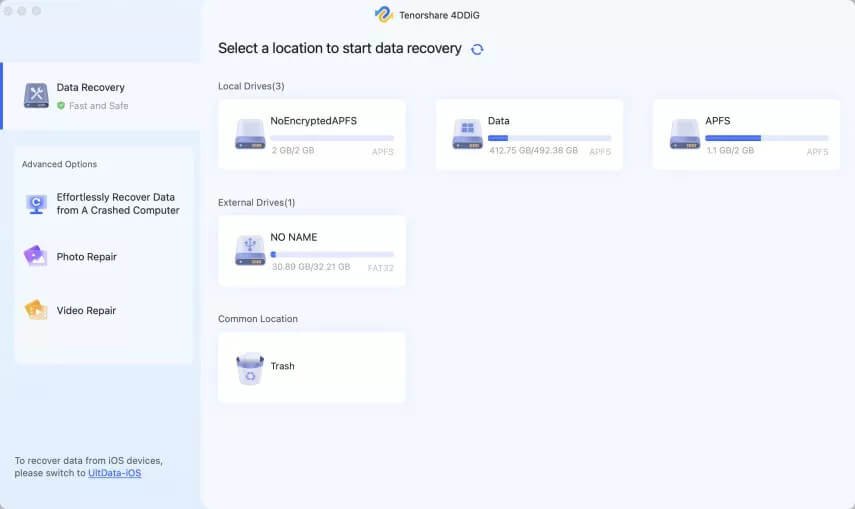 Step 2. Click the disk you want to search for and click the Scan button.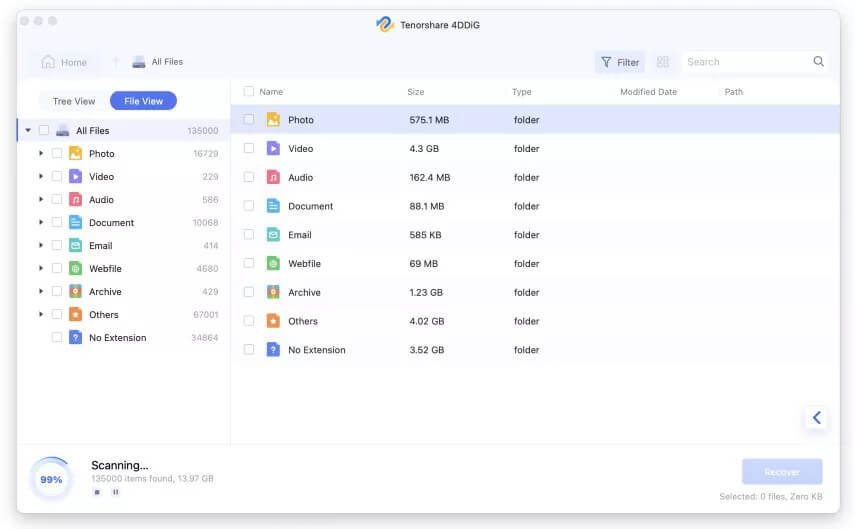 Step 3. Select the photo you want to recover and preview, then click" Recover" to get it back on your Mac.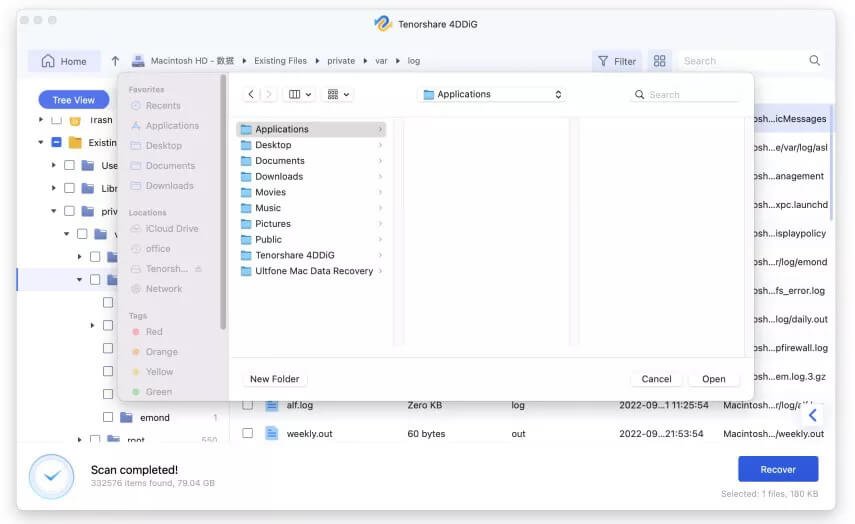 Method 2: Seek Help from Time Machine
If you have created a Time Machine backup before deleting the photo booth photos, you can restore lost or missing photos from the backup.
Click and open the Time Machine app. Select the Show Time Machine in the menu bar checkbox.
Choose Enter Time Machine from the Time Machine menu. You'll be taken to the Time Machine window. Then you can navigate to the photo booth photos you'd like to restore.
Select the photo booth library and press Space Bar to preview the folder. Find the photo you need to recover and click Restore to restore the selected file, or Control-click the file for other options. Time Machine will copy that photo back to its original location on your hard disk.

Method 3: Use "Undo Delete" in Photo Booth
Also, we can revert the Delete action to get back the Photo Booth photos immediately after we delete them on our Mac.
Go to Edit from the Photo Booth menu bar. Then choose Undo Delete.

After Undo, the wrongly deleted photo will go back to your Photo Booth.
Method 4: Recover Deleted Photo Booth Photo from Trash
A newly deleted photo from the photo booth is just moved into the Trash bin on your Mac. Click and open the Trash app to recover your photo.
Here are steps for Photo Booth photos recovery from the Trash bin.
Open the Trash app and input the name of your deleted Photo Booth photos in the Search bar.
Right-click on the deleted photo and choose Put back or directly drag out the photo from Trash to the desktop.

Method 5: Check and Restore Photo from Other Platforms or Software
Have you shared or uploaded your photo booth photos to other platforms or software (as the following photo shows)? Try to log in to that software or platform and you can recover lost photos from it.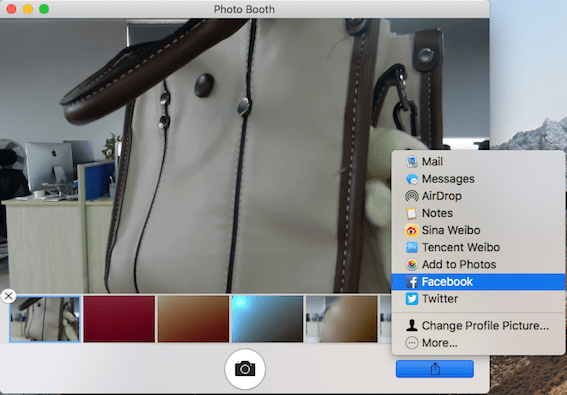 Take the Facebook account as an example. You can log in to the platform to find the photo and download it to your Mac again.
Backup Tips for Recovered Photo Booth Photos
After finding and recovering the Photo Booth photos, I advise you to back up the photos into another folder or storage device. Backup is always an effective way for keeping your photos safe. Here are 3 convenient ways for photo backup.
Export images from Photo Booth to the finder folder
Create a "New Folder", especially for photo booth photos, and drag out each photo from the "Photo Booth" into this folder.

Move photos into the Photos app
Open both Photos and Photo Booth apps, then drag out the photos taken from Photo Booth into the Photos app.
Backup to the external storage device via Time Machine
Insert your external storage device into the Mac and back up all the photo booth photos into it with Time Machine.
Conclusion
Losing cherished photos taken by Photo Booth is very common, but fortunately, we can get them back, and restore them via Mac built-in tools like Time Machine or Undo Delete. Even though we permanently deleted the photos, we still have third-party software like MacDeed Data Recovery to retrieve them for us.