"After I suffered a sudden power failure on my Mac and restarted it, I found a critical project which took me over 5 hours to edit in iMovie was absent from the project list. I can't afford to lose this video. Please help to recover it. Many thanks."  — Request from Quora
iMovie is a well-known video editing application preinstalled on macOS, iOS, and iPadOS devices. Users take advantage of it to polish their video clips generated in daily work and life.
Nevertheless, unforeseen iMovie projects deletion or loss like the scenario above is certainly possible to happen out of software crash, ransomware attack, and so on. It must suck when a piece of video to which you have devoted considerable time and energy is found to be deleted by chance. To address this issue, this page offers an extensive selection of solutions about how to recover deleted iMovie project files on Mac.
Where do Delete iMovie Projects Go on Mac?
Many of you may wonder where it goes on earth when deleting a project in iMovie. Well, it all depends on what you have done.
In the beginning, go to check Mac's Trash Bin. Deleted iMovie projects will stay here until the Trash Bin is automatically emptied after 30 days or manually cleared by yourself. If videos are not found in Trash Bin, head for iMovie Library. iMovie projects deleted unintentionally will be copied to the Library as events with the same file name.
If the iMovie videos have been also disappearing from iMovie Library, it means they have been removed from Mac Finder. Finally, they are saved in the local drive on Mac before being overwritten by new data.
Therefore, to increase the success chance of getting back your deleted iMovie project files, it's better to stop using your Mac for anything and seize the time to seek suitable recovery ways as speedily as possible.
Best iMovie Video Recovery Software on Mac
Among different approaches to restoring deleted iMovie projects on Mac, the most reliable one is using a third-party iMovie video recovery software, which can be 100% working as long as the deleted iMovie video has not been erased from the Mac drive yet.
Here MacDeed Data Recovery is recommended to be your top priority. This program has the capability to recover iMovie project files in a variety of formats such as AVI, MOV, MP4, ASF, etc. without compromising the original video quality. Assigned with an advanced computer algorithm and high retrieval rate, a sure-shot recovery can be achieved with no need for technical knowledge.
Why MacDeed Data Recovery is the best software to recover iMovie projects on Mac?
Recover both recently and permanently deleted iMovie videos from Mac
Support the recovery of iMovie project files lost due to different reasons, like accidental deletion, disk formatting, macOS system crash, unexpected power shutdown, human error, etc.
Intuitive interface and straightforward operation
Navigate to wanted iMovie project files efficiently by filter tools including keyword, file size, date created, and date modified
Optimized interaction of scanning complete interface
Preview all recoverable items before recovery
Restore data to a local drive or Cloud platforms
How to regain iMovie projects that disappeared on Mac?
Step 1. Download, install and run MacDeed Data Recovery on your Mac.
Step 2. Scan the local drive.
Go for Disk Data Recovery. Choose the local drive on Mac used to store the deleted iMovie project. Click the "Scan" button to start.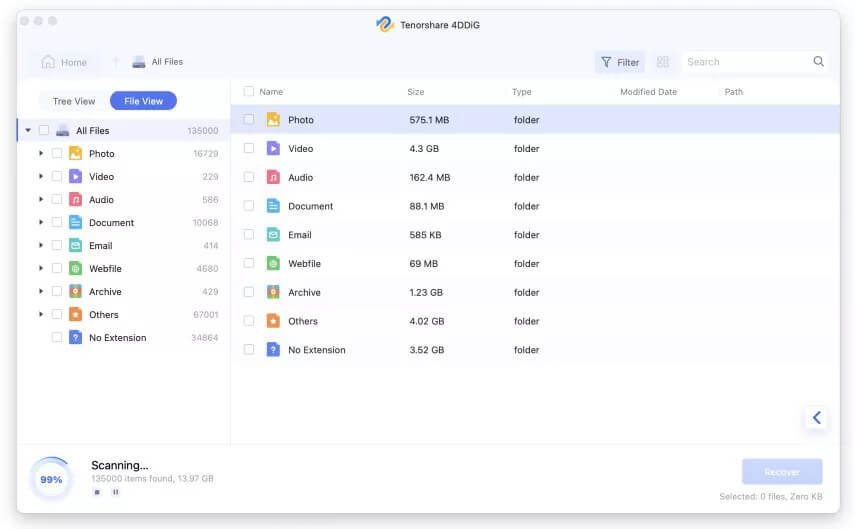 Step 3. Find out your wanted iMovie project.
After both the quick scan and deep scan are completed, MacDeed Data Recovery will display all scanned files based on different file categories. Apply filter tools or a search bar to quickly locate the iMovie video you want to recover. You can preview it to make sure it's the right one.
Step 4. Recover the iMovie project.
Select the desired video and hit "Recover" to revert it back to your Mac's file system.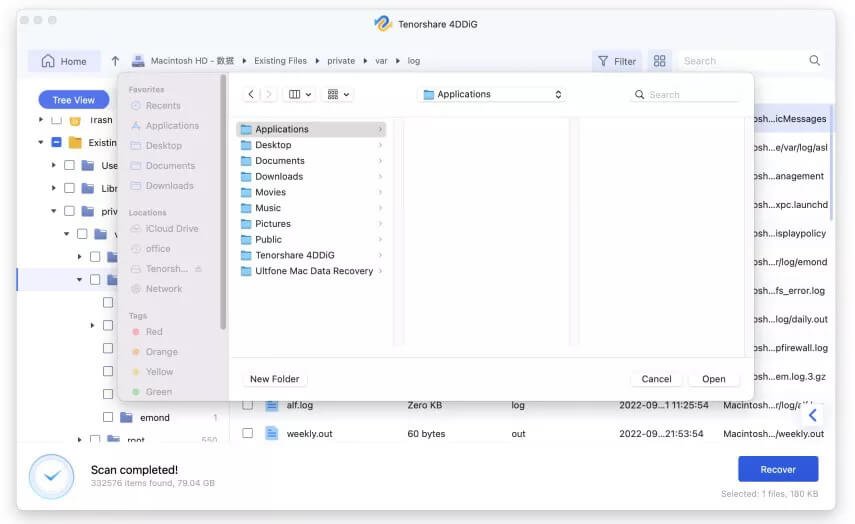 How to Recover Deleted iMovie Projects with Mac Native Features?
In addition to the most trustworthy MacDeed Data Recovery software, there are also several native operating system functions to recover deleted iMovie projects on Mac. They are not guaranteed to be feasible but have proven to be worth a shot in specific situations. We will deliver 3 solutions using such features as follows.
Solution 1: Check the iMovie Library
As mentioned in the first part of this page, iMovie Library can save deleted projects as events before these project files are purged from Mac Finder. This solution is also suitable for the case when you mess up the iMovie video files making the projects just hidden somewhere. Below is the guide on how to recover deleted iMovie projects from iMovie Library on Mac.
Open Finder by clicking its icon on the Dock.
Click "Go" on the Apple menu bar > select "Home" from the drop-down menu.

Locate and open the Movies folder.

Right-click on "iMovie Library" > choose "Show Package Contents".

Check whether your deleted project is in there. If yes, you can restore it by copying and pasting.

Providing your deleted iMovie project fails to be found by this method, proceed to the rest two.
Solution 2: Recover from the iMovie Backups folder
The second feature which might be helpful is the iMovie Backups folder. By principle, iMovie auto-saves and backs up your project files in a folder called iMovie Backups. Where are iMovie Backups stored? Generally, they are deeply located in the file system of your Mac machine. Let's see how to resume the deleted projects from the iMovie Backups folder.
Launch Finder by clicking its icon on the Dock.
Select the "Go" option on the Apple menu bar > click "Library".

After opening the Library folder, go to find Containers folder and open it.

Locate and open the iMovie folder. You can use the search bar to type the keyword for a quick search.

In the iMovie folder, go to Data folder > Library > Caches. The Caches folder is exactly where the iMovie backups are stored. Browse through this folder to check whether your deleted iMovie project is located.
Likewise, the iMovie Backups folder can be also accessed by clicking Finder > Go (Menu bar) > Go to folder… > copy & paste the address below:
/Users/your user/Library/Containers/iMovie/Data/Library/Caches/iMovie Backups
Notes: Remember to change "your user" to your actual user name.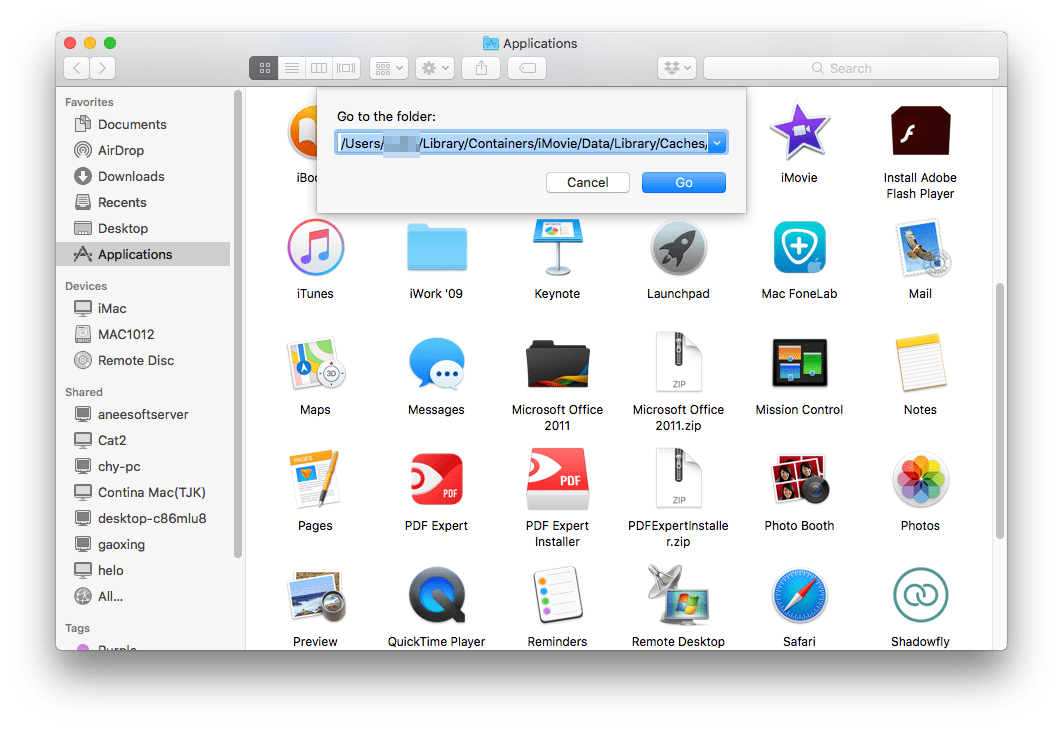 That's it. If neither iMovie Library nor iMovie Backups folder contains your missing iMovie video, head for the third feature as a last resort.
Solution 3: Restore with Time Machine backup
Time Machine is another built-in utility on Mac to automatically back up your data at regular intervals, creating a time-saving and effortless data recovery process. While initiating a backup beforehand is the prerequisite for recovering deleted iMovie projects from Time Machine. Once you haven't enabled any backup before iMovie file deletion, the only choice is MacDeed Data Recovery as described in the second part of this page. Here's the tutorial using Time Machine.
Connect the backup drive with your Mac.

Click the Time Machine icon in your menu bar at the top right of the Mac screen. Select 'Enter Time Machine from the drop-down menu.

Go for the recent backup folder containing the deleted iMovie project. Use the search bar at the upper-right corner of Time Machine or the timeline on the right edge of the screen to specify your search.

Click the 'Restore' button after you locate the wanted project. It will return to its original position.
Conclusion
An iMovie project clip usually takes us great effort to manage. Its mistaken deletion must be a disaster. Luckily, some native features are capable of recovering deleted iMovie projects on Mac. If these features are not workable, do not hesitate to try the 100% working tool – MacDeed Data Recovery.