The purpose of Mac's menu bar is by no means for showing background programs just like Windows. Using the menu bar well is an essential way to improve Mac's performance. Now, I will introduce some useful tools to make Mac more efficient. Let's have a look!
Top 6 Menu Bar Apps for Mac
Bartender for Mac (Application Icon Management Software)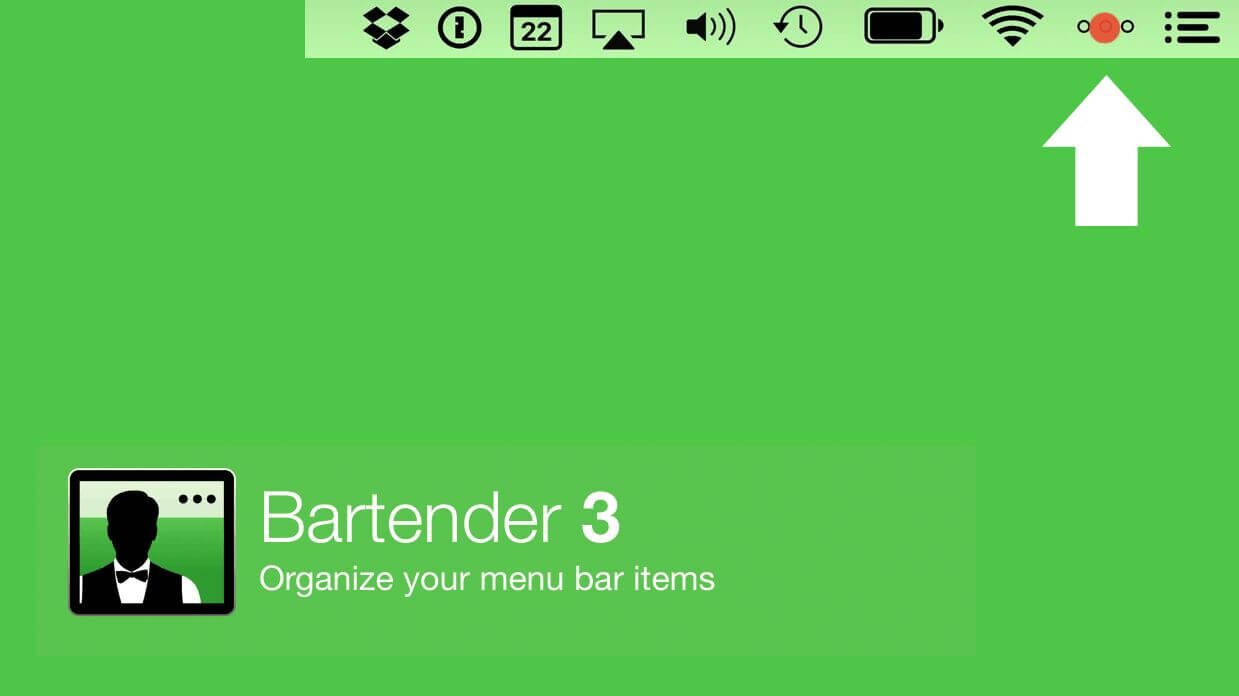 Bartender for Mac is a simple and practical application icon manager app on Mac. Bartender for Mac helps you easily organize, hide and rearrange the menu bar icons. By clicking or pressing keyboard shortcuts, you can show or hide icon items in your macOS. And you can also show the app's icon when updated.
If you have never tried to customize the menu bar, you may be unfamiliar with Bartender for Mac, but if you want to make your menu bar completely controllable, then Bartender is indispensable.
You May Need: Powerful Menu Bar Manager App on Mac – Bartender
iStat Menus for Mac (System Activity Monitor)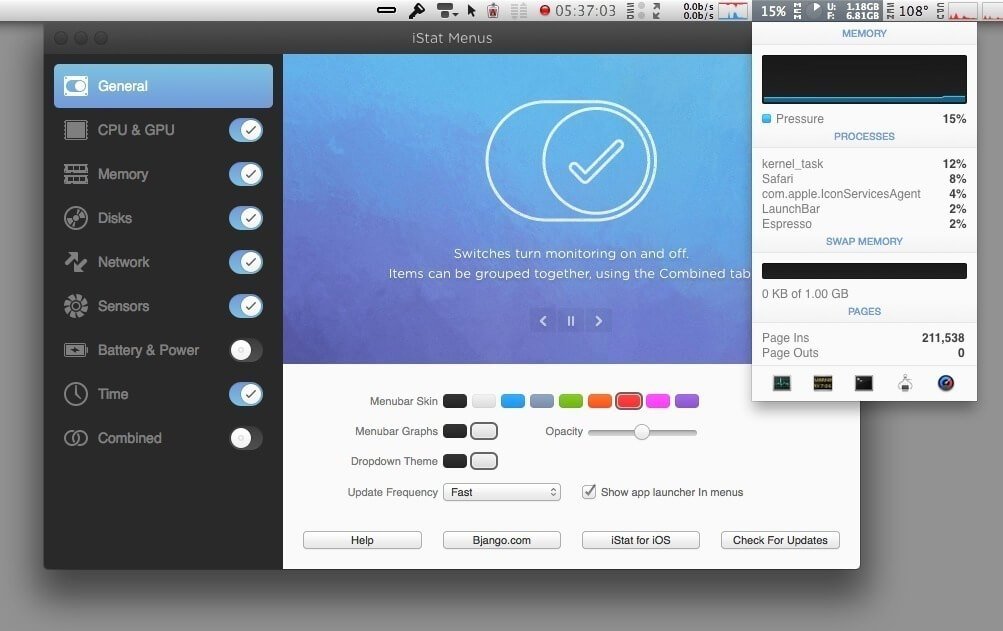 iStat Menus is a macOS hardware information monitor app. iStat Menus for Mac is quite powerful, supporting to view date and time, weather information, CPU memory & hard disk usage, network status, internal sensor status (e.g. temperature), and battery status. It also supports the functions required by selective switches and customized display style, as well as supports to alert you via notifications when the presupposed conditions are met. This app allows you to monitor the system's information without taking up too much desktop space.
One Switch for Mac (One-click Switch Tool)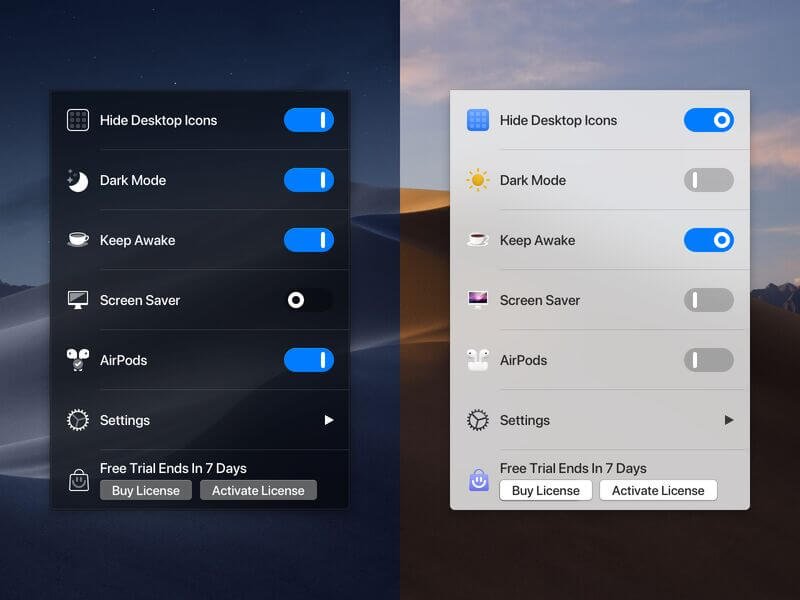 One Switch for Mac is the latest Mac efficiency software launched by Fireball Studio. One Switch focuses on the fast switching system settings. The functions of One Switch include hiding desktop, dark mode, keeping screen light, screen saver, Do Not Disturb, connecting AirPods in one click, turning on and off Night Shift, and showing the hidden files. It integrates the functions together into the menu bar, such as hiding desktop icons, switching dark mode, keeping the screen light, and opening the screen saver with one-click switch buttons, which are based on independent apps in the past. It is convenient for users to call up quickly.
It does simplify some of the common functions, but the dark mode and Night Shift generally do not need to manually switch, as well as the screen saver rarely needs to launch manually. For most people, hidden desktop icons are not a regular activity. Do Not Disturb can be fast switched through the notification center in Touch Bar. It is more convenient to press the default "Command" + "Shift" + "." to show the hidden files. It has to be said that the functions it provides are really useless!
However, the function "Connect AirPods in one-click" is its feature. Using this function to connect AirPods is faster and more efficient than using the Bluetooth menu of the Mac system.
ToothFairy for Mac (Bluetooth Connection Switching App)
Do you need a one-click Bluetooth device connection switching software? ToothFairy for Mac is a lightweight Mac Bluetooth connection manager tool. It can quickly connect AirPods or other Bluetooth headsets to Mac! It can connect the Bluetooth devices simply in one-click! ToothFairy for Mac supports AirPods and other Bluetooth devices that can be connected to Mac: headphones, speakers, game paddle controllers, keyboards, mouse, etc. It also supports multiple Bluetooth devices' connections. You can choose different icons and hotkeys for each one!
iPic for Mac (Image & File Upload App)
Today I would like to introduce a useful image & file upload tool for you. Whether capturing screen or copying images, iPic can automatically upload and save the links in Markdown format, as well as directly paste and insert them. With iPic for Mac, it can help you easily write bloggers on WordPress for blogging, saving pictures from Instagram/Pinterest/Facebook, etc. Nothing is difficult for it.
Focus for Mac
Focus is a Web site and application interceptor tool for macOS. It can set what software is allowed or prohibited at the corresponding time. It can improve your work efficiency by preventing the entrance of distracting websites and applications, and accomplishing tasks in the best state. Just create the best working environment in one click!
Conclusion
They are the common menu bar tools for you. Of course, there are many practical menu bar tools that have not been mentioned, but that is OK. We focus on turning the Mac menu bar into your all-purpose toolbox, in order to improve your Mac's efficiency.