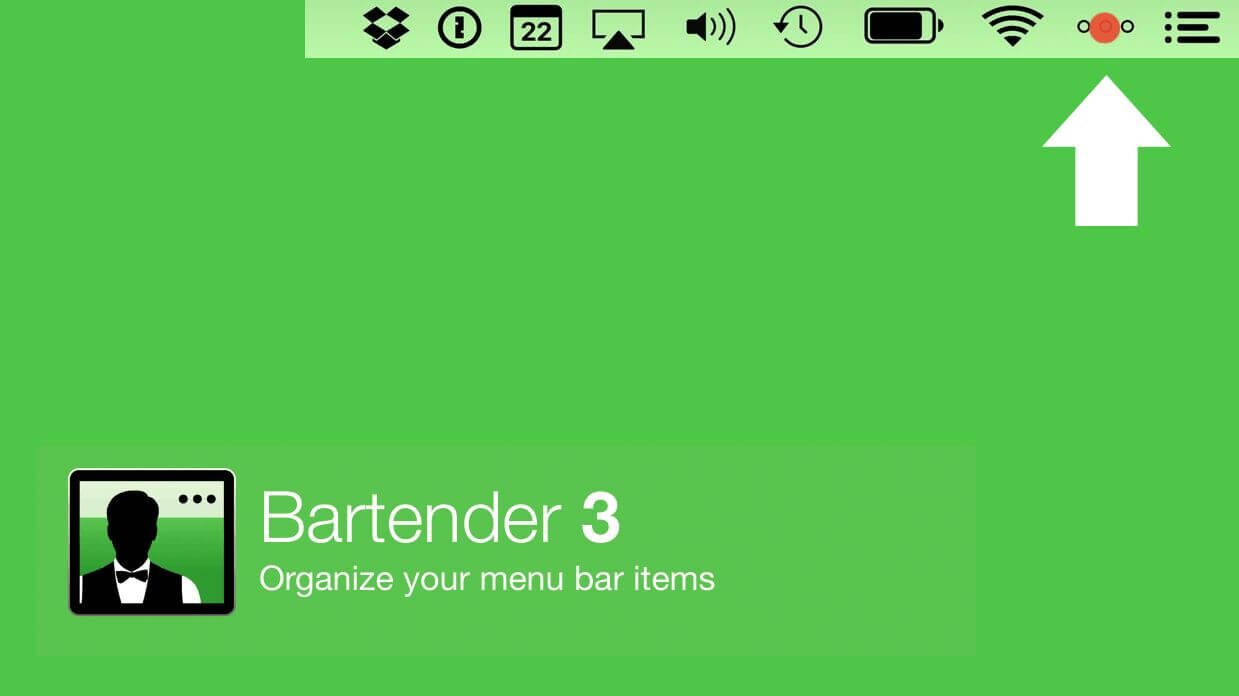 The menu bar of macOS is always full of a bunch of application icons, which looks messy sometimes. What should we do for it? Bartender 3 is an icon management tool for the Mac menu bar, which can help us solve the problem that some apps icons cannot be shown because more and more icons are displayed in the menu bar of the system. Bartender 3 will give you a clean Mac menu bar. Bartender 3 for Mac can create a second-level menu bar so that we can directly put the application icons on the menu bar which do not need to be displayed into the second-level menu bar, or hide them directly. For Mac users who advocate simplicity, this is a very useful app!
Free Try Bartender
Bartender 3 for Mac Functional Highlights
1. Control the icons on the menu bar
With Bartender, you can select the application in the menu bar to display in the Bartender bar or hide it completely.
2. Hide the menu bar icon
Hidden items can be displayed at any time by clicking on Bartender icon or by shortcuts.
3. When updating, display the menu bar icon in the menu bar
Set up the application to display its menu bar icon in the menu bar for a period of time when it is updating. Let you see what happened, or take an important action.
4. Automatically hide icons
When you click on another application, Bartender can automatically hide the menu bar icon again.
5. Support the dark mode
Bartender works well in light or dark mode on macOS.
6. Browse the menu bar icons via Keyboard
You can use the Keyboard to navigate the menu icon. Just active the shortcuts and press the arrow button, and then press Back to select.
7. Search the menu bar icons
You can search all menu icons for quick access to menu icons without looking for them. Simply click the Bartender 3 menu icon with a shortcut to activate the search and start typing.
8. Order menu bar icon
With Bartender 3, you can set the order of menu bar items in the menu bar and hidden items by dragging the items. Therefore, your menu bar items are always arranged in the order you want.
9. Minimalism
If you want a very clean appearance and privacy, Bartender can also be hidden.
Features of Bartender 3 for Mac (Menu Bar Management App)
1. macOS Catalina Ready
Bartender 3 fully supports macOS Sierra, High Sierra, Mojave and Catalina.
2. Update the UI to match macOS
Bartender Bar is now displayed in the menu bar to make it look like part of macOS.
3. Keyboard navigates menu items
With Bartender 3, you can navigate menu items with the keyboard, just activate them with a hotkey, press arrow through them, and then press Return to select them.
4. Search for all menu items
Now you can search all menu items so that you can quickly access them without looking for them. Just use the hotkey to activate or control the Bartender menu bar item and start typing.
5. Completely rewritten to be compatible with macOS
Bartender 3 has been rewritten to modern macOS. Using the latest technology and best practices, Bartender 3 is more reliable and powerful, laying the foundation for future innovation.
Conclusion
Bartender 3 for Mac has the functions of controlling menu bar, managing your menu bar application, minimalism and so on. It can display the complete menu bar, control at will according to user's preferences, Bartender 3 for Mac is a must-have for users who like simplicity!