Ever wondered how many duplicate files exist on your computer? Often, they are there for no reason, or they were created by accident. The truth is that "clones" only serve to take up space on your hard drive, overloading the system. Furthermore, these duplicate files may sometimes seem anonymous, thus making them difficult to remove through manual search, sorting, and deletion. With that in mind, there are already countless applications able to find and eliminate duplicate content on your machine, keeping your machine lighter and with more storage capacity.
Gemini 2 – Best Duplicate Finder for Mac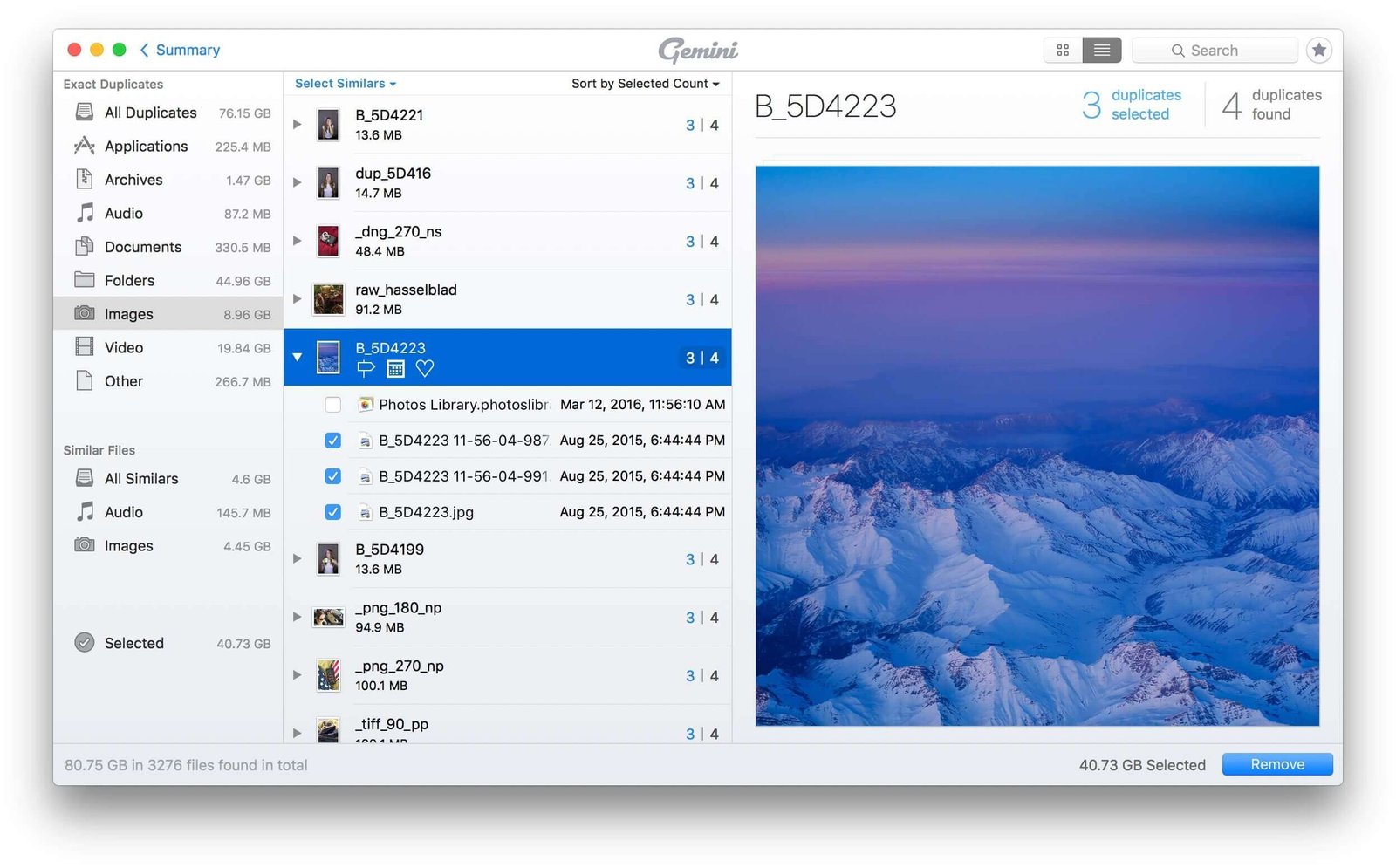 Gemini 2 is designed to fast find duplicate files on Mac, MacBook Pro/Air, and iMac. It is very easy to use and efficient. After you select the file finder for searching duplicates, it will scan your Mac automatically and show you all the duplicate files it finds. You can delete them after you make sure you don't need those duplicate files anymore.
Gemini 2 offers a trial version that you can remove no more than 500 MB of duplicate files. If you exceed the limit, you can upgrade from the free version to the full version so that you can remove duplicate files at any time.
Note: If you want to free up more space on your Mac, you can try Mac Cleaner to fast clear caches on your Mac, empty Trash bins, uninstall apps on your Mac, and improve your Mac performance.
Pros:
Clean and great UI design.
Fast, efficient, and easy to use.
Compatible with all Mac models, including MacBook Air, MacBook Pro, Mac mini, iMac, and iMac Pro.
Cons:
You may need another Mac tool for cleaning.
Duplicate Cleaner Pro – Best Duplicate Finder for Windows
For those looking for a program with advanced features to find duplicate files, the tip is Duplicate Cleaner. The tool analyzes each document in detail, such as the similarity between images, videos, text, and even the tag data of a music file. After all research, you have a wizard to remove the double files present on your machine. And all this in a modern interface and easy to use.
Pros:
It is user-friendly and requires no previous experience for its operation.
Cons:
It does not have a file recovery option in the event of accidental deletion of files.
Easy Duplicate Finder (Windows & Mac)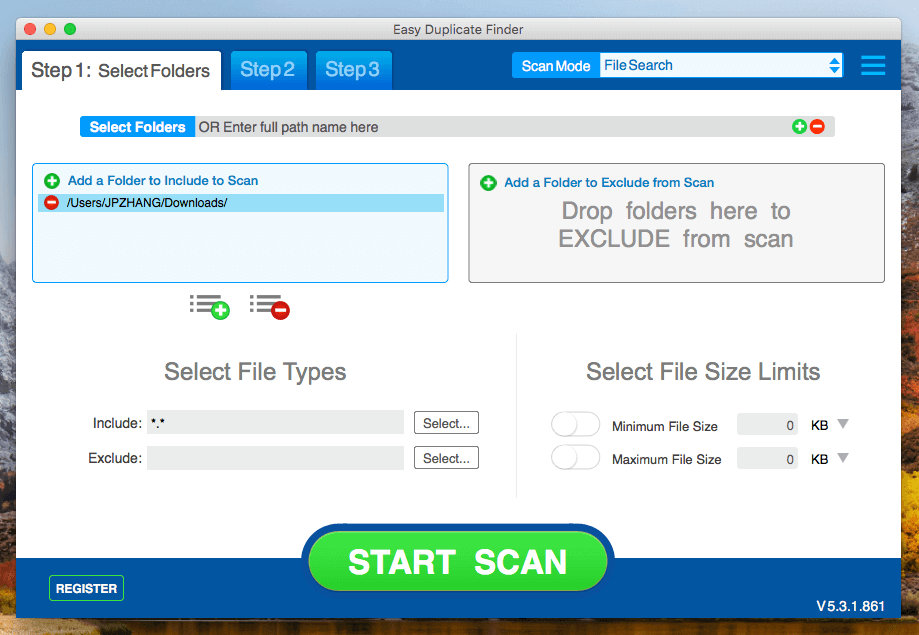 Easy Duplicate Finder is an easy program to use on Windows and Mac, but it still includes a huge number of possibilities. To start a scan, you simply have to add a folder to your main window and press "Scan". That is quite easy. After one or two minutes, you will get a list of the duplicate files that the application found. The original file will be unchecked, while the rest will be checked (which are supposed to be duplicate files). You should review all the duplicate items before you move them to the trash.
Once you get the duplicates, you can work with them quickly and easily. You can select the file type so that the app will only show you the copies in your selected file type. You can also see the size of the files and also data as a percentage that indicates how identical a copy of the original file is. This is very useful for those cases where you have files that are extremely similar, but you want to keep both.
As you try the free version, it has a limit of removing only 10 duplicate file groups. If you want to unlock the limit, you can try the full version which requires payment. Licenses start from $39.95 for one computer. And it is well compatible with Windows (Windows 11/10/8/Vista/7/XP, 32-bit or 64-bit) and Mac (macOS 10.6 or above, including the latest macOS 13 Ventura).
Auslogics Duplicate File Finder (Free, Windows)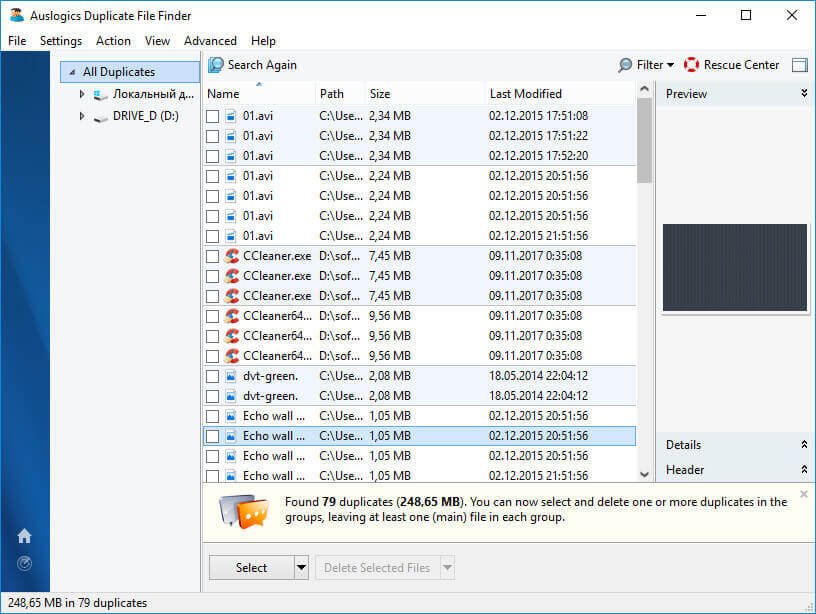 The Auslogics File Finder scans disks (HD, thumb drives, removable disks) for images, videos, music, and any other repeated data. You can give the coordinates, indicating formats and document types specific to the search. The program also presses for security, letting you see all files found before deleting them. That way, you do not run the risk of deleting anything important accidentally.
Pros:
It prevents you from accidentally deleting the wrong file.
Comes with a clean interface.
You can give the coordinates of the search, thus making the process faster.
Cons:
Although its interface is quite clean, it can also have many advanced features that are useless for the common user.
DoubleKiller
Another program that scans any space on your computer for duplicate files, DoubleKiller can search in a single space or multiple of them at once. This is ideal for cases where you want to check only some folders but not the entire directory.
In addition, you can set some parameters for the search to be more accurate, such as filtering the results according to the date of modification or size, for example, and choosing manually or automatically which files will be erased. It runs quite fast and smoothly, thus making it an excellent option for both occasional and regular users. But it does not have a file recovery option in the case of accidental deletion of files.
Conclusion
In conclusion, it is quite necessary to free up storage space on your Mac. One of the options would be to know how to find duplicate files on Mac and eliminate unnecessary copies. Fortunately, you can easily look for duplicate files for this task such as those highlighted above.