macOS 12 Monterey and macOS 11 Big Sur have been released for quite a while, and many users may have updated or plan to update to these versions. And the latest macOS 13 Ventura official version will also come out soon. Most of the time, we get a perfect mac update and enjoy it all the way to the next update. However, we may run into troubles when updating mac to the latest macOS 13 Ventura, Monterey, Big Sur, or Catalina version.
Among all troubles, "Missing files after Mac update", and "I updated my mac and lost everything" are the main complaints when users update the system. This could be devastating but relax. With advanced recovery programs and an existing backup, we are able to recover your missing files after the mac update to Ventura, Monterey, Big Sur, or Catalina.
Will Updating My Mac Delete Everything?
Normally, it won't delete everything when updating to a new version of macOS, since a macOS upgrade is meant for adding new features, updating Mac apps, fixing bugs, and enhancing performance. The whole updating process won't touch the files saved on the Mac drive. If you updated your Mac and deleted everything, this can be caused:
macOS installed unsuccessfully or interruptedly
Excessive disk fragmentation leads to damage to the hard drive
Mac hard drive doesn't have enough storage space for missing files
Don't upgrade the system regularly
Haven't backed up import files via Time Machine or others
Whatever the reason is, we are here to save you from this disaster. In the following part, we're going to demonstrate how to recover missing files after the Mac update.
6 Ways to Recover Files after macOS Ventura, Monterey, Big Sur, or Catalina Update
The Easiest Way to Recover Missing Files after Mac Update
Recovering lost data from Mac is not a particularly difficult affair. You just need a helpful, dedicated, and high-efficiency tool, like MacDeed Data Recovery. It can recover a variety of files whether it's caused by a macOS update, accidental deletion, system crash, sudden power off, emptying recycle bin, or other reasons. Apart from Mac internal drive, it can also recover deleted, formatted, and lost files from other removable devices.
MacDeed Data Recovery Features
Recover missing, deleted, and formatted files on mac
Recover 200+ types of files (documents, videos, audio, images, etc.)
Recover from virtually all internal and external drives
Fast scanning and allow resuming scanning
Preview files in original quality before recovery
High recovery rate
How to Recover Missing or Lost Files after Mac Update?
Step 1. Download and install MacDeed Data Recovery onto your Mac.
Step 2. Choose the location.
Launch the program and go to Disk Data Recovery, choose the location where your files are missing or lost.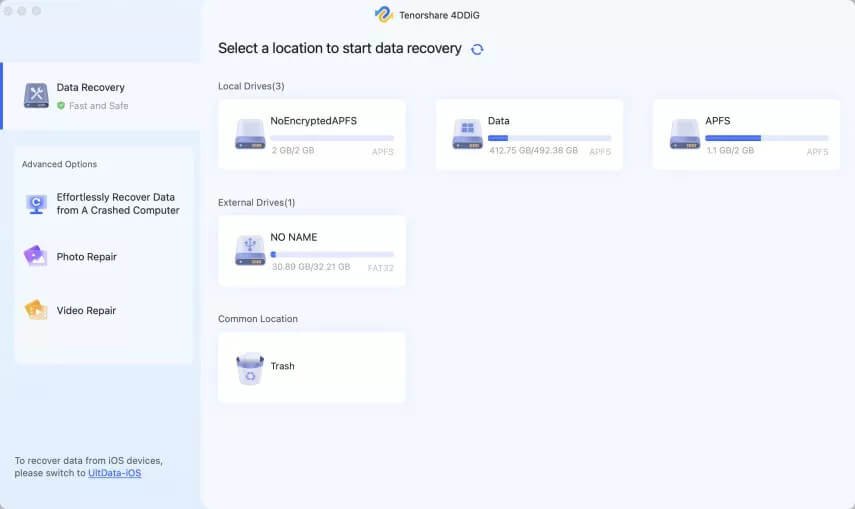 Step 3. Scan Missing Files after Mac Update.
The software will use quick and deep scanning modes. Go to All Files> Documents or other folders to check if the missing files are found. You can also use the filter to find particular files quickly.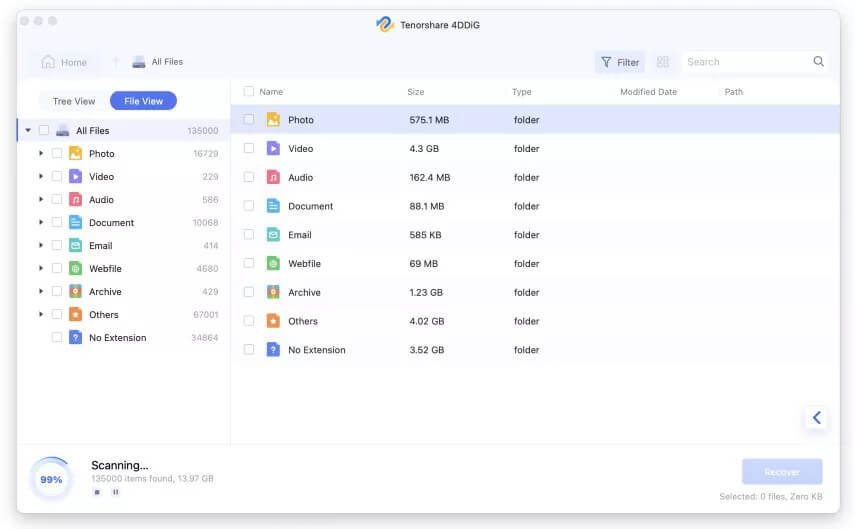 Step 4. Recover Missing Files after Mac Update.
Once the scanning is completed, the program will show the list of files that can be retrieved. You can preview the missing files and select for later recovery.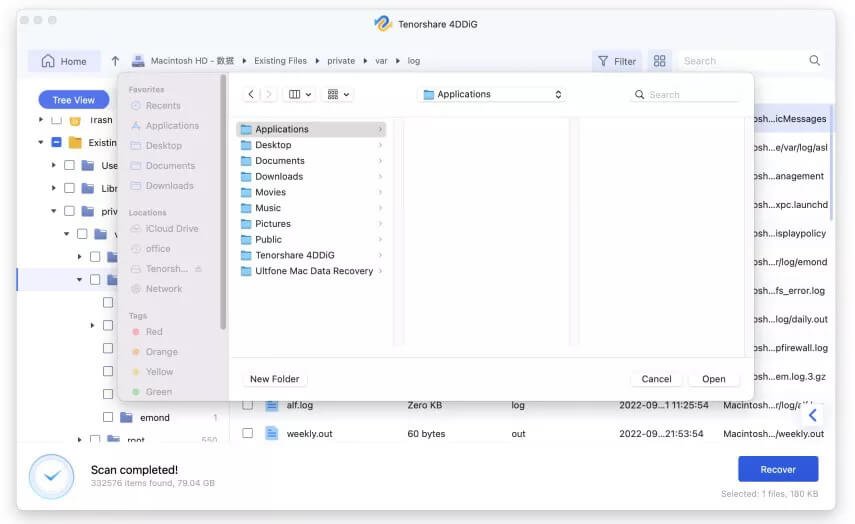 How to Recover Lost Files from Time Machine
Time Machine is a piece of backup software that was integrated into the Mac operating system, it can be used to back up your files automatically to an external hard drive. Mac update deleted everything? Time Machine can help you recover lost photos, iPhone pictures, documents, calendars, etc. easily. But only if you have backup files as I said.
Reboot your Mac, then hold down Command + R keys to boot into Recovery Mode at once.
Choose Restore from Time Machine Backup and click Continue.
Run Time Machine on Mac, select the files you need to recover, and click on Space Bar to preview the files.
Click the Restore button to recover missing files after the mac update.

Sometimes Time Machine shows you errors due to the wrong operation or Mac performance. It's not always successful to recover missing files after the mac update. At this time, try MacDeed Data Recovery.
Turn Off Saving Files on iCloud Drive
One great benefit that macOS offers to its users is the expanded storage space on iCloud, if you have turned on iCloud Drive, the missing files after the mac update are just moved to your iCloud Drive and you need to turn this feature off.
Click on the Apple icon, and choose System Preferences>iCloud.

Click on Options under iCloud Drive.
Make sure the box before Desktop & Document Folders is deselected. Then click "Done".

Then login into your iCloud account, and download the files in your iCloud Drive to Mac as needed.
If the box before Desktop & Document Folders is deselected in the first place, you can try to recover missing files from iCloud backup. That's to say, you just need to login into the iCloud website, choose the files and click the Download icon to save all the missing files onto your mac.
Login into a Different User Account
Don't be surprised that you are recommended to do so. Yes, I am quite sure you know which account and how you should log in, but sometimes, macOS update just deletes your old user account profile but keeps the home folder, and that's the reason why your files are gone and missing. In this case, you just need to add your old profile back and login in again.
Click on the Apple icon, and select "Log out xxx".
Then log in with your previous user account again to check if the files can be found, you are recommended to try on all registered accounts on your mac.
If you are not given the choice to log in using your old account, click the Apple icon> System Preferences> Users & Groups, and click on the padlock with your password to add the old account exactly as before. Then login in to find the missing files.

Manually Check All Your Folders on Mac
Most of the time, we cannot pinpoint the exact reasons causing missing files after the mac update and it is a challenge to find back the missing files especially when you are not quite proficient at using your Mac. In this case, you are recommended to manually check each folder on your mac and find the missing files.
Notes: If there is any folder named Recovered or Recover-related under a user account, you should never miss these folders, please carefully check each sub-folder for missing files.
Click on the Apple icon and bring up the Apple Menu.
Go to Go > Go to Folder.

Input "~" and continue with Go.

Then check each folder and its subfolders on your mac, and find the missing files after the mac update.

Contact Apple Support
The last but not the least method to recover data when a mac update deleted your files is contacting the Apple Support team. Yes, they are professional and what you need to do is submit a form online, give them a call or write emails as instructed on the contact webpage.
Tips to Avoid Missing Files After Mac Update
You can take the simple measures below to avoid missing files after a mac update to Ventura, Monetary, Big Sur, or Catalina:
Check to see if your Mac can run macOS 13, 12, 11 or the version from the Apple website
Check if there are any errors on Disk Utility
Disable login/startup items before upgrading
Turn on Time Machine and connect an external drive to make automatic backups
Free up and leave sufficient space to update the macOS
Remain at least 45 percent of power on your Mac and keep the network smooth
Make sure the apps on your Mac are up-to-date
Conclusion
It is true that you should try different ways to recover the missing files after a macOS update, the issue can be easy or difficult, as long as you find the appropriate method to fix it. Generally speaking, if you have backed up your mac, you can easily find back the missing files via Time Machine or another online storage service, otherwise, you are recommended to use MacDeed Data Recovery, which can guarantee that most of the missing files can be restored.
MacDeed Data Recovery: Quickly Recover Missing/Lost Files after Mac Update
Recover permanently deleted, formatted, lost, and missing files
Restore 200+ file types: docs, images, videos, audio, archives, etc.
Support data recovery from both internal and external hard drives
Use both quick and deep scans to find most files
Filter files with keywords, file size, and date created or modified
Preview photos, videos, and other documents before recovery
Recover to local hard drive or Cloud platforms
Show specific files only (all, lost, hidden, system)