People search queries like "Documents folder missing Mac" or "Documents folder disappeared from Mac" and hope to find a way to get the missing Documents folder back. This problem is not uncommon. It can occur during everyday use of your Mac or after an upgrade (such as from macOS Catalina to macOS Big Sur, Monterey, or Ventura).
There can be different situations for a missing document folder on Mac. In some cases, the Documents folder is still there, and it's easy to make it reappear. In some cases, however, the folder is not on your Mac's hard drive anymore. This guide will cover all the scenarios and show you how to recover the lost Documents folder.
Documents Folder Missing on Mac from Favorites
On Mac, the Documents folder is typically found under the Favorites section in the left sidebar in Finder. If your Documents folder is missing from Favorites and appears under the iCloud section instead, then this method is for you.
If your Mac is running on macOS Sierra or later, then you are able to add the Documents folder (as well as the Desktop folder) to iCloud Drive for instant access on all your devices. Once this feature is enabled and set up, the Documents folder will disappear from Favorites, and you can find it under the iCloud section in the Finder Window.
Can you move Documents back to the default location by just disabling the said feature? No, it's not that simple. You may end up having an empty Documents folder. Check out the steps below.
Steps to Fix Missing Documents Folder on Mac from Favorites
Step 1. Go to Apple menu > System Preferences > iCloud. At present, the files in the Documents folder exist both on your Mac and on iCloud Drive.
Step 2. Click Options next to iCloud Drive. In the Documents tab, unselect the checkbox before Desktop & Documents Folders.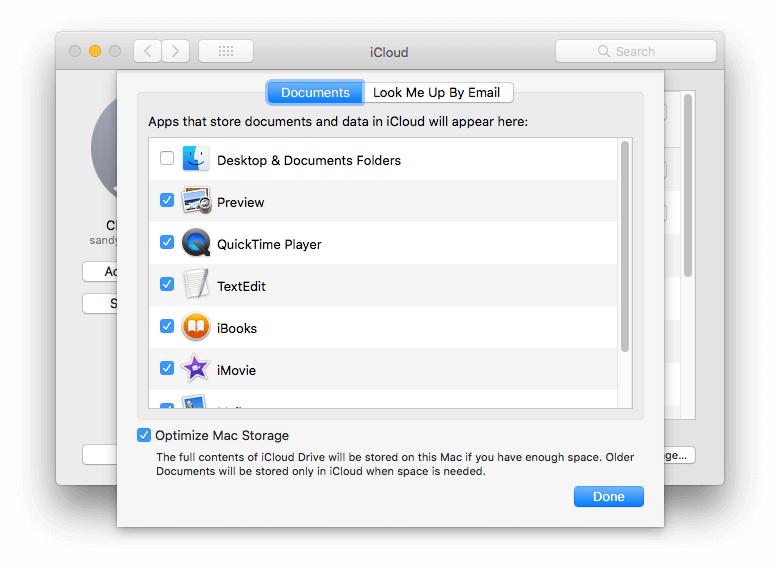 Step 3. A warning message will pop up. Click Turn Off and then click Done. Note that this action will remove the files from the Documents folder on your Mac. They still exist in the cloud.
Step 4. The missing Documents folder is back in Favorites now. However, it's empty. Go to Favorites > iCloud Drive > Documents (which is newly created). Select all the files and move them back to the old Documents folder. Likewise, you can do the same with your desktop files.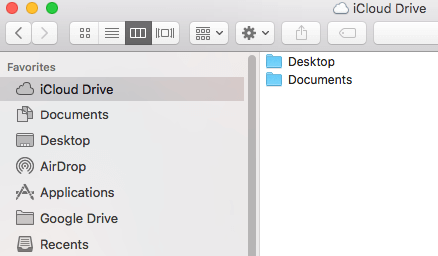 Step 5. Delete the files in the iCloud Drive folder in Finder.
Documents Folder Missing from Mac's Finder
What if the Documents folder doesn't show up in the Finder sidebar at all? You just can't find it under Favorites or any other section. You may think that you have accidentally deleted the Documents folder. As a matter of fact, it's very likely that the folder gets hidden somehow. It's super easy to make it visible again.
Steps to Fix Missing Documents Folder from Mac's Finder
Step 1. Open Finder. In the top menu bar, select Finder > Preferences.
Step 2. In the Finder Preferences window, select the checkbox next to Documents.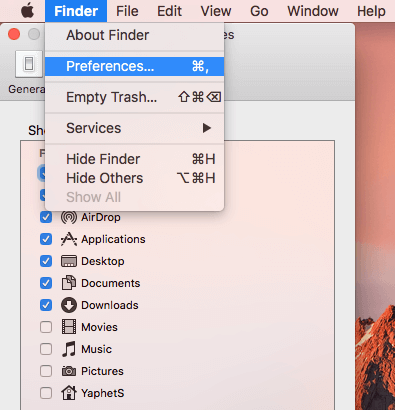 Step 3. The disappeared Documents folder will appear immediately.
Documents Folder Missing from Mac Dock
If the Documents folder suddenly disappears from the Dock, you can get it back with just three clicks of your mouse.
Step 1. Open Finder. Control-click Documents.
Step 2. Select the option Add to Dock.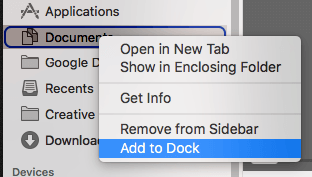 How to Recover Lost/Deleted/Missing Documents Folder or Files on Mac
When it comes to the above-mentioned situations, it's not hard to get the folder back to normal. However, what if for some reason it is lost or deleted and no longer there on your Mac? In such a case, you will need to restore the folder from the backup (if available) or recover it using data recovery software.
MacDeed Data Recovery can recover all common file types and formats on different devices. The guide below will show you how to use it to recover the Documents folder, its files, and other folders or files on MacBook, iMac, etc.
Main Features of MacDeed Data Recovery
A wide variety of supported file types, file systems, and devices(see the following table)
Supports various data loss situations(lost, deletion, power off, crash, upgrade, etc.)
Preview files before recovery
Search specific files with keyword, file size, date created, date modified
Recover files to a local drive or cloud platforms
The safe and read-only recovery process
Easy, quick, and risk-free
Offer free trial and free lifetime upgrades
Supported file types
Supported devices
Supported file systems
Image: JPG, PNG, GIF, PSD, RAW, BMP, etc.

Audio: MP3, AAC, M4A, FLAC, OGG, RX2, etc.

Video: RM, DV, MKV, MOV, M2TS, MPG, DVR, etc.

Document: DOC, PAGES, KEYNOTE, PDF, MOBI, etc.

Archive: 7Z, DB, ZIP, RAR, ISO, ARJ, XAR, etc.

Others: ZCODE, DMP, EXE, DMG, TORRENT, FAT, etc.
Mac's internal storage, external HD, SSD, USB flash drive, SD card, and more
FAT16, FAT32, exFAT, HFS+, ext2, ext3, ext4, NTFS, APFS
Steps to Recover Missing/Lost/Deleted Document Folders or Files on Mac
Step 1. Download and install MacDeed Data Recovery.
Step 2. Select the location where your document folders are missing. Select the drive or partition on which the missing Documents folder is located. Click Scan.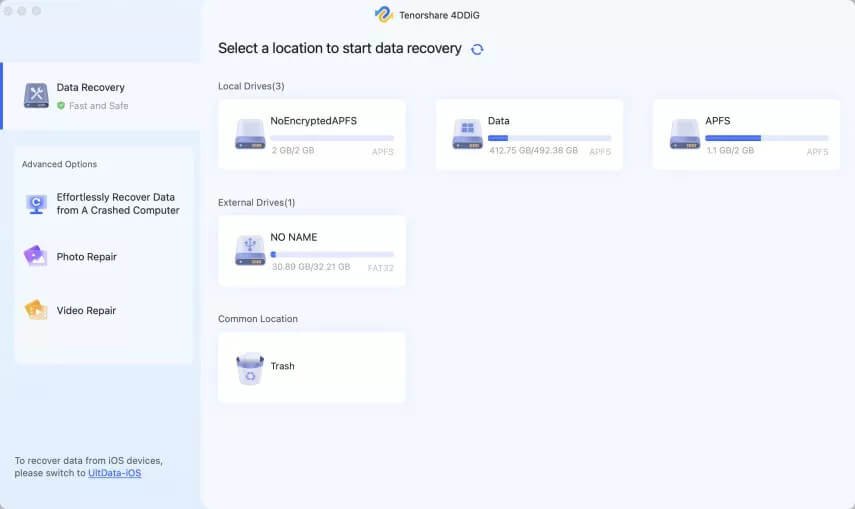 Step 3. Preview found folders or files on Mac. As scanning goes on, you will be able to see and preview real-time scan results. You can easily preview files and switch view mode.
​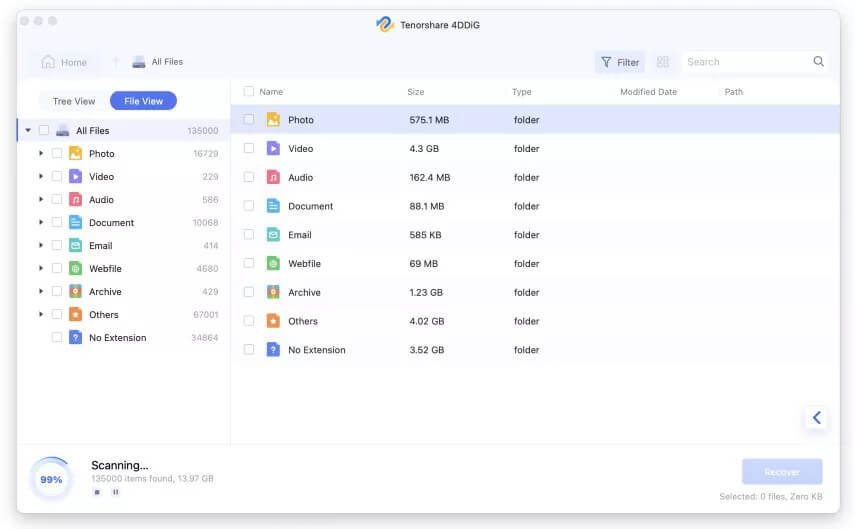 Step 4. Recover missing folders or files on Mac. In the left panel, go to the type, check all the files you want to recover one by one, then click "Recover" to get it back, once it finishes recovering, you will be able to find the once-disappeared folder in Finder.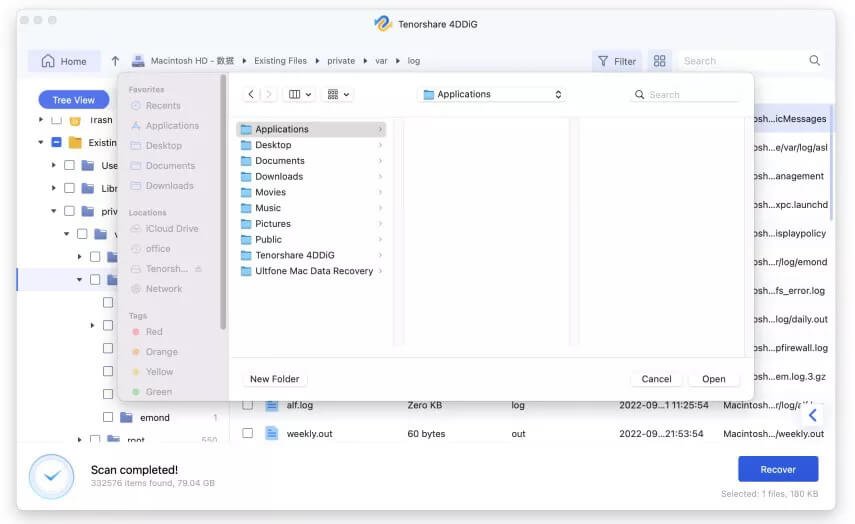 Get Disappeared Folders Back to Mac with Time Machine Backup
In the case that your documents folder disappeared permanently on your Mac and you have a backup with Time Machine, you can get the disappeared folders back on your Mac for free.
Step 1. Connect your Time Machine disk to Mac;
Step 2. Go to Finder>Applications>Time Machine, and run Time Machine on your Mac;
Step 3. Go to Finder, find document folders in Documents, Desktop, or directly search in the spotlight;
Step 4. Scroll up and down the timeline to choose the version of a disappeared folder, then press Space Bar to preview;
Step 5. Click "Restore" to get the disappeared folders back to Mac.
Get Disappeared Folders Back to Mac with iCloud Backup
Still, if you have backed up the folders in your iCloud account, you can use this online free storage service to get your disappeared folders back to Mac.
Step 1. Go to the iCloud webpage and login into your iCloud account;
Step 2. Go to Setting>Advanced>Restore Files;
Step 3. Choose the files in your disappeared folder, then click "Restore File" and move the restored files into a folder if necessary.
Conclusion
Don't worry if the Documents folder on your Mac goes missing. In most cases, it's still on your Mac, safe and sound. You can effortlessly bring it back. If, unfortunately, you have lost or deleted the folder or some files in it. It's also easy to get them recovered. In addition, it's strongly recommended to regularly back up Documents and other important folders on Mac.
Best Data Recovery for Mac and Windows: Recover Deleted/Lost/Missing Folders in 1 Minute
Recover folders, photos, documents, videos, audio, emails, and more
Recover missing files/folders, permanently deleted data, formatted data, etc.
Support Mac or Windows internal disk, external SSD, HD, and other storage devices
Enable you to easily scan, filter, preview, and recover data
Recover files to a local drive or cloud platforms
Support the latest operating system version