Folders disappeared from the desktop on Mac? Or even worse, everything on the desktop disappeared on Mac? Don't panic. This article will show you how to easily recover folders that disappeared from Mac desktops in 2022 and list 10 common fixes you can try, no matter if your macOS is Ventura, Monterey, Big Sur, or others. There is also an extended bonus tip to recover accidentally deleted desktop folders on Mac easily.
Why Did Desktop Folders Disappear on Mac? Where Did They Go?
It's uncommon but we do run into the trouble of Mac Desktop Folders Disappeared. This can be a big problem because it leads to data loss and affects our work. Desktop folders disappearing on Mac can be caused by different reasons and here we conclude as follows:
File and folder properties are set to hide mistakenly
Folders are moved to a new location by accident
Folders are accidentally deleted by Command+Delete
Incorrect iCloud sync settings
Run out of storage, the oldest files may be deleted for the least use
Sudden power off
Forget to save the folder
Overwrite
Malware
3rd party security software deletes the folders mistakenly
Settings are altered during OS updates or reinstallation
Then where did these disappeared folders go? Based on the reasons we list above, they may be moved to the Trash bin, to a new location, or hidden somewhere on your Mac and we need to get them back.
10 Ways to Recover Folders Disappeared from Desktop on Mac
With different reasons causing disappeared desktop folders, it may require different fixes. Let's start with the common ones.
Relaunch the Finder
This is a pretty easy, quick fix, but it actually solves the issue in some cases.
Step 1. Control-click the Finder icon in the Dock while pressing and holding the Option key.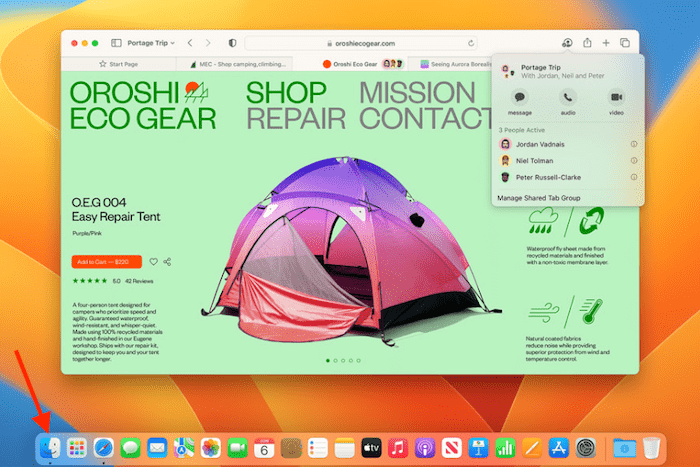 Step 2. Click the Relaunch option that appears. It will relaunch the Finder.
Search the Folder
Sometimes, the disappeared desktop folders are just moved to a new location by accidentally enabling the transfer actions with your mouse or key combination. We can search on our mac and put the disappeared folders back on the desktop.
Open the Finder app and find the spotlight search box.

Input the name of your disappeared folder and choose to search on This Mac.

Then click on the folder or file name and find the new location, you can move the folder to the desktop again.

Show Hidden Desktop Items
If a folder or all your Mac desktop folders disappeared because they have been hidden for some reason, you can view and find the hidden folders by using Terminal.
Step 1. Open Terminal from Spotlight.
Step 2. Type the script: $ defaults write com.apple.Finder AppleShowAllFiles true $ killall Finder. Now the hidden items should show up.

Show icons
The Mac desktop icons disappeared problem also occurs. There are two solutions you can try.
Sort desktop items. Control-click a black area. Select Sort By > Snap to Grid.
Use Finder. Got to Finder Preferences > General. Check these boxes, as shown in the screenshot below.

Rename Folder Name
Some people may need to change their Mac usernames for one reason or another. Sometimes, the change will cause the folder to disappear from the desktop problem. What's more, other things such as the background picture will also be gone. It's can be fixed by renaming a folder.
Step 1. Go to Finder. From the top menu bar, select Go > Home. This will open a new Finder window with your username highlighted.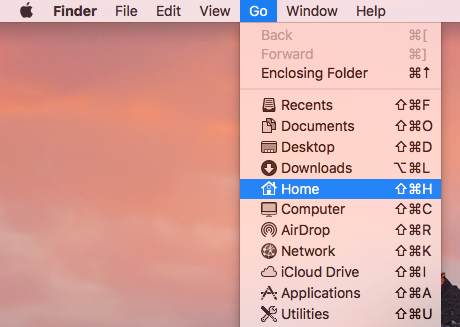 Step 2. Among the folders listed, find the folder that has all your desktop items. Even if these disappeared items may not show up when you search for them, you can find them in one of these folders.
Step 3. Rename that folder with your old username.
Deselect Documents and Desktop in iCloud Drive
In many cases, the folders disappeared from the desktop on Mac issue is caused by iCloud settings. Mac makes it easy to store your Desktop and Documents folder in the cloud so that you can easily access them on all your Apple devices. It makes things convenient. However, sometimes it also brings frustrations since it could cause the disappearance of desktop items and the Desktop folder. Below is how to get back the disappeared folders.
Step 1. Go to System Preferences > iCloud.
Step 2. In the upper right part of the iCloud window, click the Options button next to iCloud Drive, which will bring up a new window.
Step 3. Deselect the option Desktop & Documents Folders. A message box will pop up. Click the Turn Off button.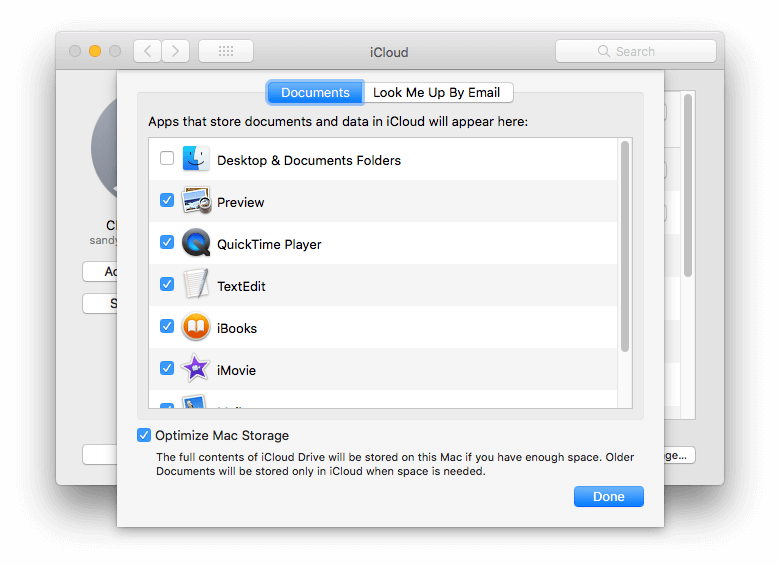 Step 4. In Finder, click the iCloud Drive folder under Favorites. Click the Desktop folder within it. Copy all the folders and files and paste them to your desktop. Likewise, you can do the same with the Documents folder if needed.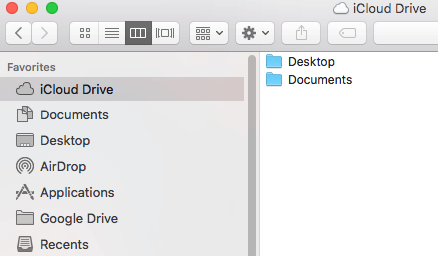 Step 5. It's optional. You can choose to delete the Desktop folder (which is empty now) in the aforesaid iCloud Drive folder.
Also, you can choose to turn off the iCloud Drive sync.
Recover Folders Disappeared from the Desktop with Data Recovery Software
Tried the above 6 solutions but still could not get back the disappeared desktop folders on your Mac. You need professional data recovery software like MacDeed Data Recovery to help you out!
MacDeed Data Recovery works with most data loss situations, such as lost or missing for unknown reasons, permanent deletion, or formatted. It provides the following features:
Professional data recovery solutions for different data loss situations
Recover all common file formats and types like images, documents, videos, audio, etc.
Support various devices like Mac's internal storage, external HD, memory card, USB flash drive, etc.
Support 9 file systems like APFS, ExFAT, FAT16, FAT32, HFS+, ext2, and NTFS
Allow you to preview files before recovery
Quickly search files with keyword, file size, date created, date modified
Recover files to a local drive or to the cloud (Dropbox, OneDrive, GoogleDrive, pCloud, Box)
Provide a safe, quick, and read-only recovery process
Restore Disappeared Folders from Time Machine Backup
If you back up your Mac with Time Machine on a frequent basis, things will be easier. In such a case, you can get back folders that disappeared from the desktop on Mac from the backup.
Step 1. Contact your Time Machine external HD to your Mac. Click the Time Machine icon in the toolbar and select Enter Time Machine.
Step 2. A new window pops up. In the lower right corner, you can scroll up and down the timeline and locate the latest backup made before your desktop folders disappeared.
Step 3. Select the folders you need to get back and click Restore.

Use TinkerTool
One possible cause of the problem is that the desktop features have been disabled. One can fix it by relaunching the Finder. If relaunch doesn't work, there is still another method. One will need a third-party app called TinkerTool. The app is designed to give Mac users access to additional macOS preferences and settings.
Step 1. Download and install the app on your Mac. Launch it.
Step 2. Under the Finder tab, go to the Finder options section. Make sure that the Disable Desktop features option is not selected.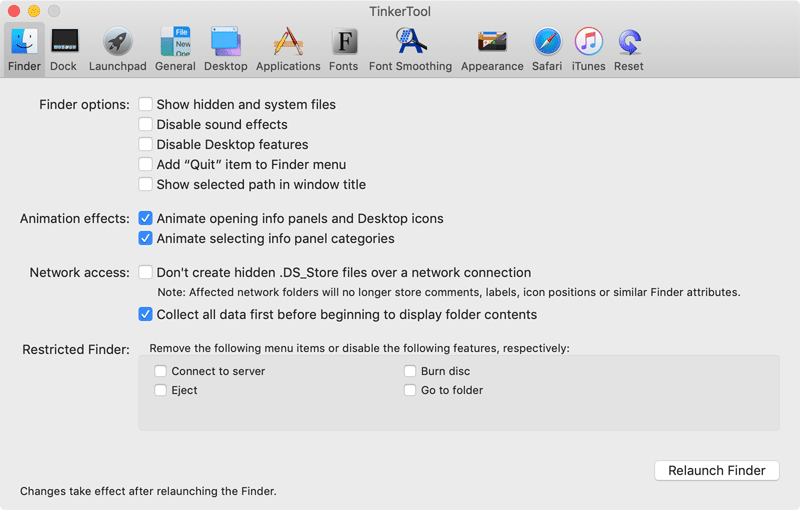 Step 3. Click the Relaunch Finder button in the bottom right corner. That should bring back the disappeared desktop folders and other items if any.
Reinstall macOS
The last but not least useful method to get your disappeared desktop folders back is reinstalling macOS and making everything on your Mac run properly again by purging all conflicts or problems during the reinstallation.
However, it is not easy to reinstall macOS, we need to prepare our mac for reinstallation, and backup files and follow the steps to go through the reinstalling.
Make sure there is enough space for the reinstallation, otherwise, delete or transfer your files to the external storage device to make your mac available for the reinstallation.
Back up the file with Time Machine before reinstallation.
Click the Apple icon>Restart.
Press and hold Command+R while restarting, and release until you see the Apple logo.
Choose Reinstall macOS xxx and click Continue.
Select a drive for reinstallation.
Extended: Easiest Way to Recover Accidentally Deleted Desktop Folder on Mac
It would be much easier to recover deleted desktop folders on Mac, with the best option of downloading and installing a data recovery program. This method applies to restoring desktop folders moved to the Trash bin, and restoring permanently deleted/trash-emptied desktop folders as well.
The tool we use is still MacDeed Data Recovery, the program we recommend to recover disappeared folders from Mac desktops as above, it is easy to use and reliable to help you gain access to deleted desktop folders again.
How to Recover accidentally deleted desktop folders on Mac in 3 steps
Step 1. Download and install MacDeed Data Recovery.
Step 2. Open it. Go to Data Recovery, and select the hard drive where the desktop folders are deleted.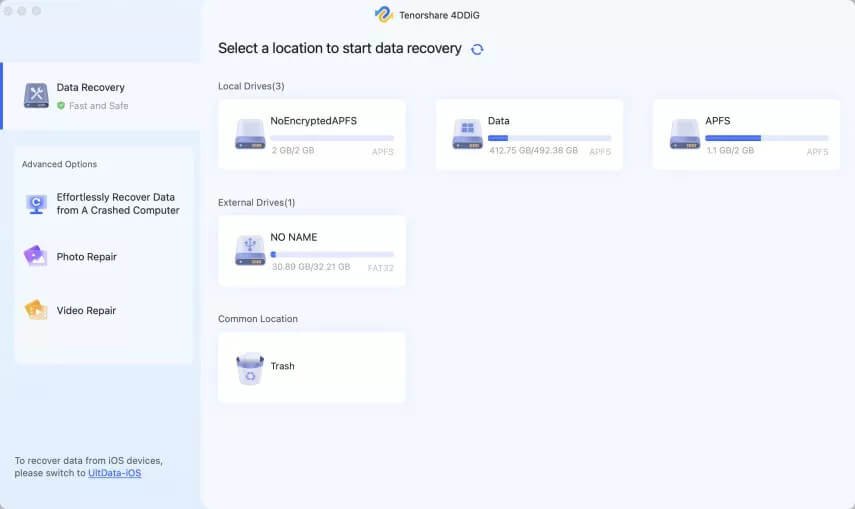 Step 3. Click Scan. Go to Tree View>Users>Library>Desktop.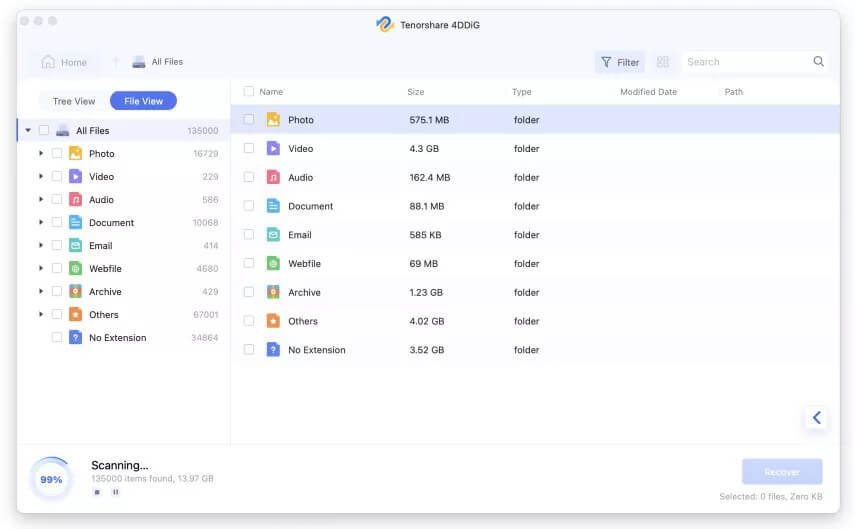 Step 4. As it scans, you are able to view and preview real-time scan results. Select the Desktop folder and click Recover to restore deleted desktop folders on Mac.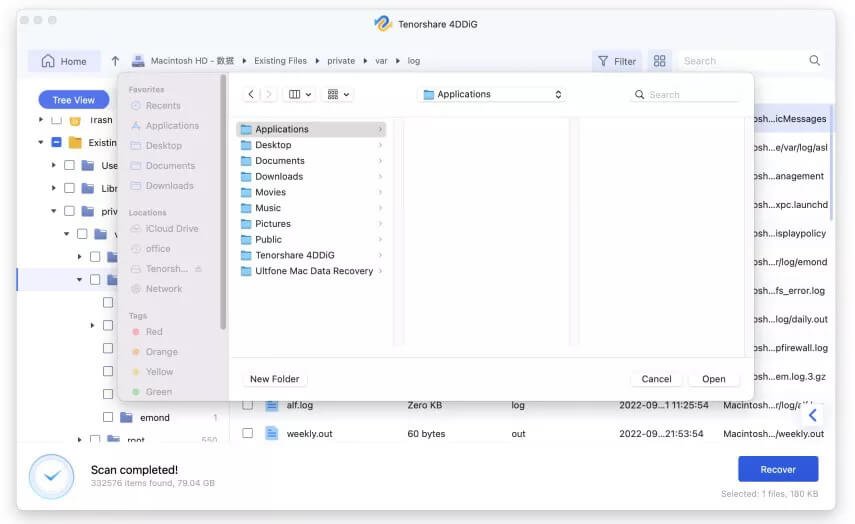 Conclusion
Don't worry if folders disappeared from the desktop on Mac. You can try the methods mentioned above. In many cases, it's very easy to bring things back. When it comes to accidental permanent deletion, you will need to use professional software like MacDeed Data Recovery. The software can recover data loss caused by permanent deletion, disk formatting, disk failure, and other reasons. For important files and folders, it's highly recommended to regularly back them up.
The Best Data Recovery Software for Mac
Efficiently recover files and folders that disappeared from desktop
Work with folders and files that disappeared, permanently deleted, formatted, etc.
Recover folders, photos, documents, audio, videos, emails, and more
Support Mac's internal drive, external HD, SD card, USB flash drive, etc.
Easily preview documents, photos, videos, and audio files before recovery
Filter files with keywords, file size, and date
Recover files to a local drive or to the cloud (Dropbox, OneDrive, GoogleDrive, pCloud, Box)
Apply both quick and deep scans to find the most files