With the breakneck development of computer technology, desktop applications enjoys high popularity all along. Applications could not only assist their users in fulfilling study or work tasks in a lighter way but also offer a good channel for entertainment and relaxation as game apps.
Though useful, they can be easily unavailable from computers for unclear reasons. To recover deleted Mac applications as well as critical information contained in them, this blog will dig out five pellucid ways altogether for your reference.
Easiest Way to Recover Deleted Mac Applications for All Cases
Whichever the circumstances, the quickest and easiest way to perform application retrieval on Mac is using MacDeed Data Recovery. It is an omnipotent tool designed to solve different sorts of data loss or deletion problems its users may encounter. With advanced techniques and user-friendly operation, this software is capable of restoring removed applications from your Mac as easily as pie.
Reasons for choosing MacDeed Data Recovery:
Supports the recovery of all commonly-used file formats including application installation package (dmg or pkg)
Recover 200+ types of files (image, video, audio, document, archives, etc.)
Recover data from internal/external hard drives and perform equally outstanding
Clear interface and smooth operation
High recovery rate with an effective process
Both quick scan and deep scan applied to solve data loss due to different reasons
Preview files before recovery to pick the wanted ones only
Filter recoverable items based on keyword, file size, date created, and date modified
Quick access to specific folders like Trash, Desktop, Documents, Downloads, Photos
Scan status loaded for resuming scanning at anytime
Restore files to a local drive or Cloud platform
Free download MacDeed Data Recovery. See the following tutorial to recover deleted applications on Mac just with a few clicks.
Step 1. Launch the program.
Step 2. Select and scan a local drive.
Go to Disk Data Recovery. All partitions detected by MacDeed Data Recovery will be displayed. Select the local drive where your deleted application was stored in. Click "Scan" to start the scanning process.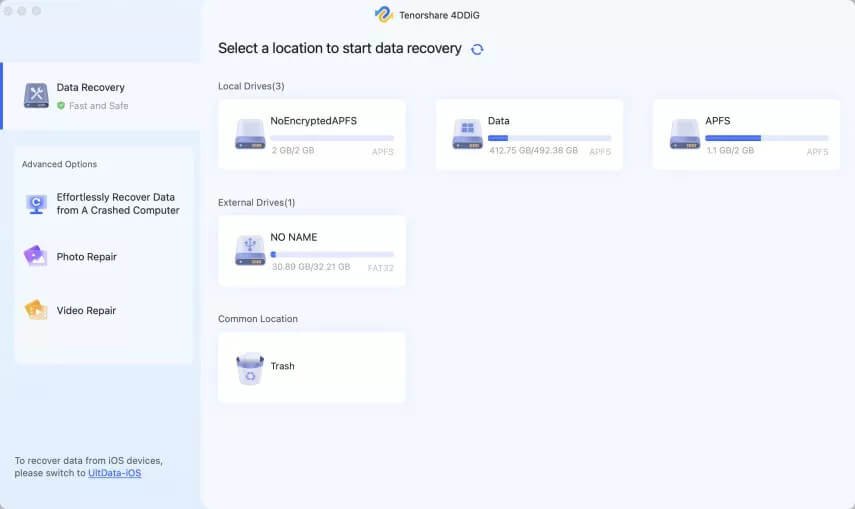 Step 3. Specify the application.
After both the quick scan and deep scan are completed, the program will list all recoverable files on the left panel according to different file categories. Preview and locate the application folder you want to recover. Use the search bar if there are too many scan results.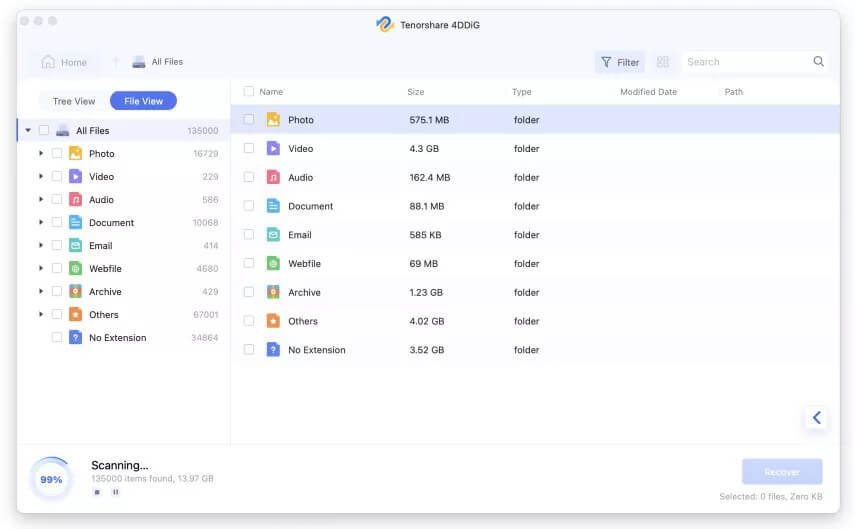 Step 4. Recover the application.
Select the wanted application folder and click "Recover" to revert it to its original location on your Mac.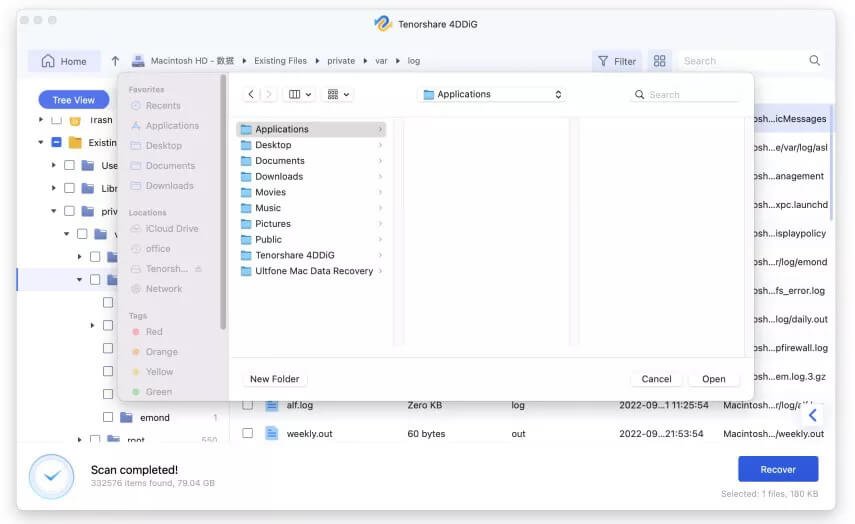 Other Possible Ways to Recover Deleted Applications on Mac
Recover applications downloaded from websites
In case you obtained your application from the internet but later deleted it by chance, checking the browser history is one convenient way to reinstall the application on your Mac. Take Google Chrome as an example:
Open Chrome and click "History" on the top menu bar.
Select the "Show Full History" option from the drop-down menu.

Check the history list to look for the website from which you have got the deleted application.

Enter the exact website and re-download the deleted application.
An obvious drawback in this situation is, the specific website where an app was downloaded is usually hard to be located for those heavy browser users with plenty of browser histories. On this occasion, you'd better take the first way mentioned above to save time and energy.
Recover applications downloaded from Mac App Store
Supposing the removed applications are purchased or freely installed from App Store, three potential methods to restore them back to your Mac are covered below.
Method 1: Recover deleted apps from App Store
Since App Store keeps a record of your downloaded programs, it is wise to regain them from there when applications are missing. Here's how:
Open App Store on your Mac.
Click the "Purchased" tab at the menu bar.

Specify the application that you deleted earlier from the apps list.
Click the "Install" button and then input your Apple ID password to reinstall the application on your Mac.
Till now you have gained a brand new version of your deleted application. The problem is this new application does not provide the original information and settings you made before, which might be crucial to you. If not that crucial, forget my sentence and go ahead with this method.
Method 2: Recover deleted apps from the Time Machine backup
As a built-in utility on Mac, Time Machine can automatically back up the computer data including applications, providing an effortless shortcut to rescue your deleted apps. Keep in mind that if the backup hasn't been set before application deletion, there's no way to recover them by Time Machine. But if you do enable a prior backup, try this method under the guidance of the descriptions below:
Connect the external backup drive with your Mac.

Click the Time Machine icon in the top-right menu bar of the Mac screen. Select the "Enter Time Machine" option from the drop-down menu.

Use the Up/Down arrows or adjust the timeline at the right edge of the screen to find the backup of the deleted application folder.

Click the 'Restore' button after you locate the wanted app folder. It will return to its original position.
Method 3: Recover deleted apps from iCloud
iCloud is indeed another good alternative to dealing with lost applications. Your Mac data can be synchronized to iCloud regularly so that it is possible to resume the deleted apps from this platform. The steps are as follows:
Enter "icloud.com" by chrome or any other browser. Sign into your Apple account.

Click on "Account Settings" under your user name.

Go to the "Advanced" section at the bottom, and click "Restore Files".

Choose the desired application from the file recovery list and click the "Restore" button.
While one major shortcoming of this method is that you still need to initiate the Mac synchronization with iCloud beforehand, or it is too late to do application restoration without iCloud backup.
How to Recover Missing Application Folders on Mac
Apart from inadvertent application deletion, some Mac users may also run into the upsetting situation of a lost Application folder. Once you open it, the Application folder will show all the apps on your Mac. Its disappearance will lead to a big inconvenience for managing apps. How to restore a missing Application folder on Mac and regain access to it from the Finder sidebar or the Dock? This part will tell the answer.
Steps to recover the hidden Application folder on Mac:
Open Finder and go to Preference.
Select the "Sidebar" tab and tick the Applications box.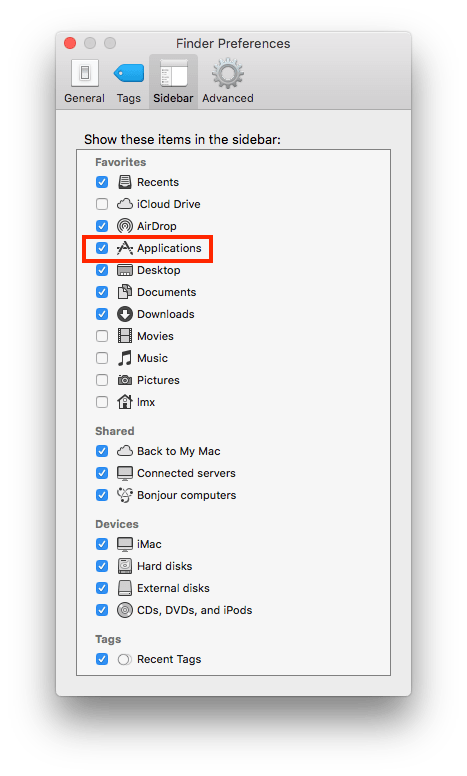 Then the Application folder will reappear in the Finder sidebar. Next, if you'd like to place it in Dock, right-click the Applications icon and select "Add to Dock".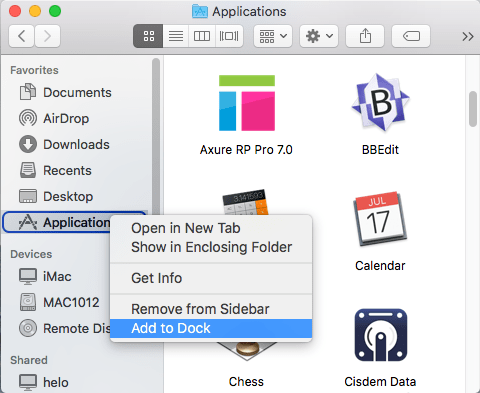 That's it. Heretofore, this blog probes into simple steps to recover a lost Mac Application folder, four potential ways to handle applications recovery in specific situations, and one 100% workable way to recover deleted applications on Mac suitable for all cases – MacDeed Data Recovery. Just give one of them a try. Wish you a smooth recovery work!