Parallels Desktop for Mac is called the most powerful virtual machine software on macOS. It can simulate and run Windows OS, Linux, Android OS, and other various operating systems and software at the same time under macOS without restarting the computer, and switching between different systems at will. The latest version of Parallels Desktop 18 perfectly supports macOS Catalina & Mojave and is specially optimized for Windows 11/10! You can run Win 10 UWP(Universal Windows Platform) apps, games, and Windows version applications such as Microsoft Office, Internet Explorer browser, Visual Studio, AutoCAD, and more on macOS without restarting your Mac. The new version supports USB-C/USB 3.0, improves performance, and greatly reduces the space occupied in the hard disk. It is undoubtedly a must-have app for Mac users.
In addition, Parallels Toolbox 3.0 (an all-in-one solution) has also released the latest version. It can capture screen, record screen, convert videos, download videos, make GIFs, resize images, free memory, uninstall apps, clean drive, find duplicates, hide menu items, hide files, and block camera, as well as it provides World Time, Energy Saver, Airplane Mode, Alarm, Timer, and more practical functions. It is easy to accomplish many functions with one click without having to look for corresponding software everywhere.
Parallels Desktop Features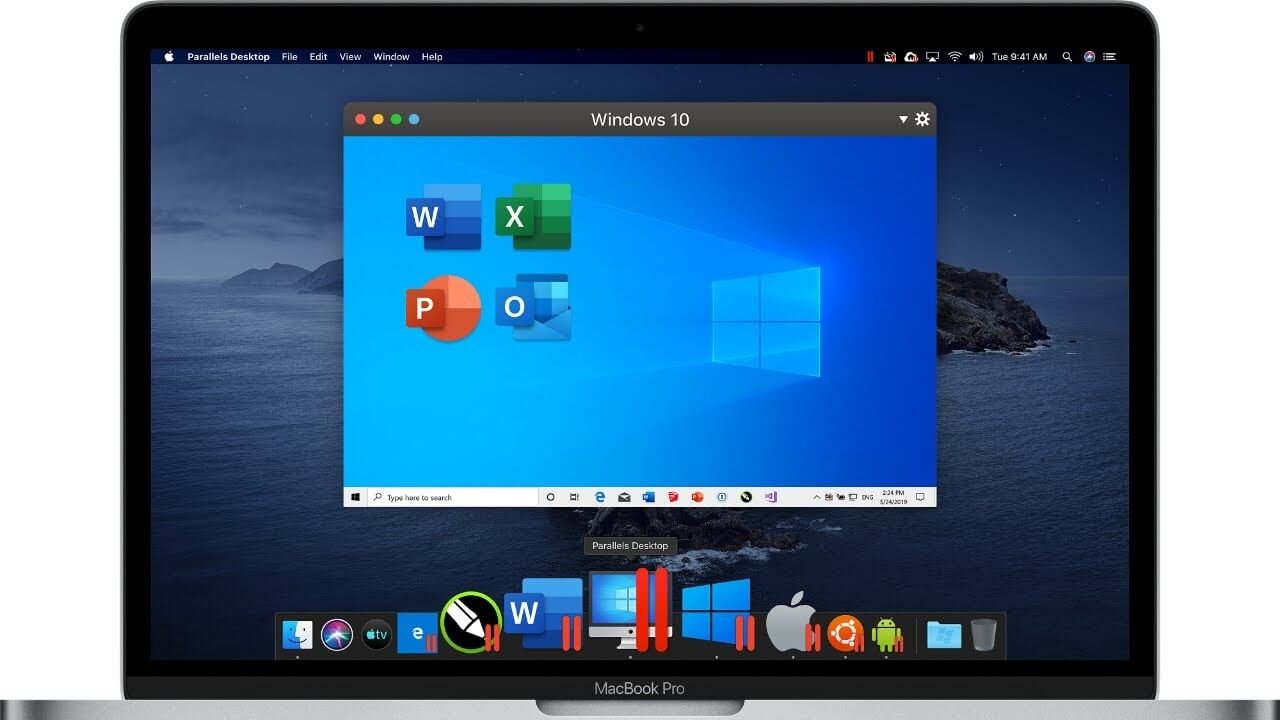 Generally, Parallels Desktop for Mac allows you to run one or more Windows or Linux operation systems simultaneously on macOS, and it can simply switch among different systems. It makes your Mac incredibly powerful because, with Parallels Desktop, you can access and launch almost all the applications and games on Mac directly, which should not be run directly on Mac.
Parallels Desktop allows us to share and transfer files and folders between Windows and macOS. It supports directly copying and pasting texts or images into different OS platforms. You can drag and drop files between different systems with the mouse. It is very convenient to use!
Parallels Desktop supports various Bluetooth or USB hardware devices. It also supports USB Type C and USB 3.0. People are free to assign USB flash drives to Mac or virtual machine systems. That is to say, Parallels Desktop allows you to use some hardware devices that are only Windows-driven. (e.g. brush ROM on Android phones, use old printers, use U-disk encryption, and other USB devices).
In terms of performance, Parallels Desktop supports DirectX 11 and OpenGL. According to various media reviews, Parallels Desktop has been better and smoother than VMware Fusion, VirtualBox, and other similar software in the performance of 3D games and graphics. Compared with AutoCAD, Photoshop, and other apps, it runs faster. You can even play Crysis 3 on Mac with a Parallels Desktop, which is teased as a "graphics card crisis". It also optimizes Xbox One game streaming to ensure that the game can be run more fluently.
Moreover, Parallels Desktop also provides a "one-click automatic optimization" function, which can adjust and optimize the Parallels Desktop Virtual Machine according to your usage (productivity, designs, developments, games, or large 3D software), to let it more suitable for your work.
Parallels Desktop provides a very convenient way – "Coherence View Mode", that lets you run Windows software "in a Mac way". When you enter this mode, you can "drag out" the software window from the Virtual Machine running Windows directly and put it on the Mac desktop to use. It is smooth to use Windows software as original Mac apps! For example, under Coherence View Mode, you can use Windows Microsoft Office as same as the Mac Office. Parallels Desktop's Coherence View Mode can let you move software from Windows to Mac for use.
Of course, you can also run Windows in the Full-Screen Mode. In this case, your Mac becomes a Windows laptop in an instant. It is very flexible and convenient! With Parallels Desktop for Mac, you can experience an unprecedented and amazing experience of using the computer – using software that across multiple operating systems, and it is very smooth!
Snapshot Function – Fast Backup and Restore System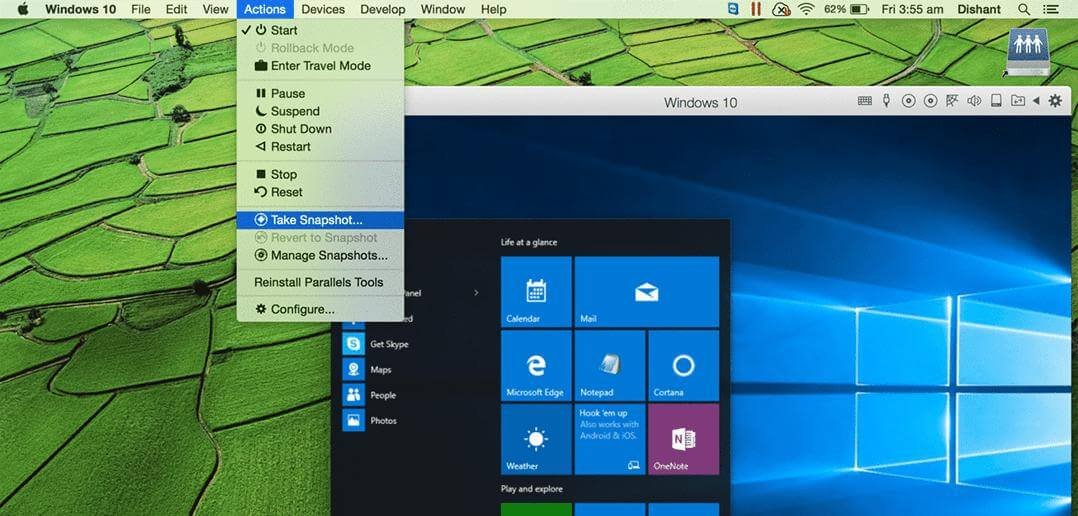 If you are a computer geek, you must like to try out new software or make various tests for the operation system and software. However, some incomplete beta programs and unknown apps may leave the cache in the system or cause some bad effects. At this time, you can use the powerful and convenient "Snapshot Function" of Parallels Desktop to protect your system.
You can take a snapshot of the current virtual machine system at any time. It will back up and save the whole state of the current system (including the document you are writing, the web pages unfastened, etc.), and then you can operate the system at will. When you get tired of it or you make something wrong, just select "Manage Snapshots" from the menu bar, find the snapshot state you just took and restore back. And then your system will return to the time point of "taking a snapshot", it is miraculous just like the time machine!
Parallels Desktop for Mac supports to create of multiple snapshots (which can be deleted whenever you like), such as taking one when you just install a new system, install all the update patches, install a common software, or test some software, so that you can restore it back to any time point at will.
Parallels Toolbox – More Convenient & Efficient
Parallels have added a new auxiliary application – Parallels Toolbox, which can help users easily capture screens, record videos, make GIFs, clean junk, record audio, compress files, download videos, convert videos, mute microphone, record desktop, prevent sleeping, stopwatch, timer and so on. These gadgets can greatly provide more convenience to users. When you need these relevant functions, you do not need to look for some software anymore. It is very practical for lazy users.
Parallels Access – Control The Virtual Machine Remotely on iPhone, iPad, and Android
Parallels Access allows you to access your Mac's VM desktop at any time through iOS or Android devices in case you need it. Just install the Parallels Access app on your mobile devices, and you can connect and control remotely. Or you can access it from any other computer through the browser with your Parallels account.
Functional Features of Parallels Desktop for Mac:
Perfectly support for all series Windows OS (32/64 bits) such as Win 11/Win 10/Win 8.1/Win7/Vista/2000/XP.
Support for various distributions of Linux, such as Ubuntu, CentOS, Chrome OS, and Android OS.
Support to drag and drop files, and copy and paste contents between Mac, Windows, and Linux.
Reuse your existing Boot Camp installation: convert to a virtual machine from Boot Camp with Windows OS.
Support for business cloud services such as OneDrive, Dropbox, and Google Drive between Mac and Windows.
Easily transfer files, applications, browser bookmarks, etc. from a PC to Mac.
Support Retina Display on Windows OS.
Allocate any number of USB devices to your Mac or Windows at will.
Support the connection of Bluetooth, FireWire, and Thunderbolt devices.
Support Windows/Linux sharing folders and printers.
Parallels Desktop Pro vs Parallels Desktop Business
In addition to the Standard Edition, Parallels Desktop for Mac also provides the Pro Edition and Business Edition (Enterprise Edition). Both of them cost $99.99 per year. Parallels Desktop Pro Edition is mainly designed for developers, testers, and power users, which integrates Visual Studio debugging plug-ins, supports the creation and the management of Docker VM, and advanced networking tools and debugging functions that can simulate various networking instability situations. Business Edition provides centralized virtual machine management and unified batch license key management on the basis of the Pro Edition.
Unless you want to develop and debug Windows programs, it is unnecessary for most personal users to buy Pro or Business Edition, and it is more expensive! You can subscribe to the Standard Edition annually or purchase it for one time, while the Pro and Business edition is paid annually.
What's New in Parallels Desktop 18 for Mac
Perfectly support for the latest Windows 11.
Ready for the latest macOS 12 Monterey (also support the Dark Mode night mode).
Support Sidecar and Apple Pencil.
Support more Bluetooth devices, such as Xbox One Controller, Logitech Craft keyboard, IRISPen, some IoT devices, and more.
Provide significant performance improvements: the speed of launching Windows programs; the speed of hanging APFS format; the speed of self-starting Parallels Desktop for Mac; the performance of the camera; the speed of launching Office.
Reduce 15% of storage occupied in the Snapshots of the system compared with the previous version.
Support Touch Bar: add some software such as Office, AutoCAD, Visual Studio, OneNote, and SketchUp to MacBook's Touch Bar.
Quickly clear system junk files and cache files, and free up hard disk space up to 20 GB.
Improve display performance and support for the new OpenGL and automatic RAM adjustment.
Support "multi-monitor", and optimize the performance and convenience when multi-display is used.
Real-time check of the hardware resource status (CPU and memory utilization).
Conclusion
All in all, if you are using an Apple Mac and in case you need to run the software on other system platforms simultaneously, especially on Windows, then using the virtual machine will be more convenient than using Boot Camp to install dual systems! Whether Parallels Desktop or VMWare Fusion, both of them can provide you with an unparalleled "Cross-Platform" user experience. Personally, I think Parallels Desktop is more elaborate in the degree of humanization and abundant functions and its performance is better. In short, it will make your Mac/MacBook/iMac more powerful after your install Parallels Desktop on your Mac.