MacKeeper is cleaning and antivirus software for Mac, which is designed to protect your Mac/MacBook/iMac from the latest viruses and malware as well as to speed up your Mac, eliminating unnecessary files and programs, and has many other utilities. This program is the first to be designed specifically for the Mac OS X system, anticipating a few years more famous brands in the fight against the increasingly dangerous viruses on Mac.
Follow this guide to start your Mac in safe mode to fix your Mac problems when it is freezing and optimize your macOS performance to make your Mac fast & clean. Besides this primary and important function, it is sold with a myriad of other utilities, so it is a complete suite for cleaning, optimizing, and managing the Mac.
Is MacKeeper Safe to Install?
MacKeeper is not just an antivirus, but a complete suite of utilities that are safe to install. The installation is very simple and proceeds smoothly, and the result is a 15MB application that is also quick to start. On the left-hand side of the application, we can find all the functions of the program, and in the center, the selection function. On the right-hand side, we can find a brief description of the function currently being used and a form to ask for help from the developers via email, chat, or telephone. The developers are very fast and helpful in solving problems. Also, the application installs background processes which are quite useful for all.
MacKeeper Features
The most important features of the MacKeeper include:
1. Anti-theft
This is a convenient function that allows you to trace your stolen Mac on a map. It can also take photos of the thief via iSight or FaceTime video camera. The geographic data of the stolen Mac can be monitored through your Zeobit account.
2. Data encryption
This is an interesting function that allows you to hide and encrypt files on Mac (with passwords and AES 265 or 128 encryptions). This is also very stable and safe.
3. Data recovery
This function allows you to restore your deleted files without backup, though it is necessary to have a key to recover them. This operation is very slow but invaluable for recovering deleted files on Mac even days later. Data can also be recovered from external devices with it.
4. Data Destruction
In addition to allowing the deletion of files that the trash bin reports as "in use," this function can irretrievably delete files and folders with the use of different algorithms.
5. Backup
It has a very simple backup utility for individual files and folders on a specific destination.
6. Quick cleaning
It includes 4 functions that will delete log files, cache, universal binaries, and useless language files from applications. This could also solve several problems of our Mac and speed up the start of lightened applications.
7. Duplicate detection
This is a very useful feature that allows you to locate and remove duplicate files on your Mac.
8. File Finder
With this, you can find movies, songs, and more using specified search criteria.
9. Disk usage
This is a very useful function that provides colored labels and identifies files and folders in order of decreasing size so that we can eliminate them if we don't need them.
10. Smart uninstaller
This is a convenient function for uninstalling applications, plugins, widgets, and preference panels with their related files. It can completely delete apps on Mac in one click. It also allows the detection and scanning of applications thrown into the trash.
11. Update detector
This helps you find all the updates available for almost all the applications installed on your Mac. This is quite comfortable, but at the moment, most of the updates must be installed manually after downloading.
12. Login elements
This allows us to see and delete processes that start automatically when we log in, but we can do the same through the System Preferences panel as well.
13. Default applications
Here we could assign to each file extension, a default application to open it.
14. Expert on request
Probably the most bizarre function of all, as it allows us to ask any question on the technological background and receive a qualified reply within two days.
Best MacKeeper Alternative
MacDeed Mac Cleaner is probably one of the best alternatives to MacKeeper for all the extensive functions it offers for the cleaning, maintenance, and monitoring of the health of our computer. And all this guarantees our privacy. Its major features include:
Cleaning: Mac Cleaner presumes to incorporate an intelligent cleaning function with which you can delete files in two clicks, focusing especially on system files, old and heavy files, your photo collection, iTunes, the mail application, and the bin.
Maintenance: Mac Cleaner makes sure that every uninstallation is executed without leaving traces or forgotten files in folders that you will never visit again.
Privacy: It also guarantees the privacy of all your online and offline activities, eliminating any footprint that you may leave through Skype conversations, browsing histories, messages, and downloads. It also removes confidential files in a secure manner.
Health monitoring: With a simple glance, you can check your memory usage, battery autonomy, hard disk temperature or SSD cycles, and if there is a problem, Mac Cleaner will explain how to solve it.
How to Uninstall MacKeeper
Uninstalling MacKeeper is not a simple task, as it usually involves costs to do it. It can save you time to uninstall MacKeeper and other adware with Mac Cleaner completely in seconds.
Download and install Mac Cleaner. And then launch it.
Click the "Uninstaller" tab to view your installation list on your Mac.
Select the MacKeeper app and click "Uninstall" to remove it from your Mac.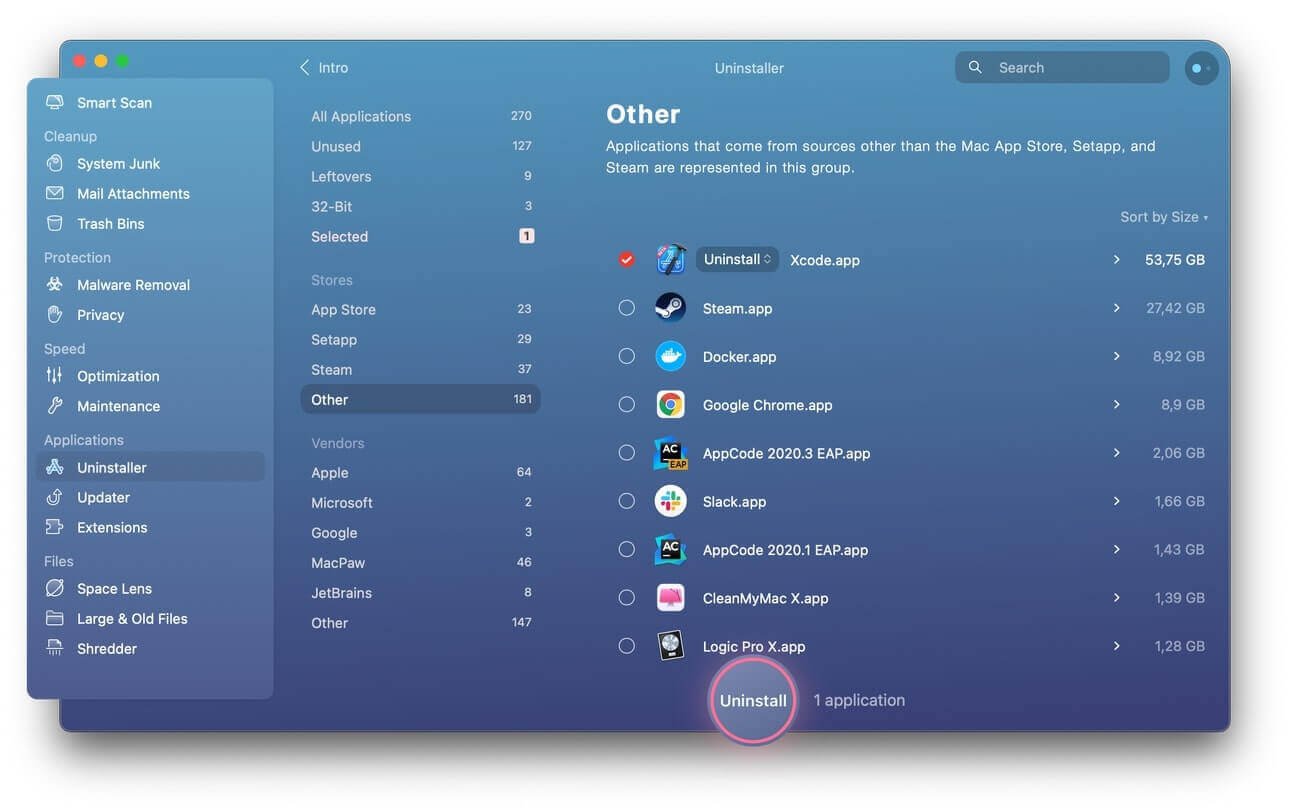 Conclusion
In conclusion, the MacKeeper is a very useful, easy-to-use, and good-looking application for Mac. Also, it's quite customizable and has very good customer support, amongst other features as highlighted above.