Imagine that one day when you intend to access data on your external hard drive or transfer data from it to another device, you plug the drive into your Mac, but find it not automatically showing up on Desktop, Finder, or Disk Utility. Seriously, your Mac is likely to be unable to mount the external hard drive.
Mounting is a process by which a computer's operating system makes files and directories on a storage device available for users via the computer's file system. Your drive is unmountable so Mac can't recognize it. Take it easy. This post will guide you on how to fix the external hard drives not mounting on Mac with no fuss, also covers how to recover data from unmounted external hard drives before fixing them in case of data loss.
Why is My External Hard Drive not Mounting on my Mac?
Prior to delving into the methods of fixing the external hard drives not mounting on Mac, you'd better first know the major reasons why the drive can't be properly mounted, to gain a deeper understanding of this issue. Here they are:
Poor connectivity.
Foreign matters like the dust may stay on the USB connectors and ports between your external hard drive and Mac, resulting in a dirty and loose connection, which hinders your drive from being detected by Mac.
The incompatible file system of the storage device.
It is possible that the file system format of your external hard drive is not supported by Mac, so Mac can't recognize it successfully. This is one reason that people usually ignore.
Damaged hardware.
Due to firmware faults, power surges, overheating, or mechanical failure, the external hard drive partition might be corrupted. A damaged hard drive is unmountable most of the time. For another, there is a chance that the USB connecting cable has been broken.
How to Force Mount External Hard Drive on Mac?
If you have checked the connection to be fine and also have rebooted your Mac, but your Mac still fails to mount the external hard drive, it indicates that the unmounting issue is caused by other potential reasons. Before digging out the reason to repair the unmounted drive, you are suggested to try to force mount it on your Mac for sake of efficiency. 2 tips on how to force mount an external hard drive on a Mac will be laid as follows.
Method 1: Force mount external hard drive on Mac with Terminal
Several specific Terminal command lines are capable of removing files that block your external hard drive from mounting normally. While the pity is that Terminal doesn't work for undetected disks in all cases. Anyway, you can have a try by following the instruction in detail.
Connect your drive with the Mac.
Launch Terminal by using Spotlight Search.

Type the command line: diskutil list > press Enter.

Find out the external drive not mounting from the resulting list. Here the macOS's internal representation of the drive is "disk2".

Type the command line: diskutil eject disk2 > press Enter. Please note that "disk2" is just an example here. You should replace the number with your own drive when operating.
Pull out the drive from your Mac.
Reconnect it with Mac. Now your external hard drive might appear on the Mac desktop.
Method 2: Force the external hard drive to mount on Mac by Disk Utility
Disk Utility contains a "Mount" option that can be used to manually force mount an external hard drive. But this method is feasible only when your unmounted drive appears in Disk Utility. Once it suits your occasion, see below for how to force mount an external hard drive on Mac.
Go to Finder > select Applications folder > find and open Utilities > click Disk Utility.

Choose the external volume from the sidebar > select the "Mount" tab at the top center. After the mounting process finishes, your drive will show up on the desktop or Finder.

How to Fix External Hard Drive not Mounting on Mac Issue?
Supposing the 2 solutions described above both fail to force mount your external hard drive on Mac, proceed to explore how to repair it. This part will separately deliver 4 ways to fix an external hard drive not mounting on Mac.
Way 1: Relaunch Finder
Restarting Finder is an attempt easy to carry out when your drive doesn't appear on Finder or your desktop. Here's the guide.
Go to the Mac desktop > press Command + Option (Alt) + Escape simultaneously. Force Quit Applications window will pop up.

Choose Finder > click the "Relaunch" button.

Select "Relaunch" to confirm the restarting.

Way 2: Check macOS drive display settings
This is another easy fix also involving Mac Finder. At times your external hard drive could not be mounted smoothly because its display on the desktop or Finder has been disabled yet. Let's see the steps below to solve it.
Open Finder from the dock.
Click Finder on the Apple menu bar > Select Preference from the drop-down menu.

Choose the General tab > tick the box next to "External disks".

Next click the Sidebar tab > tick the box beside "External disks" under the Devices section.

Way 3: Perform First Aid in Disk Utility
An external hard drive with internal errors can also make it inaccessible to your Mac. One handy storage device repair feature called First Aid can be used to fix an unmounted hard drive on a Mac machine. This feature can check the drive for errors and then repair it if necessary. The following is how to access First Aid.
Search for Disk Utility using Spotlight > press Enter to launch it.

Select your external hard drive from the list of storage devices on the left sidebar.
Click First Aid from the top tool menu.

Click the "Run" button to initiate the repair.

Once the fixing process is done, eject your external hard drive in a safe manner and reboot your Mac. Then reconnect the drive with Mac to see whether Mac can mount it properly.
Way 4: Reformat the unmountable external hard drive
As mentioned in the first part of this post, an unreadable file system belongs to one common reason leading to external hard drives not showing up on Mac. This can be resolved by changing the drive format to make it supported by your Mac. It is also a Mac solution without other platforms. Just learn the tutorial below.
Open Disk Utility (detailed step as per Way 3).
Go for the drive on the left sidebar under "External" > click "Erase" from the top toolbar.

A dialog box will pop up. Select a format for your drive. "Mac OS Extended (Journaled)" is recommended. Also, give the drive a name. Then click the "Erase" button to start reformatting.

When the message "Erase process is complete" comes out, click "Done" to complete the reformat. From now on the external hard drive is assigned with a new file system compatible with your Mac. Thus it can be mounted again.

Wait. What if the external hard drive not mounting on the Mac issue can't be fixed after you try out all the 6 solutions above? Well, it means the drive has been truly corrupted. So is there still any possibility to rescue the important files inside the drive? A beacon of help does exist. Keep reading.
How to Recover Data from Unmountable External Hard Drive on Mac?
Professional third-party data recovery software is generally the most trustworthy option to restore data from an external hard drive not mounting on Mac. Among masses of competitors on the market, MacDeed Data Recovery tops the list with its high recovery rate and comprehensive post-sale service. This program is also a powerful helper in extracting and backing up data from the unmounted hard drive before you fix or remount it, in order to prevent loss of data.
This is the step-by-step guide on using MacDeed Data Recovery to access data inside an unmountable external hard drive.
Step 1. Download, install and launch this software on your Mac.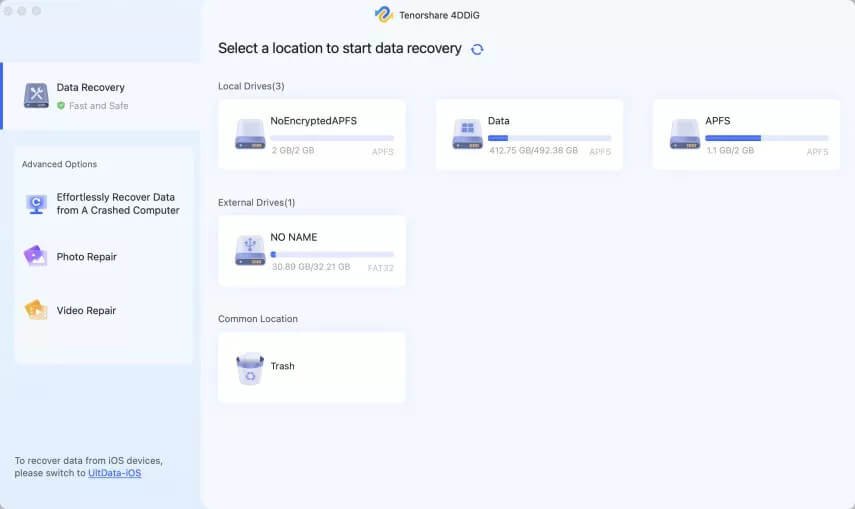 Step 2. Scan the unmounted external hard drive.
Make sure the external drive is plugged into Mac correctly. Go to Data Recovery mode. The software will detect and display the external hard drive on the right panel. Select it and click "Scan" to initiate drive scanning.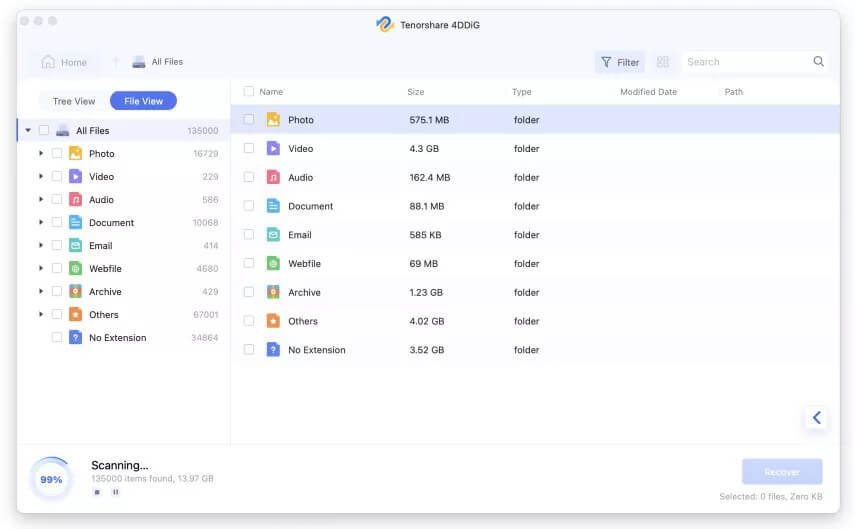 Step 3. Preview the drive data.
After both quick scan and deep scan are done, all recoverable files will be shown based on different file types. Locate your wanted files or tick the "Select all" box if you want to recover all the data.
Step 4. Recover data from the external hard drive.
Select the files and click the "Recover" button to retrieve them to a safe location.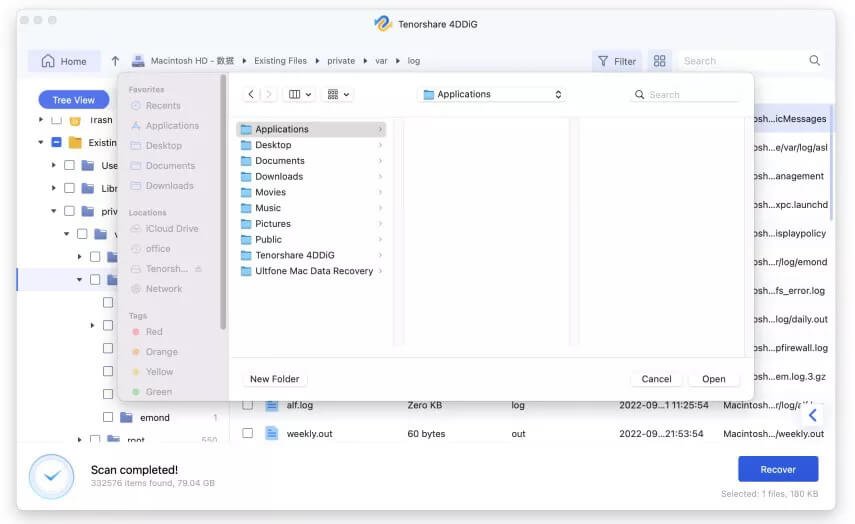 Conclusion
Mounting is a prerequisite for Mac to recognize an external hard drive. Having such a drive not mounting on Mac must be an annoying part. Hopefully, a few fixes can be applied to cope with this issue as introduced in this post. Don't forget to apply MacDeed Data Recovery to recover the drive data beforehand for fear of losing data.
MacDeed Data Recovery – Recover Data from External Hard Drive not Mounting on Mac
Directly recover data from unmounted external hard drive, no need for the mounting process
Support the recovery of 200+ file types from external hard drives: photos, videos, audio, documents, archives, applications, emails, raw files, etc.
Restore files from both internal and external storage devices, performing equally well
Retrieve data lost during deletion, format, macOS update, jailbreak, human error, drive damage, or any other unexpected situations
Optimized interaction of scanning complete interface.
Locate wanted files efficiently with filter tools like keyword, file size, date created, and date modified
Scan records retained to resume scanning status at anytime
Preview options before actual recovery
Recover data to a local drive or Cloud platforms (Google Drive, Dropbox, One Drive, pCloud, Box, etc.)