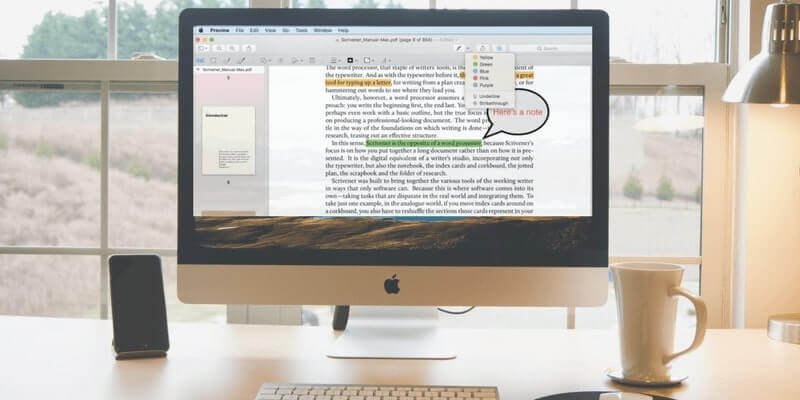 As we all know, PDF, an electronic document format that Adobe created, allows users to change the original view of the file without changing the operating system's language, font and display devices. PDF document, which is based on the PostScript language, encapsulates text, font, format, color, graphics and image layout settings in the source document.
It is because of the unique characteristics of the PDF format, that more and more government departments, enterprises and education institutions use PDF to simplify the document management process, improve efficiency and reduce dependence on the paper. With the more and more frequent appearance of PDF in daily study and work, various PDF software has sprung up. Here we mainly introduce 5 PDF reading and editing software commonly used on macOS and hope to help you choose the best and most suitable PDF application.
PDF Expert
High-speed, light and handy -PDF Expert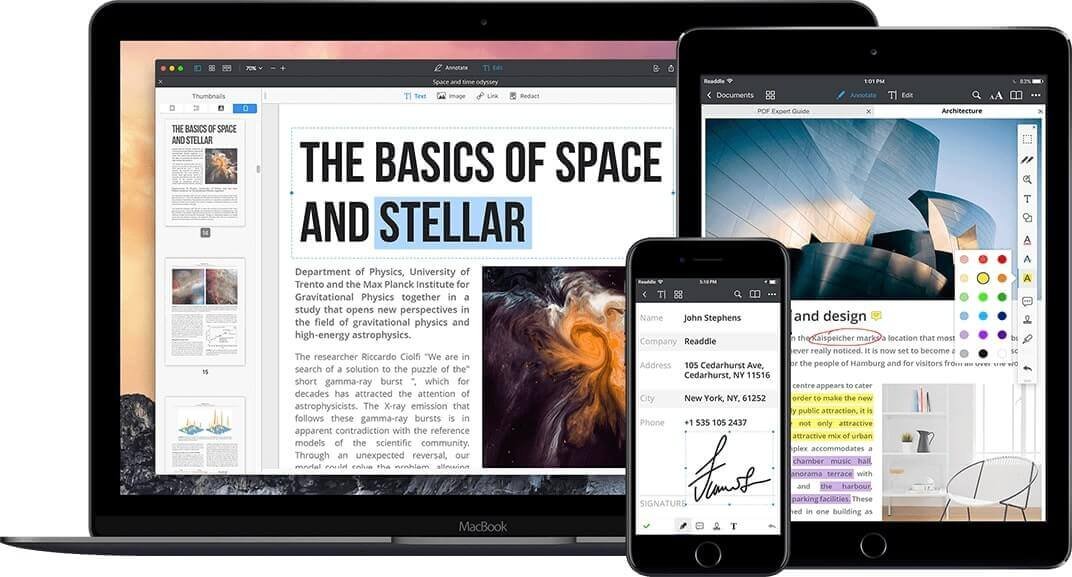 PDF Expert is one of Readdle's high-quality Apps. It has been the leading producer of PDF processing app on iOS. Since PDF Expert for Mac platform is launched in 2015, It has become one of the best applications of Mac App Store in 2015 and has been recommended by Apple's editors for a long time.
Recent list
The recent list of PDF Expert shows the seriousness of developers and perfectly demonstrates the whole beauty of the software.
Annotation
The annotation function in PDF Expert provides the preset operation of the annotation property, which further improves the effect of annotation switching.
Page organization
A smooth page adjustment provides a simple pages addition and deletion operation.
Document editing
PDF Expert provides simple text and image editing operation while offering convenient hidden information erase function.
Featured functions
Fast page organization.
Smooth annotation addition and edition.
Simple text and image editing.
Process PDF in flattening.
Pros
The great reading experience, easy-to-use and effective UI.
Cons
The functional module is not enough.
Not very professional.
PDF compatibility needs to be improved.
PDFelement
A powerful, simple and handy PDF solution that can easily change the way you work. -PDFelement
PDFelement, as a star product of Wondershare, focuses on PDF document solutions, possessing many convenient and practical functions. PDFelement integrates editing, converting, annotating, OCR, form processing and signature so that it is a versatile PDF editing software. It is popular and appreciated by numerous users. PDFelement has left other competitors behind and become the industry leader by its excellent technology of form field recognition and data extraction
Welcome page
The concise welcome page offers a convenient and fast operating entrance to users.
Page browsing
PDFelement provides a simple document browsing interface. The clear and intuitive tool classification facilitates users to find the operation tools they need quickly.
Document editing
PDFelement provides text and image editing operations, in which the editing scheme of the line mode and paragraph mode can keep the original document typesetting format to a greater extent.
Page organization
Page organization provides page operations which facilitate users to add or delete pages quickly, and the settings of the page frame to set the page size.
Annotation
PDFelement provides mainstream annotation operations to meet the annotation needs in a variety of cases.
Document security
PDFelement provides the ciphertext (deleting hidden information) and password encryption (using a password to open document or process operation) security solution, which protects document security to a greater extent.
Document conversion
PDFelement provides a variety of document format conversions, such as Microsoft Office, Pages, Images, ePub and so on, and you can convert a PDF to a single image for sharing.
Form preparation
PDFelement provides the creation of form fields and property modifications while supporting the automatic recognition of form fields and batch data extractions, greatly improving the efficiency of data processing.
Featured functions
Supports batch form data extraction.
Supports batch PDF custom tag data extraction.
Provides powerful PDF conversions.
Provides accurate OCR scanning recognition.
Pros
Powerful & clear features, complete PDF solutions, OCR, batch processing, high compatibility, simple operation and support document conversion.
Cons
Large document rendering is not very smooth; reading experience needs to be improved and the interface details need to be optimized.
Adobe Acrobat
Acrobat is the most interconnected and amazing software. Never had. -Adobe Acrobat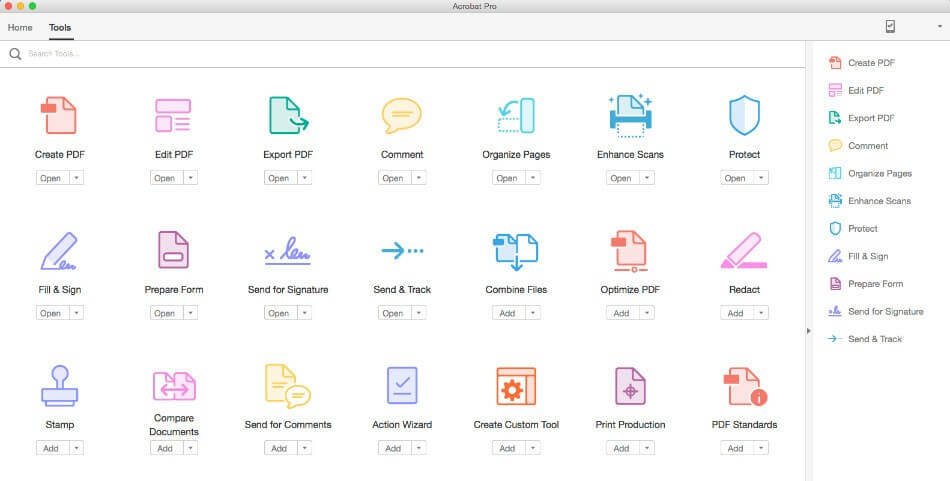 Adobe Acrobat is the best desktop PDF solution in the world. Users can create, review, share, and sign PDFs from their computer, tablet, or mobile phone.
Main interface
The left, middle and right columns show the guide area, display area and tool area intuitively, which is convenient for users to edit PDF.
Document editing
In the editing interface, text objects and images can be edited quickly. For document scanning, OCR will automatically recognize them as editable documents. In the meantime, the background, watermark, header, and footer of the document can be set.
Annotation
Acrobat provides a powerful annotation function and develops a review mechanism, but the operation of the property setting is complex and the entrance is hidden deeper. (Select the Added Annotation > Click the right-mouse > Property Setting)
Page organization
In the page organization, the order of the pages can be adjusted, while the addition and the deletion of the pages are supported.
Form preparation
Acrobat provides a lot of form fields with powerful form property settings that allow you to perform the quick interactive form creation.
Feature functions
Fast document comparison functionality.
Review and approval operation process.
Form field automatic recognition function.
PDF's quick creation from the Office format.
Pros
High compatibility, processing efficiency and professionalism, powerful features, stable products.
Cons
High threshold, deep feature hiding, high cost, and overcomplicated function.
PDFpenPro
On the basis of Preview, PDFpenPro handles PDF more professionally, which ensures better compatibility of PDF documents on macOS. At the same time, it retains the original operation flow of Preview in an interactive experience, which is more in line with the users' habits and convenient for users to use. Functional modules have also been enhanced, like adding a signature, text and image, fixing the wrong character, performing the OCR scanning documents recognition, creating and filling forms, as well as exporting PDF files to Word, Excel and PowerPoint formats.
Main interface
The interface of PDFpenPro continues the Preview style that comes with the system, which makes users to get started quickly.
Annotation
The simple annotation function meets the basis of PDF annotation needs.
Creation of form field
PDFpenPro provides simple form fields creation feature which simplifies the creation process of form fields.
Featured functions
Supports the simple form field creation.
Provides an intuitive annotation property setting.
Pros
Meets basic PDF editing needs. The operation is close to Preview.
Cons
Chinese is not supported. Text editing and page operation are poor.
Preview
System built-in, convenient and fast. -Preview
Preview, as a file preview app on macOS, not only reads and browses files in the PDF format but also performs the simple annotation operation. It is satisfied for you if you want to do the primary PDF reading and editing, but it is certainly not enough for professional PDF operations. If you want to perform more professional PDF processes, a powerful PDF editing software needs to configure.
Interface effect
Preview, as a system-level app, its design retains a consistent system style. And it offers a clear display and simple interface with convenient operations.
Document browsing
Preview provides a powerful preview technology, which is not limited to PDF format file browsing.
Annotation
Preview provides a simple annotation function, which can meet daily annotation needs.
Camera signature
The camera signature function in the Preview is one of the highlights, and its precise recognition technology will surprise you.
Featured functions
Fast annotation function.
Fast drag-and-drop for creation via thumbnail image.
Fast recognition of handwritten signature by the camera.
Pros
Built-in, various Preview formats, smooth reading.
Cons
Poor PDF compatibility, lack of professional functions, impossible to edit PDF contents.
Conclusion
There are many PDF editing software, but what they can do is not the same. In different cases, you need different PDF tools to help you. If you want to read PDF files on Mac just with text annotations, you can try any of these 5 PDF apps. But if you want to edit your PDF document on Mac in a professional way, like making changes of text contents, adding images, or deleting some pages, PDFelement would be the best one. Now just have a try!