As we have stepped into the world of advanced technologies, laptops and computers have become one of the most valuable things for the current generation. Every computer user has some set of files and collections in his machine that is rated to be highly important. In case any damage occurs to the computer, losing those files can cause considerable emotional distress.
There are a few cases when some business-related data is stored on the Windows or macOS system, and any accidental deletion or sudden loss may cause a huge financial loss to the company. In such situations, you are supposed to try the best Mac Data Recovery software so that the entire range of lost files can be restored again.
Well, the market is loaded with a wide range of Mac data recovery applications nowadays, but you cannot trust them all as they are not equally reliable. It is better to go through expert recommendations and detailed reviews online to choose the best apps to get back your lost files. This article can help you in comparing some of the top-rated Mac data recovery apps, keep reading the details below to pick the best one for you.
Best Mac Data Recovery Software (Free Trial)
MacDeed Data Recovery for Mac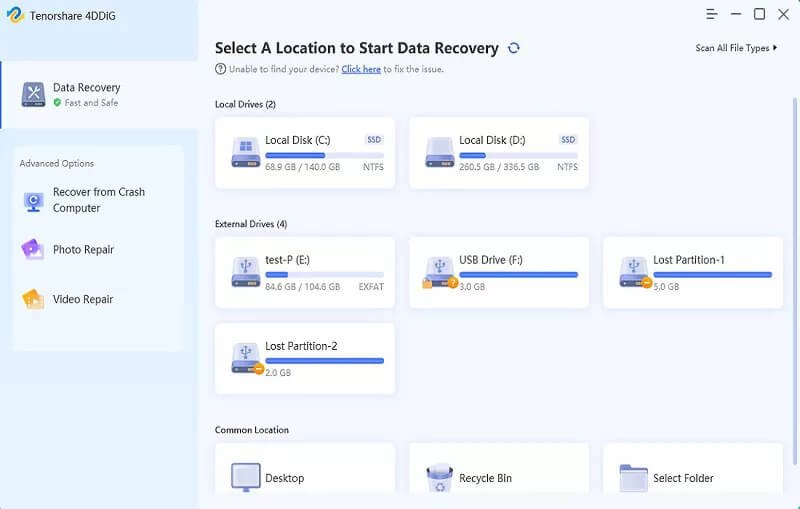 MacDeed Data Recovery, like always, is still maintaining a top ranking in the list for its extensive range of features. This Mac data recovery software is safe to use and seems quite interactive for beginners as well. You will be happy to hear that it can help users to restore a variety of multimedia files, photos, videos, audio, documents, PDFs, and even emails as well. One can easily run the scan for recovery on an internal Hard Disk Drive, External Hard Disk Drive, SSDs, USB flash drives, SD cards, Digital Camera Camcorder, and memory cards. Whether your data was lost due to power failure, factory reset, partition imperfection, inaccessibility, virus attack, accidental deletion, re-installation of macOS, or due to hard disk drive crash; there is a powerful solution to every problem, and that is MacDeed Data Recovery for Mac.
Key Features:
It works perfectly with all Mac versions above Mac OS X 10.6, including macOS 13 Ventura, 12 Monterey, etc.
It can recover data with multiple file formats, including documents, photos, videos, music files, and more.
This app can be used to recover data from files, RAW hard drive recovery, and Partition Recovery.
Users can select the kind of file they want to recover and run scans accordingly to ensure fast restoration.
Pros:
Well designed with a simple user interface.
Also loaded with a resume recovery feature that can help to resume the results of a previous recovery session.
Compatible with FAT 16, FAT 32, exFAT, NTFS, APFS, and Encrypted APFS.
Cons:
Seems a little expensive with the annual subscription for the license.
Stellar Data Recovery for Mac
Stellar Data Recovery for Mac is rated second for its simple and comprehensive design. It can help users to recover audio, videos, photos, documents, and emails. Stellar Data Recovery can be used on all Mac, like Mac mini, Mac Pro, MacBook Pro, MacBook Air, and iMac. The best thing to know about Stellar Data Recovery is that it receives full support from macOS High Sierra and Mojave. It also allows easy recovery from FAT/exFAT, HFS+, HFS, APFS, and NTFS formatted drives. In case you need software for storage-specific recovery, Stellar Data Recovery for Mac can help you get back lost data from SD cards, Fusion Drives, SSDs, Hard Drives, and Pen Drives. The advanced functions such as disk imaging and deep scan ensure 100% recovery of lost files.
Key Features:
The advanced data recovery mechanism of this software can recognize multiple file types, including documents, images, videos, and applications.
It works for Trash recovery, BootCamp Partition recovery, corrupted hard drive recovery, encrypted hard drive recovery, Time Machine support, and recover from inaccessible volumes or drives as well.
Easy customization of scan data by choosing additional parameters such as type of data, drive area, file format, etc.
Pros:
This software can also analyze the health and performance status of the hard drive.
Easy preview of lost files before recovery.
Cons:
The free version offers limited features.
EaseUs Mac Data Recovery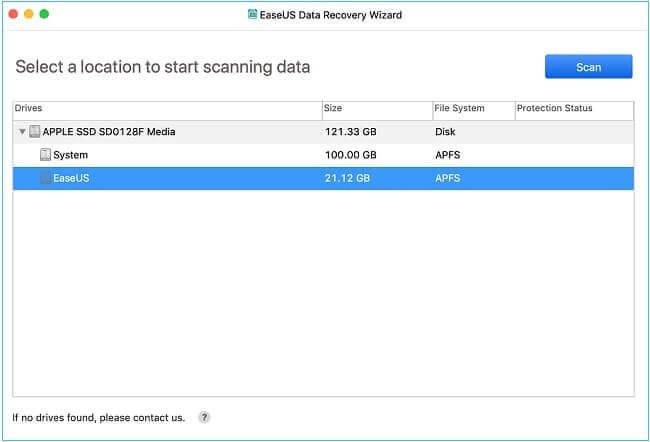 Here is another effective and most trusted Mac data recovery software that can help Mac users to recover data from MacBook, as well as HDD, SDD, SD card, memory card, and USB flash drive. It can help you get back all inaccessible, formatted, lost, and deleted files. There are three easy recovery modes: Launch, Scan, and Recover. Even beginners can use this software tool with ease to get back their important data. Note that, it allows fast recovery of various file types including video, audio, documents, graphics, archive files, and emails. No matter whether you lost data due to operation errors, hardware failure, virus attacks, or some other system problems; EaseUs can serve the recovery purpose very well.
Key Features:
It supports recovery for exFAT, FAT, HFS+, APFS, HFS X, and NTFS file systems.
This software works perfectly with a wide range of macOS, including the latest one: macOS 10.14 Mojave.
It can also create a bootable USB drive in emergency conditions.
EaseUs Mac Data Recovery has the ability to recover lost files from the Time Machine backup drive.
Pros:
Recover 2GB of data with the free version of this application.
Supports multiple file types and allows custom scanning for fast storage.
Cons:
The paid version may seem a bit expensive.
Disk Drill for Mac
Here is a feature-rich and powerful data recovery application for Mac users. Experts call it a complete data recovery package as it can recover the deletion partitions and can restore various lost files as well from the internal drives of your system. You will be happy to hear that it can be also used with peripheral units such as Android and iOS. With this advanced and interactive tool, Mac users can protect their data by recovering it on time. There are two modes of scanning: Quick Scan and Deep Scan. The first one can be used to recover missing files whereas the second one can collect files back from formatted drives.
Key Features:
It is loaded with a powerful scanning option that can search all the deleted and lost files from the hard drive and external storage devices.
It comes with two major data protection options: Guaranteed Recovery and Recovery Vault; they are also available with the free version.
This app works with Mac OS 10.8 and later versions on Mac machines.
Disk Drill is capable to recover files from emptied Trash Bins.
Software developers have designed this software with an intuitive interface that assists in the easier filtration of files at the time of recovery.
Pros:
Advanced scanning algorithm leads to a higher success rate.
Can support more than 300 file types.
Cons:
The free version only offers a preview of data for recovery.
Cisdem Data Recovery for Mac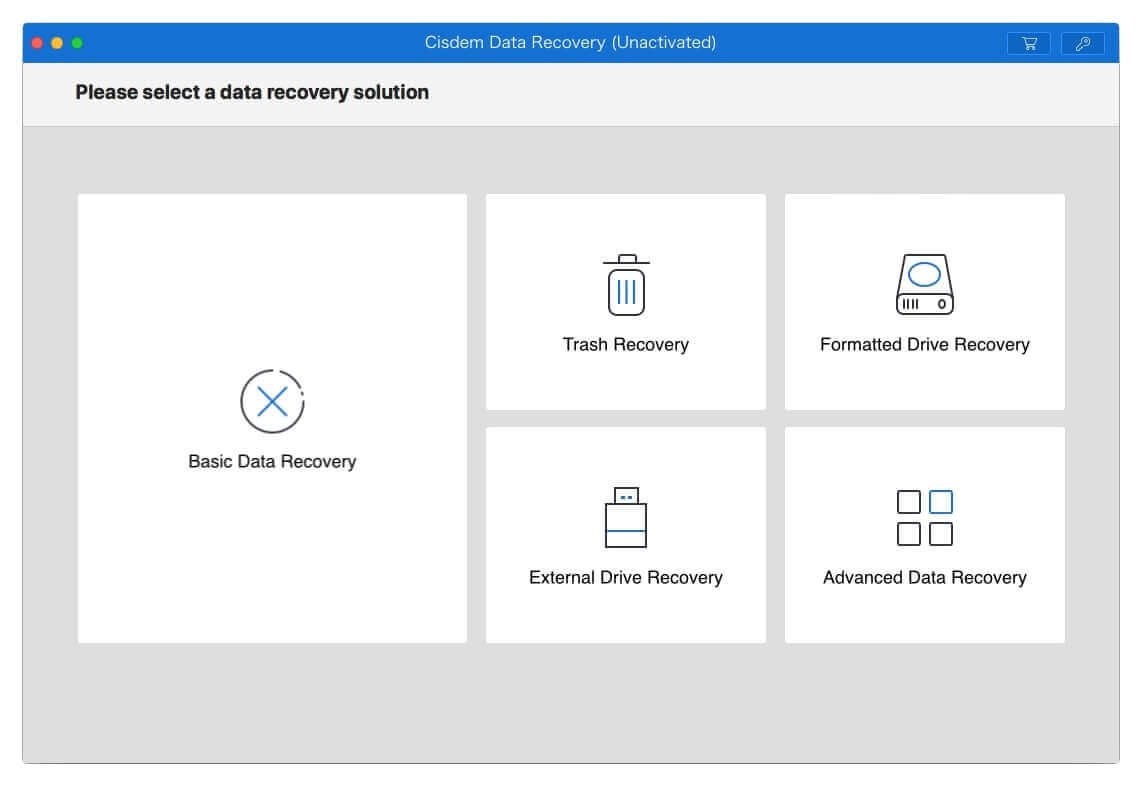 Cisdem offers another versatile option for fast and efficient data recovery for almost any type of lost file. It works perfectly to recover formatted, damaged, deleted, and lost files on Mac machines and various peripheral devices. The process of recovery is quite simple, first of all, users need to choose the data lost scenario, then hit the scan button, and soon the files will be available for preview. You can now begin data restoration for all your lost content. It can handle most of your graphics, including FAT, exFAT, NTFS, HFS+, and ext2/ext3/ext4. No matter whether you lost them due to operation error, formatting, unexpected failure, or accidental deletion; this software tool can serve your needs well.
Key Features:
It can also help to restore recently deleted files from various external disks.
It is designed to work with five specific recovery modes so that data loss scenarios can be addressed more appropriately.
Even the free version of this app allows users to preview files that the final version of this app can recover.
Pros:
Comes with a 30-day money-back guarantee; hence, users can make a safe investment.
Enables fast recovery with simple settings and easy selections.
Cons:
There is no pre-scan filtering option.
Lazesoft Mac Data Recovery
Well, this amazing software is available for free and can help you restore unlimited files on your system. It means you can get back your lost data on Mac without spending your hard-earned money. Furthermore, developers have made this tool more useful for Mac users with reliable customer support services and efficient features. The interactive interface makes it a perfect choice for beginners. Note that, this package works perfectly on the Mac OS environment and can handle a variety of files including exFAT, NTFS, FAT32, FAT, HFS, HFS+, and many others files.
Key Features:
There are complimentary drive recovery and file recovery methods to get back all accidentally deleted files.
One can also recover formatted partitions with deep scan technology.
This program can be used to recover music files, photos, documents, and applications from SD cards and Hard drives.
Pros:
The file preview option before recovery makes it easier to use.
Users can recover an unlimited range of data for free.
Cons:
Sadly, it doesn't support the latest versions of macOS.
Conclusion
No matter how you lost your important files on the Mac system when it is important to recover them, you can simply choose one of the most suitable software from the list above and get ready for your recovery. Or you can try every one of them for free to make a comparison of the results so that you can make the decision of the best one you should get. Soon you will be able to get back to the normal work operation without messing with the consequences of lost data.