The beta version of macOS Ventura has been released for some time. It always makes us excited to install and try the new features & enhanced performances of an updated macOS, especially since this macOS brings us: improved search in the Mail app, enhanced image search in spotlight, sign-in Safari with passkeys,  more powerful Messages app, share and manage photos smartly and efficiently, organize apps and windows with Stage Manager, use iPhone as your webcam, etc.
Instead of upgrading, you may have decided to clean install macOS, for the reason that you want to erase your Mac for a new start, or for the reason that you are going to transfer your Mac's ownership. In this post, we will show you how to clean install macOS Ventura or Monterey from a bootable USB drive, and also give the solution if files are lost after macOS installation.
Requirements to Clean Install macOS Ventura/Monterey
Not all Apple laptops and desktops can have a clean install of macOS 13 or 12.
macOS 13 Ventura can run on the following models:
iMac—2017 and later
iMac Pro—2017
MacBook Air—2018 and later
MacBook Pro—2017 and later
Mac Pro—2019 and later
Mac Studio—2022MacBook—Early 2016 and later
Mac mini—2018 and later
MacBook—2017 and later
macOS 12 Monterey can run on the following models:
iMac—Late 2015 and later
iMac Pro—2017 and later
Mac mini—Late 2014 and later
Mac Pro—Late 2013 and later
MacBook Air—Early 2015 and later
MacBook—Early 2016 and later
MacBook Pro—Early 2015 and later
The installer of both macOS Ventura and Monterey is about 12GB, but you still need extra space to get it to work properly and leave enough space to install some important apps on your Mac to check if your workflow can be elevated efficiently. So, make sure at least 16 GB is available on your hard drive to clean and install this new version.
Also, prepare 2 external drives, one to back up files, and the other one to create the bootable installer (at least 16GB). When clean installing macOS, we are often recommended to install from a bootable USB, which is able to install the OS from scratch, especially in the case that our current OS runs slowly/improperly, or you want to install macOS on different devices.
How to Clean Install macOS Ventura or Monterey on Mac from Bootable USB?
There are 3 steps to clean and install macOS, the first, also most important step is always to back up your files to an external hard drive or cloud-based account. Now, let's check out the steps.
Step 1. Back-Up Files to External Drive or iCloud
Option 1. Back up all files to an external drive via TimeMachine
Connect the external drive to your Mac.
Click on Apple menu>System Preferences>Time Machine.
Click on Backup Disk.

Option 2. Backup important files online
Click on Apple menu>System Preferences>iCloud.
Login in with Apple ID.
Tweak the settings.
Step 2. Create A Bootable Installer for macOS Ventura/Monterey on USB
First, download the macOS Ventura beta version or Monterey to your Mac.
Download macOS Ventura.
Download macOS Monterey.
Run the Terminal app in Finder>Application.
Copy and paste the command line as follows.

For Ventura: "sudo /Applications/Install macOS 13 Beta.app/Contents/Resources/createinstallmedia –volume /Volumes/MyVolume" in Terminal.
For Monterey: "sudo /Applications/Install macOSMonterey.app/Contents/Resources/createinstallmedia –volume /Volumes/MyVolume"

You need to replace MyVolume with the name of your USB drive, check Step 4.


Now, connect your USB to your Mac, open Disk Utility, click on External>USB Drive>Find the name in Mount Point, and input to replace MyVolume in Terminal.

Back in the Terminal interface, press Return and enter your password to run the command.
Step 3. Adjust Startup Security Options to Enable Booting from USB
Press and hold Command+R, and you will see the apple logo and then the interface prompting you to enter the password.

After you have entered the Recovery Mode, click on Utilities > Startup Security Utility.

Then check before the box No Security and Allow booting from external or removable media, and click the Close button to save the settings.

Click on the Apple logo > Shut down.
Step 4. Clean Install macOS Ventura/Monterey
Press and hold the Option key until you are prompted to enter the password, and input it to continue.
Choose the bootable USB drive.

Choose Disk Utility.

Select your Mac internal hard drive and click Erase to clean the entire disk up for macOS Ventura/ Monterey installation.

When the erasing is done, close the Disk Utility Windows and click on Install macOS Ventura Beta or Monterey to start the clean installation from your USB.

Follow the instructions and tweak the OS settings according to your needs.
What If Files are Lost After Clean Installing macOS?
Generally speaking, if you have backed up your files and done the installation properly, it is not likely to lose files. But if you get bad luck and lost files after the macOS update, try MacDeed Data Recovery, the best mac recovery tool to get your files back.
MacDeed Data Recovery is designed to recover lost, deleted and formatted files on mac, under different situations like macOS updates, downgrades, hard drive formatting, accidental file deletion, etc. It not only supports recovering files from Mac internal hard drives but recovers files from Mac external storage devices (SD Card, USB, removable device, etc.)
Main Features of MacDeed Data Recovery
Recover lost, deleted, and formatted files
Restore files from Mac's internal and external drive
Support recovery on 200+ files: documents, videos, audio, photos, archives, etc.
Preview recoverable files (video, photo, document, audio, etc.)
Quickly search files with the filter tool
Recover files to a local drive or cloud platforms
Fast and easy to use
How to Recover Lost File After Clean Installing macOS?
Step 1. Download and install MacDeed Data Recovery on your Mac.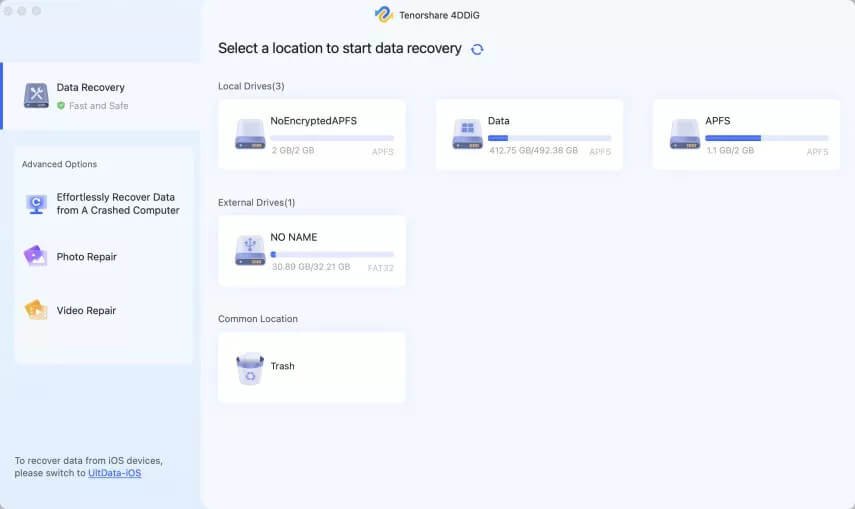 Step 2. Choose the hard drive and click Scan to start scanning the disk.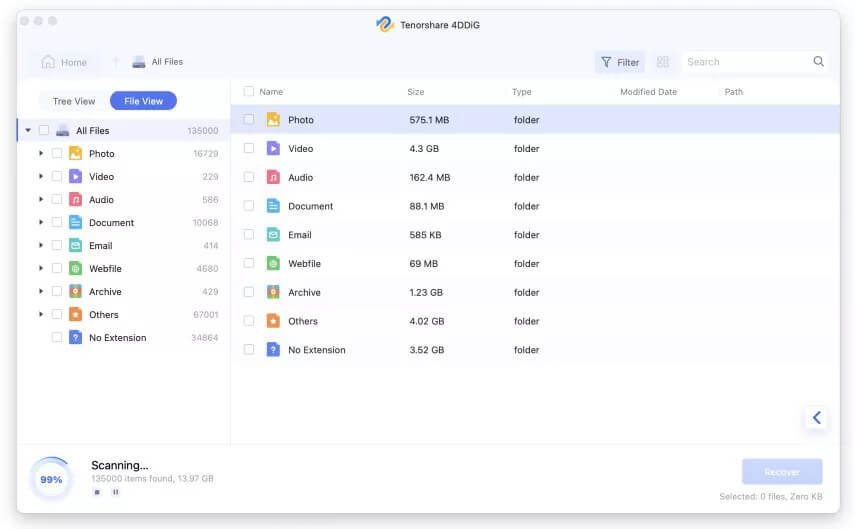 Step 3. Go to type or path to check the found files, or you can use the filter tool to quickly search specific files. Preview the recoverable files and select them.
Step 4. Click Recover to get them all back to your Mac.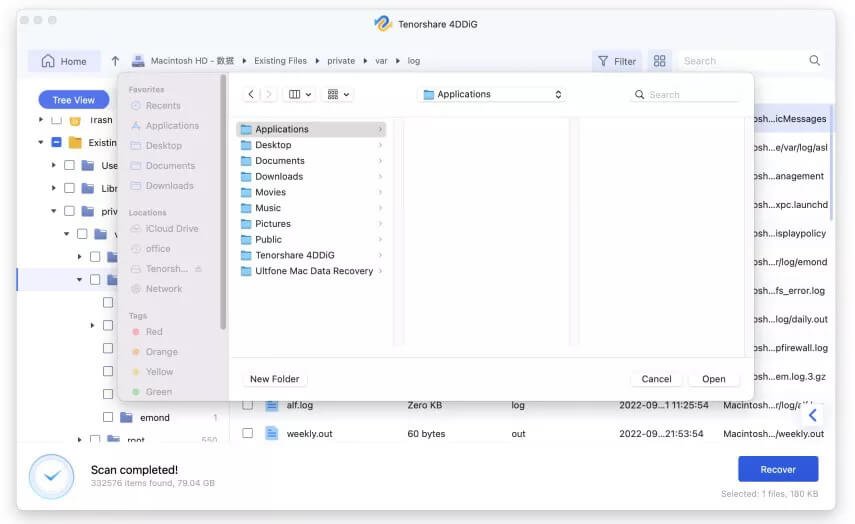 When to Clean Install Official Version of macOS Ventura?
Probably be October 2022, the date is not been announced.
Like another new macOS release, the official version of macOS Ventura is likely to come this fall too. From Jun 6th to now, Apple has updated the Ventura beta version several times, before getting all things fixed per the beta testing results, it is not possible for mac users to install the official version before fall, so, let's just wait.
Conclusion
If you have decided to clean install macOS Ventura or Monterey on your device, keep in mind to back up your files before any action. A clean install macOS make your Mac brand new and run faster, but any data loss would be tragic, so, never overlook the backup step.
MacDeed Data Recovery: Recover Lost Data After macOS Clean Install
Restore lost files after macOS update, downgrade, reinstallation
Restore deleted and formatted files
Support data recovery from Mac internal and external hard drive
Support recovering 200+ files: video, audio, photo, document, archive, email, etc.
Filter files quickly
Preview files, including video, photo, pdf, word, excel, PowerPoint, text, audio, etc.
Recover files to a local drive or cloud platforms