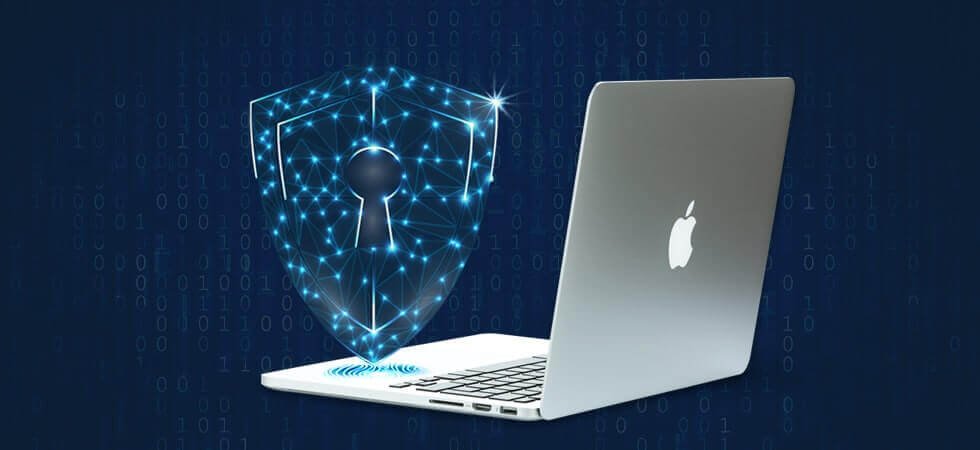 In this era of technologies, computers, laptops, and mobile phones have become an integral part of human life. People prefer to store loads of sensitive data to these devices that they need time and again in life. In such situations, it is also important to find some solution to keep the entire collection safe from virus attacks.
Well, if you are using a Mac/MacBook/iMac, you might be eager to know whether your data is already secure, or you need to install an antivirus program for macOS. The chances are that you might have heard people saying that Mac operation systems are generally more secure than Windows OS. But it doesn't mean that they do not need an additional layer of protection. The true fact is that you must always follow the highest security measures to stay safe from greedy cybercriminals. And installing top quality antivirus tools for your Mac is definitely a good start to a safe journey in this digital world.
However, for most of you, it may be difficult to decide which antivirus software is the best one for your Mac. Don' worry! Below we have highlighted details about the best antiviruses in the market. You can compare them on the basis of performance and features. Soon, you will be able to choose the best one for yourself.
Best 6 Antivirus for Mac to Protect You in 2020
Malwarebytes Anti-Malware for Mac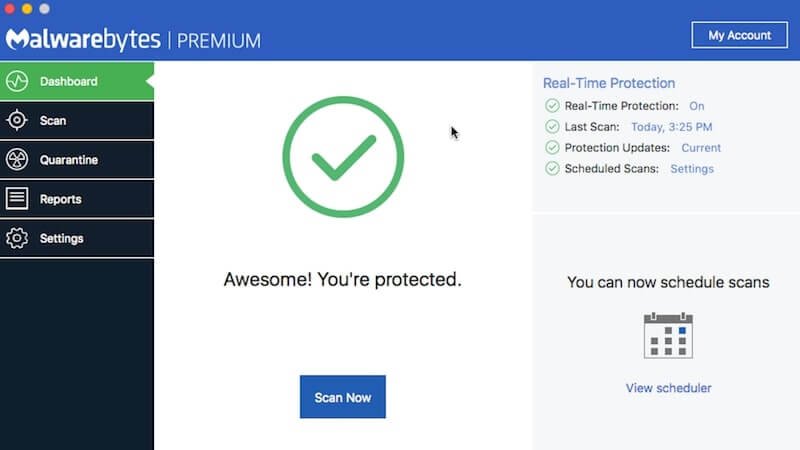 It is high time to understand that Mac Anti-Virus is not just useful to detect deadly ransomware or the high-risk virus attacks; rather at the same time, it must be capable enough to check the unwanted programs and adware in your system. The fact is that these unwanted things keep on consuming resources for no reason and slow down system performance. Malwarebytes Anti-Malware is designed to offer you the most satisfactory services by eliminating all such threats on your Mac.
This app is rated high for its lightweight installation and easy to use features. But the only trouble is that it doesn't offer real-time protection ability; it means, instead of stopping real-time attacks, it just removes the existing infections from your system.
The average system scan takes less than 15 seconds. You can get started with the 30 days trial period that comes with premium addition. It can detect as well as block the threats it found. However, in order to buy a one-year license, you need to pay $38 only. It is also possible to protect almost 10 devices with a yearly package of $65 only.
Pros:
Here is a lightweight and handy solution for Mac users.
Ensures speedy scanning as compared to most other competitors.
Cons:
Doesn't offer a real-time protection ability.
Intego Mac Internet Security X9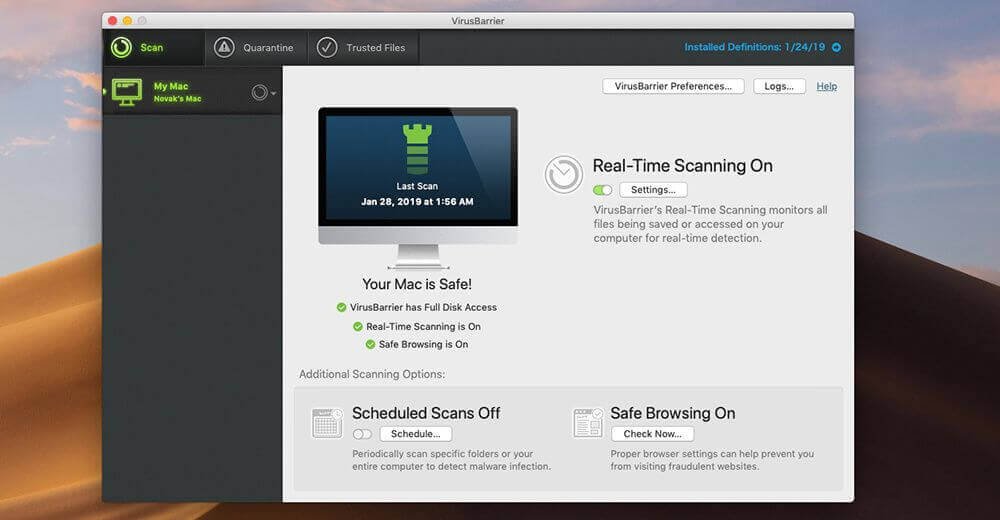 Intego Mac Internet Security X9 is the second one picked out of loads of antiviruses available in the market. This software can perform its core job very well with its both scheduled as well as real-time protection feature. One can also turn off software notifications to avoid false alarms due to non-Mac malware.
Installation of Intego Mac Internet Security X9 tool is pretty simple. Anyone can complete this task with ease. Moreover, the scanning process takes around 30 minutes, and in this duration, it can find all issues within macOS. This tool has achieved the second-best rank due to its usability and protection level.
Beginners can start with a free trial to check performance and then switch to the yearly package by paying $49.99 only. With this package, you will also get an additional bonus in terms of safe surfing plugin and firewall components.
Try Intego Mac Internet Security
Pros:
It provides satisfactory firewall protection.
Ensure the most accurate virus scanning while taking lesser time to report results.
Cons:
Limited features as compared to many other competitors.
Some beginners complain about the complicated installation procedure.
Bitdefender Antivirus for Mac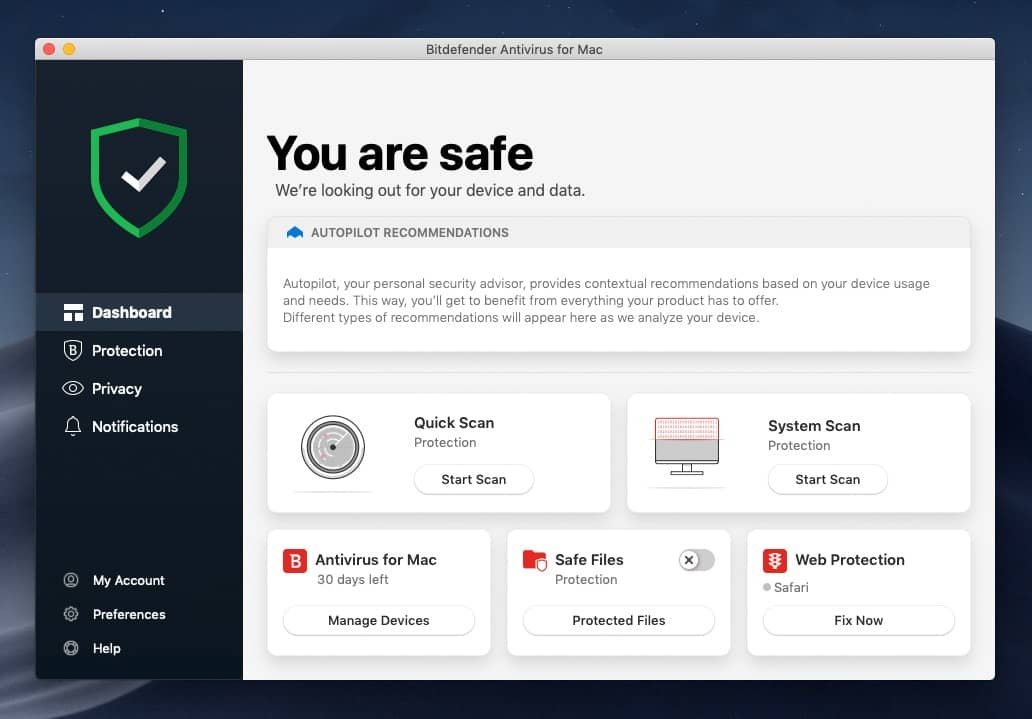 There is no doubt that the previous version of the Bitdefender was not so good; it failed to satisfy Mac users all around the world. But the latest Bitdefender Antivirus for Mac released is loaded with several amazing features. It can capture almost 100% viruses in a single scan; hence, it achieved the third rank in the list.
You will be happy to hear that it comes with ransomware protection, a Safari plugin for blocking trackers, a VPN with a 200MB cap over it, and the ability to detect phishing attempts. At the same time, it has awesome antivirus features to keep your sensitive data protected from the Internet.
This software tool is easier to install, and you will find it easier to use as well. The Autopilot mode is good for always-on scanning feature. Moreover, the interface is fuss-free and handy as well. Users can get started with 30 days free trial offer and then buy the package at $39.99.
Try Bitdefender Antivirus for Mac
Pros:
Very easy to use.
Hourly signature updates.
Comes with 30 days of a free trial.
Not much expensive.
Cons:
The real-time protection ability is missing.
Avast Security for Mac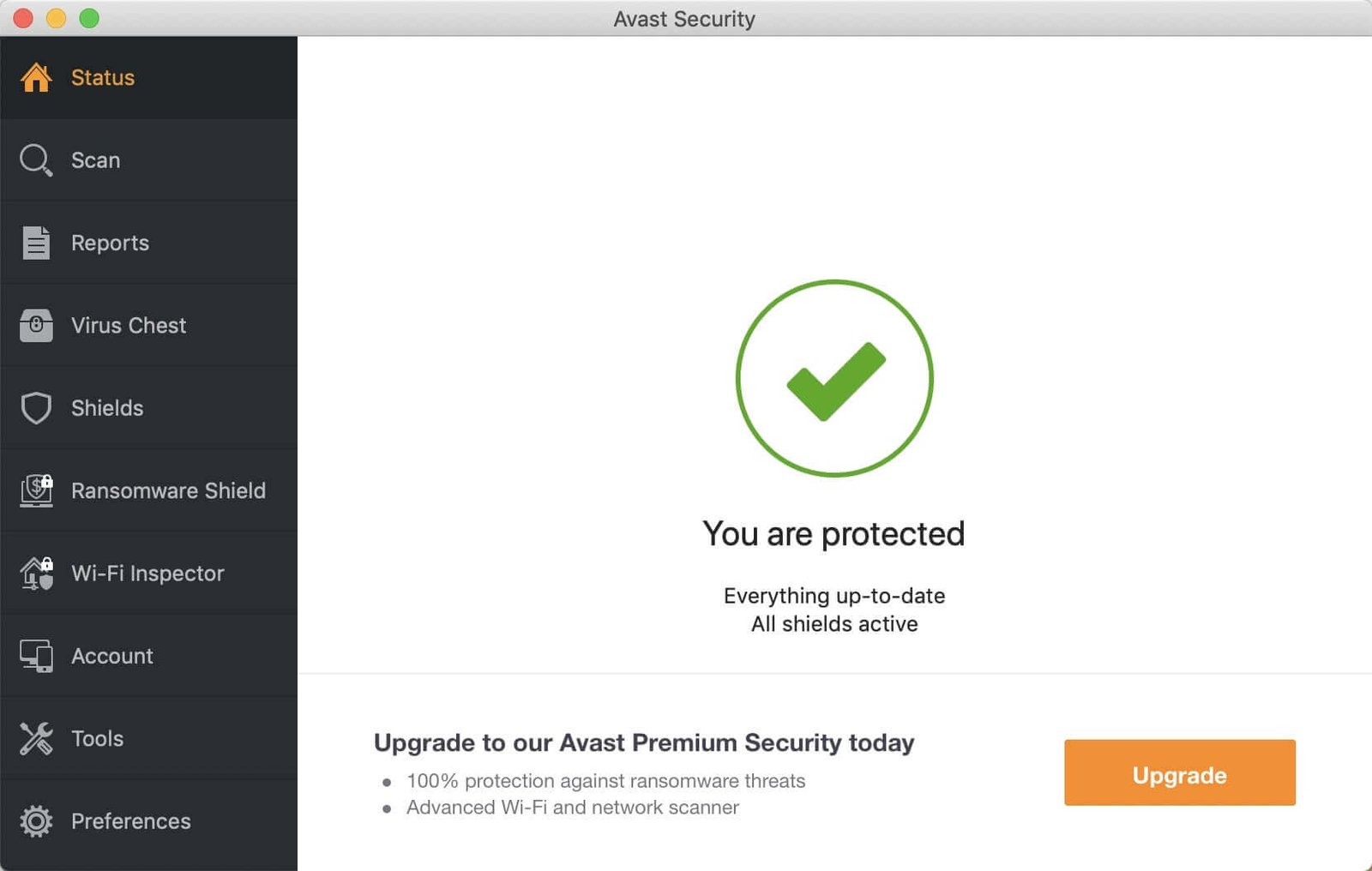 Avast can provide an essential layer of security to your system for free. People love it more due to its lengthy list of features and the ability to ensure real-time protection. It means this tool can detect threats right when they appear on your system. One can launch the full system scan or launch some targeted check on desired files, drives, or folders as well. It also allows users to set schedules for automatic scanning.
There is a web-shield that can protect you from all malicious websites, email attachments, and other dangerous downloads. It also protects Mac users from intrusive ad tracking to protect your privacy information. You will be happy to hear that Avast Security for Mac also comes with wireless network scanning features that can run a safety check on other connected devices, including routers and networks as well. Hence, it ensures complete safety from possible vulnerabilities.
Even the basic version of this Anti-Virus can track most of the threats on your macOS, however, you can shift to Avast Security Pro to avail ransomware protection, and to ensure instant alerts related to Wi-Fi intruders. You can avail of the yearly service by paying $70 only.
Pros:
It offers real-time protection feature.
Can also block various dangerous sites.
Capable enough to detect network vulnerabilities.
Cons:
AVG Anti-Virus for Mac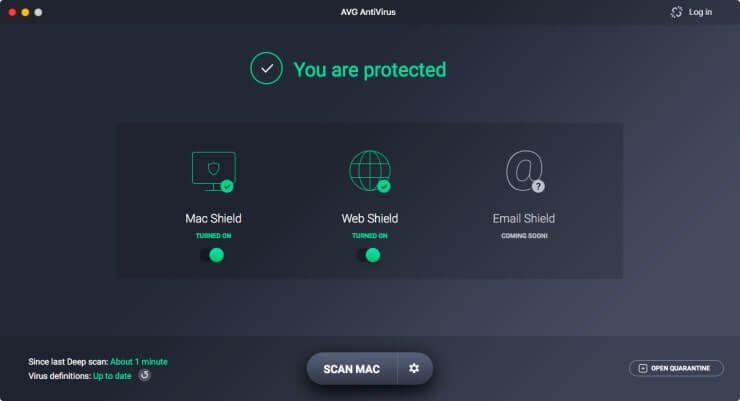 Here is another free antivirus for your Mac that can help you stay protected from harmful Internet attacks. It makes use of a traditional scanning engine to target malware attacks and ensure perfectly good protection. Few additional features included in the package are webcam blocker, a virtual keyboard, a firewall, and some parental controls.
The installation process is pretty simple, and it takes lesser time for running scans as well. The full scan may take around 40 minutes to complete. Even beginners find its interface easy to use and handy as well. But the sad part is it cannot run separate checks on dedicated files and folders.
This software is available for free, and anyone can download it online. But note that it doesn't come with any customized technical support. You can just check the discussions and forums online to find a solution to all your problems. In case if you are not interested in spending money on buying an expensive anti-virus for your Mac system, AVG can serve the purpose with ease.
Pros:
Excellent malware protection.
Easy to use design.
Available for free.
Cons:
Limited features to protect your Mac.
Total AV for Mac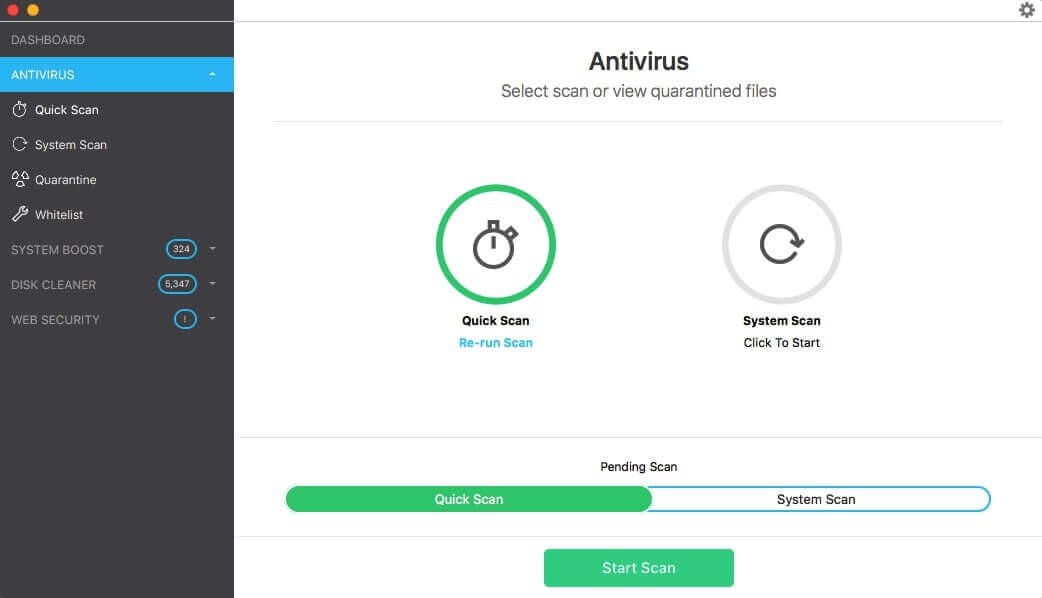 Here is a nice and low-cost alternative for your Mac. In case if you are not ready to invest in the above-advanced software tools, this basic one can also provide the desired level of protection from virus attacks.
With this anti-virus software, you will be able to get a System Boost tool for uninstalling apps on Mac and to prune start-up programs as well. The built-in disk cleaner tool can scan various duplicate apps on your system. Other than this, it comes with an ad blocker feature that works perfectly with Opera, Firefox, and Chrome as well. By making a small extra payment, you can also avail password manager and VPN manager for your Mac system.
Although it's always-on protection doesn't offer satisfactory protection, it is possible to run a manual check when a certain app is running on Mac. Once you sign up for the basic one-year package of $19.95, it ensures automatic renewal for the next year with the service charges of $99.95 only.
Pros:
A low-cost protection solution for your Mac system.
Lots of handy features.
Cons:
Performance is not fully satisfactory.
Conclusion
You have gone through the list of best 6 Mac Anti-Viruses available in the market. Hope it can help you to make a complete decision to secure your sensitive data on your Mac. Choose the most reliable option from the list above and get your antivirus app installed on your macOS. Soon you will be able to stay safe from unwanted hacker's attacks and other major cybersecurity crimes. If you are already using any of these, share your opinions with the world to let them know about the performance level.