You may not be interested in the default ringtones on your iPhone day by day. When you want to set wonderful or vivid music as a ringtone or alert sound for your iPhone, for the iOS device with iOS 11 or later, you can download or re-download the purchased tones in your Apple ID. But if you haven't purchased any tones, you cannot replace the default sound. But if you want to add the ringtones and tones from Mac or PC computer to your iOS device, there are several ways that you still can try, although sometimes it is a little complicated.
How to Add Ringtones to iPhone using iTunes
iTunes is a powerful media manager application for iPhone users. As you can transfer music from iPhone to Mac or Windows with iTunes, you can add ringtones or tones to your iPhone from your computer manually by using iTunes as well.
For the old iTunes (earlier than 12.7), you can sync ringtones to an iPhone from the computer with iTunes. But the ringtones should be in the m4r format.
Connect your iPhone to the PC.
Launch iTunes. And then select "Tone" in the Settings of the left bar.
Drag & drop the ringtones to add them to your iTunes library.
Check the "Sync Tones" box and then click "Apply" to sync the tones to your iPhone.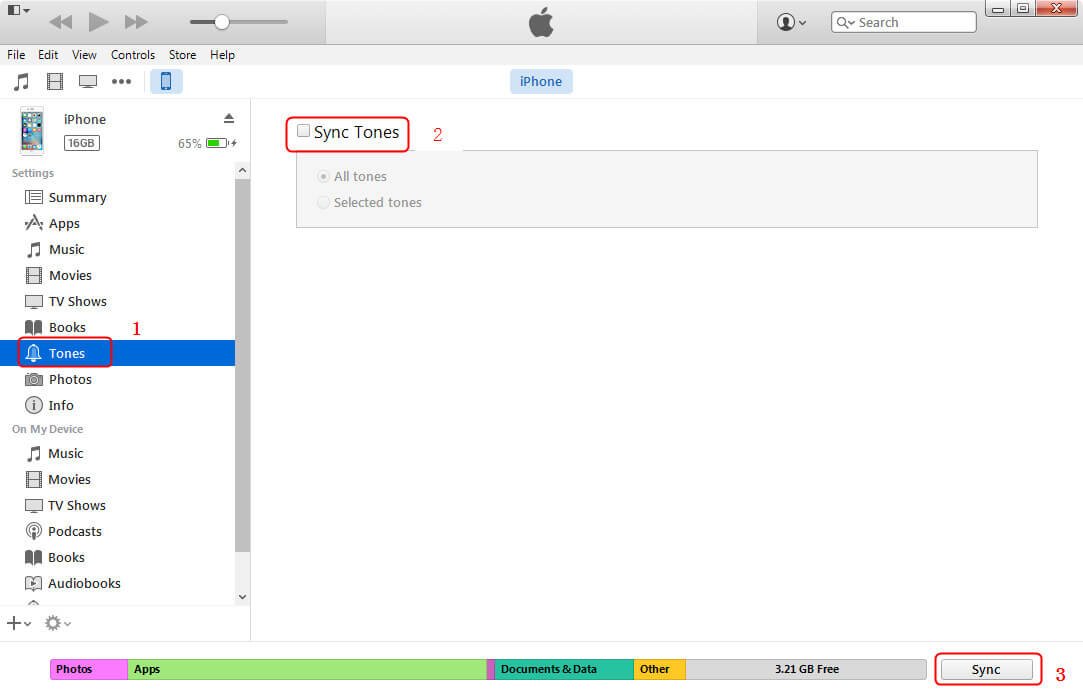 Note: After you click the "Apply" button, it will pop up a "Remove and Sync" window to let you know iTunes will sync all media files to your iPhone, including the music on the iTunes library on your computer. You may lose songs if they are not on your iTunes.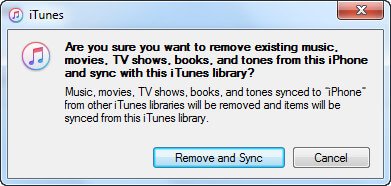 For iTunes 12.7 or above, if you want to add custom ringtones or tones that are downloaded from online websites to your computer, shared with your friends, or created by some music apps like GarageBand, you can follow the step-by-step guide below.
Connect your iPhone to the PC.
Launch iTunes (It's better to keep your iTunes with the latest version).
Add the ringtones or tones to your iTunes library. Then select the tone and copy it.
Click the "Tone" tab on the left under your "Devices" on iTunes, and then paste it (You can drag and drop the tone files onto the name of your iOS device in the left sidebar in iTunes as well).
As you have imported your tones to your iPhone, you can set your iPhone ringtones after you disconnect your iPhone.
How to Add Ringtones to iPhone without iTunes
If you are afraid to lose your media files on your iPhone when using iTunes, or your audio files cannot be added to your iPhone with iTunes, you can try MacDeed iOS Transfer to transfer any audio files to your iPhone or iPad for free as a ringtone or notification sound. It supports MP3, M4A, AAC, FLAC, AUDIBLE, AIFF, APPLE LOSSLESS, and WAV formats.
Step 1. Download and install MacDeed iOS Transfer on your computer.
Step 2. Connect your iPhone to your PC via a USB cable. Then your iPhone will be detected automatically.
Step 3. Select the "Manage" icon. You can add the audio files by clicking the "Import" button (or drag & drop the audio files to the window directly). Your ringtones files have been imported to your iPhone soon.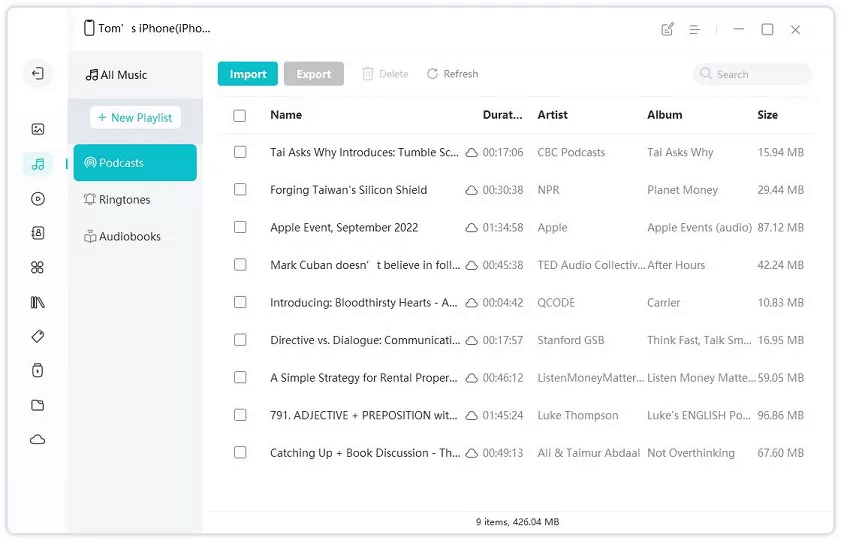 Step 4. Disconnect your iPhone. Go to Settings > Sound & Haptics on your iPhone and pick a default ringtone.
Step 5. Edit contacts in your iPhone's Contacts app to set contact-specific ringtones.
With MacDeed iOS Transfer, you can easily import audio files to your iOS device to set as ringtones or alert sounds. You can also export ringtones from your iPhone to your computer. Besides, MacDeed iOS Transfer allows you to automatically back up your iPhone and transfer files between your iPhone and computer. It is well compatible with all iOS devices, like iPhone 14 Pro Max/14 Pro/14, iPhone 13/12/11, iPhone Xs Max/Xs/XR/X, iPhone 8 Plus/8/7 Plus/7/SE/6s, etc. And it is very convenient because you can connect your iOS device to a PC with a USB cable as well as Wi-Fi.
How to Change Ringtones on iPhone and iPad
You can change your ringtones on your iPhone or iPad by following this guide.
On your iPhone or iPad, go to Settings > Sounds & Haptics.
Tap on "Ringtone" in the Sounds And Vibrations Patterns list, you can change the ringtone here. If you want to change the sound of Text Tone, New Voicemail, New Mail, Sent Mail, Calendar Alerts, Reminder Alerts, and AirDrop, you can choose one of them and change the sound.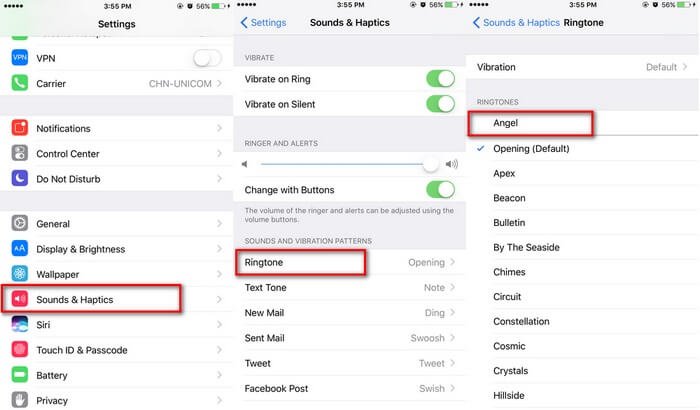 Note: If you want to set a specific sound of the ringtone or text tone for a contact, you can edit it in the Contacts app on your iOS device.
Of course, iTunes can help you add ringtones to your iPhone or iPad, but it may be not the best way for most users. If you are not very good at using iTunes, it may erase all the media files on your iPhone by some mistakes. And iTunes supports a specific audio format to import. As iTunes is annoying in most cases, using MacDeed iOS Transfer to add audio files to iPhone as ringtones will be the best way you should try.