Every day we are using the Internet to access services, and entertainment and to make conversations with others in a matter of milliseconds. However, as cute and pretty as the Internet seems to be, it is filled with malware, spyware, or viruses that can corrupt your computer and Mac. So, each time you download an app, a video, or even a picture that hasn't been approved by Apple, you are placing your Mac at risk of being infected by malware. In this case, you need powerful anti-malware and anti-virus software to protect yourself from all these threats from the Internet. Malwarebytes Anti-Malware for Mac is one of the best antiviruses for Mac that you can deploy on your Mac to protect yourself from the grim places of the Internet.
Is Malwarebytes Anti-Malware for Mac Safe?
Malwarebytes has proven to be a trustworthy developer over the years. Malwarebytes Anti-Malware for Mac is completely safe to use on your Mac, MacBook Air/Pro, or iMac. This app can be trusted to do no harm to your Mac. It will not drain a major chunk of your computer's processing power and slow it down. You can install it into your Mac without any fear of losing data or giving malware access to your Mac. Malwarebytes Anti-Malware for Mac has been digitally approved by Apple so you can definitely trust it. However, you must be careful to download it from Malwarebytes's official website but not from third-party websites, as they might be using the Malwarebytes Anti-Malware as a trojan horse to install malware into your Mac laptop.
Malwarebytes Anti-Malware for Mac Features
Malwarebytes Anti-Malware for Mac is filled with many great features that make it very attractive for Mac users who want to protect their computers from viruses, spyware, and other malware.
Light and Lean software: This app is extremely small, about the size of three music files combined. This means that you don't have to fear this taking up a significant chunk of your storage space on Mac.
Effectively removes unwanted applications on Mac: Adware and similar programs will significantly occupy your space of storage and slow down your Mac. Malwarebytes Anti-Malware for Mac is able to properly dispose of these programs. Thus, you will have the clean and pristine experience of your Mac restored.
Protects you from threats: Malwarebytes Anti-Malware is able to detect ransomware, viruses, and other malware in real-time using an advanced algorithm. This algorithm is constantly updated to ensure you are protected from the latest variants of malware. Once these threats are detected, it quarantines them. The detection process is automated, so you will be protected without having to lift a finger. You will be able to review these quarantined items and decide whether you want to permanently delete them or restore them back to your Mac.
Quick scans: Malwarebytes Anti-Malware for Mac is able to scan a standard Mac in less than 30 seconds. You can just run the malware scanner and start streaming an episode online. The scanning will be done before the title song ends. You will even be able to schedule scans to run when you are not using your Mac, at any time, on any day.
Blocks unwanted applications at their source: Malwarebytes Anti-Malware has a record of developers who are known to release unwanted programs like adware, PUPs, and malware. The software will block all the applications from these developers, even if they try to bypass security by releasing slightly tweaked variants of their applications.
How to Use Malwarebytes Anti-Malware for Mac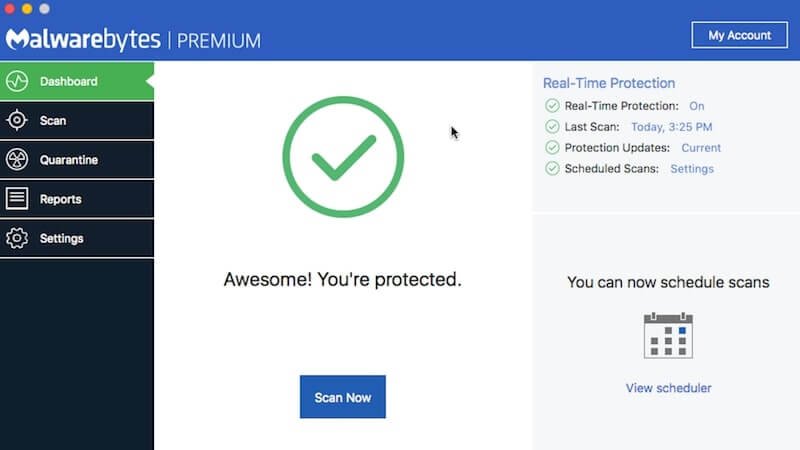 Once you have installed Malwarebytes Anti-Malware software into your Mac, there are a few things you need to know before you can use it effectively. There are four main modules in the application user interface.
Dashboard: This provides you with basic information regarding real-time protection and the database version being used. You will be able to run scans and check for updates from the dashboard. You will also be able to turn Real-Time Protection on and off.
Scan: This is the most basic and the most essential feature of this software. This lets you locate and remove the malware present on your Mac.
Quarantine: This section holds all the threats that have been detected by scans. You will be able to review these quarantined items and can also permanently delete them using this module.
Settings: This tab is actually a shortcut to the application preferences section. It will let you make changes to the way Malwarebytes runs on your Mac.
While the interface of the application does look very simple, Malwarebytes is very good at doing what it claims to do. The extensive database and scanning algorithm makes it one of the best tools to get your computer rid of malware.
Pricing
The free version of Malwarebytes can be downloaded from their website. While this version lets you clean your infected Mac, it does not have any of the premium features of the paid version. You will, however, be given a free 30 days trial of the premium version when you download the free version, you can use this time period to test all the features and see if it suits your needs.
The premium version of Malwarebytes is subscription-based software. To activate your premium subscription, you need to sign up for at least 12 months at the cost of $39.99. While this initial package is limited to only one device, you will be able to expand your subscription to up to 10 devices, with each extra device costing you $10. You will be able to add devices that run different operating systems under the same subscription plan. They even have a sixty-day money-back guarantee.
Conclusion
While there was a time when Macs were impenetrable by viruses, there is no malware that can infect your Mac. Malwarebytes will be able to protect you from this malware. It will scan frequently your Mac and detect any threats that have sneaked their way into it. You will thus be able to use your computer without any fear. They also have affordable pricing that makes them a great choice for your security needs.