Every time a new version of macOS is released, Mac users cannot wait to download and install, trying those long-awaited new features. Updating to new macOS can be a delightful process for most Mac users, while, some of us may be suffering from such an update for different reasons, like Mac won't turn on after updating to macOS Ventura, Monterey, or other versions. If you run into such a problem, you can find the most complete guide ever to get it solved, also you are given the best solution to deal with lost data after such an update.
The "Mac Won't Turn On After Update" issue can be caused by different reasons, here we collect 10 feasible solutions to get it fixed.
Restart
Whenever a problem occurs, restarting your device is always the simplest yet most efficient way to fix it. Restarting can start up the Mac fresh by clearing memory. And there are 2 ways to restart.
Method 1
If your Mac is open, click on the Apple icon and choose Restart. Then disconnect all the accessories on your mac, particularly the recently installed memory or hard disk that may be not compatible with your mac.
Method 2
Leave the Mac as it was, press and hold on the Power button to turn the Mac off, then hold and press the Power button after several seconds to turn the Mac ON again, also you can press the hotkeys combination to restart your mac: Control+Command+Power.
Check the Display
It seems to many Mac users that there is no necessity to check the display when a Mac won't start after updating to Monterey or Big Sur. But, it is not. Sometimes, it is just the reason for a damaged or unconnected display. When you start the mac, listen carefully if it makes any sounds, if yes, Display won't be the problem, if not, re-connect the power cables, then restart. If it still fails to turn on, find a technician.
Check the Power
Power is required to turn on a Mac and we need to make sure there is enough power supply to run a mac.
If you are using Mac with a battery, make sure there is enough power for a macOS update, the upgrading takes time. Or you can remove the battery and plug in a charger to make sure there is enough power supply.
If you are using a Mac connecting to the power supply, make sure the power cord and adapter are plugged in properly. If it still doesn't work, unplug and re-plug to check and test, or you can test with a lamp or other device.
Use Apple Diagnostics to Check Hardware Problems
There will be some hardware-related reasons causing the "Mac won't start after macOS update", in this case, you can use Apple Diagnostics to find out the problem.
Apple Diagnostics helps to test Mac hardware and suggests solutions, that is to say, you can use this tool to find out which hardware on your Mac runs into a problems.
Remove all external devices.
Press the Power button to restart.
Press and hold the D key when the Mac restarts.
Apple Diagnostics will start automatically, and once finished, follow its suggestions to fix hardware issues.

Run Disk Utility/Terminal in Recovery Mode
As we mentioned above, a damaged hard drive or SSD may be the reason stopping you from opening the Mac after the update. Besides using Apple Diagnostics, users can also use Disk Utility in Recovery Mode to repair the disks for Mac start-up.
Press the Power button.
Press and hold Command+R.
Release Command+R when the apple logo appears on the Mac screen.
Choose Disk Utility in the macOS Utility interface.

Select the drive and choose First Aid to repair your disk. Also, you can try Terminal to do the repair.
Boot Mac in Safe Mode
If your Mac won't turn on after updating to macOS Ventura, Monterey, or Big Sur, you can try to boot the Mac in safe mode. Mac safe mode is a way to start the Mac while performing some checks and repairing your mac, also preventing some programs from launching automatically, which is a good way to build an efficient environment to start your mac.
Press the Power button to start your mac.
Press and hold the Shift key when you hear the start-up sound.
Once you see the Apple logo, release the Shift key and wait for your Mac to start in safe mode.

Reset NVRAM
NVRAM means non-volatile random access memory, it refers to a small amount of special memory in each Mac to store the information that your Mac needed before it loaded the operating system. If there is something wrong goes on the values of NRRAM, your Mac won't start up, and this happens when you upgrade your Mac to a new macOS version. So, we can reset NVRAM if your Mac doesn't turn on.
Press the Power button, then press and hold Option+Command+P+R for 20 seconds.
Then release the keys to allow your Mac to continue starting.
Then check the Startup Disk, Display, Date & Time and reset as needed.
Reinstall macOS
Sometimes, a problem just appears during the 1st installation of a new macOS version and reinstalling can magically solve the problem.
Press the Power button.
Once you hear the sound, press and hold Command+R.
In the macOS utility interface, choose Reinstall macOS.

Pass the option to format the disk and follow the onscreen guide to complete the installation.
Reset SMC
SMC means System Management Controller, a component of your Mac hardware storing settings about power management, temperature monitoring, keyboard backlights, and others. Though Apple doesn't suggest resetting SMC without trying other possible solutions to fix the "Mac Won't Turn On After Update", it neither mentions any adverse impact of trying this method. If you have tried all possible solutions but still fail, you can reset SMC.
Methods to reset SMC on different Macs will vary a little:
For Desktop Mac – Disconnect the power cord and wait for 15 seconds, then connect it back and wait for 5 seconds, and finally start the Mac.
For Portable Mac with a removable battery – Shut down the mac, disconnect the power cord and take out the battery. Now, press and hold the Power button for 5 seconds. Then put the battery back, connect the power cord and turn the Mac on.
Contact Apple Support
Well, if you have tried all the above-mentioned solutions but your Mac still doesn't turn on, you'd better contact Apple.
Turn to Apple Support Page and contact
Visit an Apple Store
Find an authorized service provider.
If it is not that convenient for you to contact Apple Support locally, you can pay to a reliable local technician to fix such a problem.
Small Tips to Avoid "Mac Won't Turn On After Ventura or Monterey Update"
In fact, if you get your Mac well-prepared well upgrading to Ventura, Monterey, Big Sur, or Catalina, it will be much more likely that the new macOS can work properly on your mac. For further macOS updates or speedy OS running, you can try the following tips:
Remove unnecessary extensions. The extension can easily alter your settings.
Disable unnecessary, especially antivirus apps from auto-running when updating.
Clean your Mac regularly, especially the Trash bin to save space as much as possible.
Run Terminal to scan and repair your hard drive when your Mac runs slowly or works improperly.
What if Data is Lost after an Update to macOS Ventura or Monterey?
Data loss is always the most annoying problem after upgrading to macOS Ventura, Monterey, or other new versions. Some of your files just disappear for no reason. To help you recover the lost data during updating, here we recommend MacDeed Data Recovery.
MacDeed Data Recovery is designed to recover virtually all kinds of data lost due to system updates, factory resetting, deletion, formatting, virus attack, etc., no matter whether you want to recover files from external or internal hard drives on a mac.
Step 1. Download and install MacDeed Data Recovery on Mac.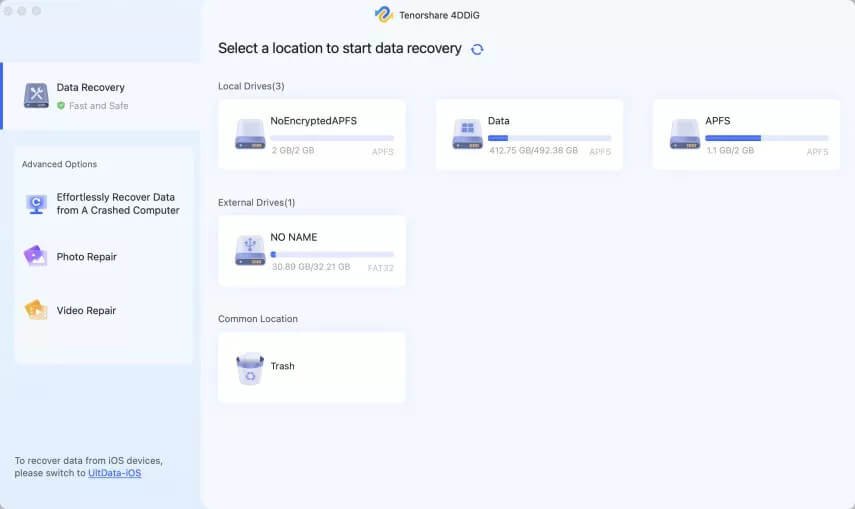 Step 2. Select the hard drive and click "Scan" for scanning.
Once the scanning finishes, all the found files will be filed in different folders, find the ones you want to recover and preview.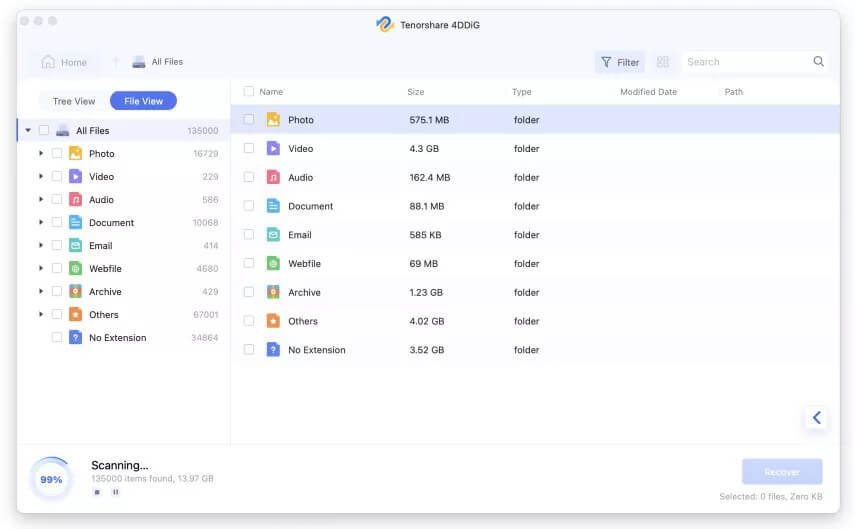 Step 3. Recover lost files after updating to Ventura, Monterey, Big Sur, or others.
Select all the files you want to get back, then click "Recover" to restore the lost files to your mac.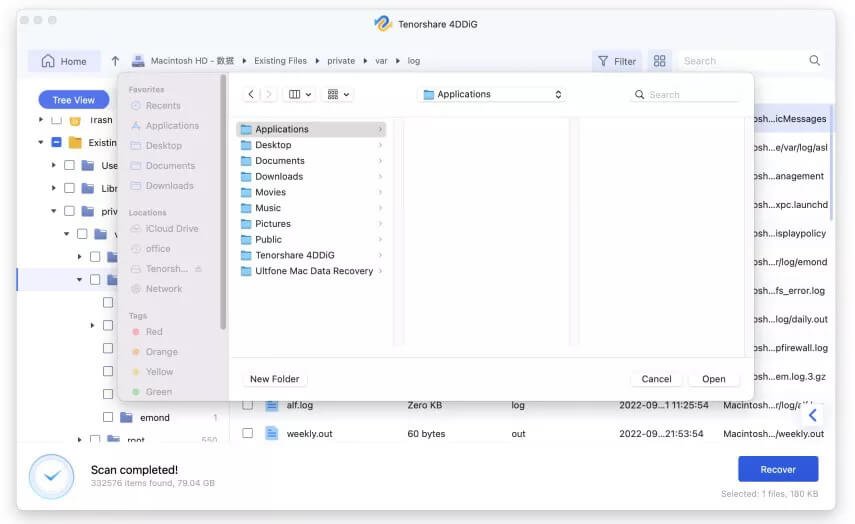 Conclusion
When Mac won't start after updating to macOS Ventura, Monterey, Big Sur, or others, you need to restart first. If still fails, try the above-listed methods to fix it. In addition, there is one thing you should pay attention to before upgrading macOS, back up all important files. Even if you lost files during the update, you can still restore them without using a piece of Mac data recovery software.
MacDeed Data Recovery – Never Lose Files after macOS Update
Recover files after upgrade or downgrade from Ventura, Monterey, Big Sur, etc.
Recover lost, deleted, virus-attacked files or other data lost due to different reasons
Recover videos, audio, folders, documents, etc., approx 200 file types
Scan both internal and external hard drives, including SD Card, USB, media player, etc.
Preview files before recovery
Recover files to a local drive or cloud
Quick access to Trash, Desktop, Downloads, Photos, etc.
Recover as many files as possible