A flash drive is similar to a hard disk, which is used to store digital data such as photos, videos, presentations, and other important documents. Under normal circumstances, when plugging in a USB/thumb flash drive to your Mac's USB port, you will see it mount on your Mac. If not, then you get into annoying trouble.
USB flash drive not showing up on Mac is a problem that freaks many users out. Today, we will expound on the methods to solve USB or thumb drive not detected issues, as well as how to recover data from an undetected USB flash drive.
Why is USB Flash Drive Not Showing up on Mac?
There are several root causes that would lead to the USB flash drive not showing up on Mac. When you are stuck on the undetected USB flash drive, investigate each of the reasons. Most problems with flash/thumb drives can be solved effortlessly.
Main possibilities why USB flash drives are not detected or recognized:
USB flash drive is damaged (buy a new one)
The USB port is not working
Format USB drive incorrectly before
USB driver is unavailable or outdated
USB firmware is corrupted (buy a new one)
For the first time use
An old operating system can't recognize the flash drive (update the system)
…
How to Fix USB/Thumb Flash Drive Not Showing up on Mac?
According to the reasons, you can find the corresponding solutions. The following methods can solve most USB flash drive not showing up on Mac issues. Give them a try before you buy a new USB flash drive or upgrade your system.
Fix 1. Check the USB Device and USB Ports
The damage to the USB device would cause the flash drive not to show up on Mac, particularly if you're using a cheap and low-quality product. As for USB ports, they can become dirty and worn over time.
Inspect the device for any physical damage or wear
Reconnect the USB device
Plug-in USB device to another USB port
Connect the USB device to another Mac computer
Update the USB device drivers
Fix 2. Discharging Static Electricity
Unplug all USB devices and shut down your Mac.
Remove the battery.
Press the power button 5~6 times to completely release the static electricity of the motherboard.
Reboot your Mac and insert all USB devices, including a USB flash drive.
Fix 3. Check Disk Utility
You can open the Disk Utility app to check if the USB flash drive is showing up. There are two situations. If your flash drive is detected, but you still have trouble accessing the content on the drive, you can run First Aid: click on drive > hit First Aid > run the process to repair the error on the drive.
If your Mac won't recognize the USB flash drive, I suggest you unmount the disk: Click on Unmount button > unplug the flash drive > wait about 10~15 seconds > plug the flash drive back in. Next, try to access the flash drive again.
Fix 4. Check Finder Preferences
Go to the Finder menu at the top of the screen, and choose the Preferences option from the drop-down list.
Tick the External disks option on the General tab.

Swift to the Sidebar tab, making sure the External disks option is selected under Devices.

These steps are very important. If you haven't ticked the option, the flash drive would not show up on the desktop or Finder.
Fix 5. Manage the Manual Connections
Navigate to Applications > Utilities > Devices.
Click on the Devices tab and choose the "Ask me what to do" option.

Turn to the Devices menu > select External Devices.

Connecting the USB drive manually may solve the flash drive not showing up or the recognized problem on Mac.
Fix 6. Reset SMC
Many authors are recommending resetting NVRAM or PRAM, but it does little to help. The method mainly solves some basic problems, such as wrong time, question mark icon, strange mouse scrolling speed, etc. When resetting SMC, you can fix external devices that are not recognized and USB ports that are not working issue.
Reset SMC with a non-removable battery:
Remove the USB flash drive.
Shut down your Mac.
Press and hold the Shift, Control, and Option keys on the keyboard. At the same time, press the power button.

Hold all the keys down for 10 seconds.
Release them and restart your Mac.
Insert your USB drive and check whether the flash drive not showing up or recognized on the Mac issue is fixed or not.
Reset SMC with a removable battery:
Remove the USB flash drive.
Shut down your Mac.
Remove the battery.
Press and hold the power button for 5 seconds.
Reconnect the battery and restart your Mac.
Re-insert the flash drive into the USB port.
Fix 7. Format USB Flash Drive
Why USB flash drive is in Disk Utility, but it's unable to mount and be recognized? Why my files can't be copied to a flash drive? Obviously, you encounter disk format problems.
If your USB flash drive is used for both Windows and Mac computers, the HFS+ and NTFS formats are not applicable. HFS+ can't be recognized on Windows, and the NTFS format can only be read (unable to be written) on Mac. FAT32 and exFAT support both of them, but FAT32 has a limitation in file size. Therefore, exFAT should be the best choice.
| | NTFS | HFS+ | FAT32 | exFAT |
| --- | --- | --- | --- | --- |
| Mac (10.6.4 or earlier) | Read Only | ✓ | ✓ | ✓ |
| Mac (10.6.4 or later) | Read Only | ✓ | ✓ | ✓ |
| Windows XP | ✓ | X | ✓ | ✓ |
| Max. file size | ✓ | Read-only with Boot Camp | ✓ | ✓ |
| Max. file size | No limit | No limit | 4GB | No limit |
| Max. partition size | No limit | No limit | 8GB | No limit |
Re-insert the flash drive into a USB socket.
Launch Disk Utility software on your Mac.
Click on the USB drive in the left sidebar and then choose Erase tab from the right panel.
Select ExFAT from the Format dropdown menu and type the name.

Click on the Erase button. You will see a confirmation window, just hit the Erase button again. Then, the formatting process will be started.
Recover Lost/Formatted Data from USB/Thumb Drive on Mac
Even if your USB flash drive not showing up on the Mac problem is solved, there is the possibility that some files are missing on your USB or thumb flash drive. Then, you need to restore deleted or formatted files from the flash drive on Mac using professional USB flash drive data recovery software.
MacDeed Data Recovery is considered the No. 1 option to help you retrieve data from a USB flash drive. It can quickly detect, preview, and recover missing, formatted, and deleted data. Besides supporting hard drive recovery, it offers comprehensive recovery from multiple devices as well including USB flash drives, SD cards, SSD, MP3/MP4 players, Cameras, HDDs, CDs/DVDs, etc.
Main Features of MacDeed Data Recovery
Recover files from internal and external storage devices: USB, SD, SDHC, Thumb drive, etc.
Recover lost, deleted, and formatted files on Mac
Support recovery of videos, audio, documents, photos, archives, etc.
Restore files fast and successfully
Quickly search files with the filter tool
Allow previewing files before the final recovery
Restore files to a local drive or cloud platforms
How to Recover Lost/Formatted Data from USB Drive on Mac?
Step 1. Select a Location.
Install MacDeed Data Recovery, then launch the program and attach the USB flash drive to the Mac system. Select the location i.e. pend to drive then click the "Scan" button to start looking up all lost files from the drive.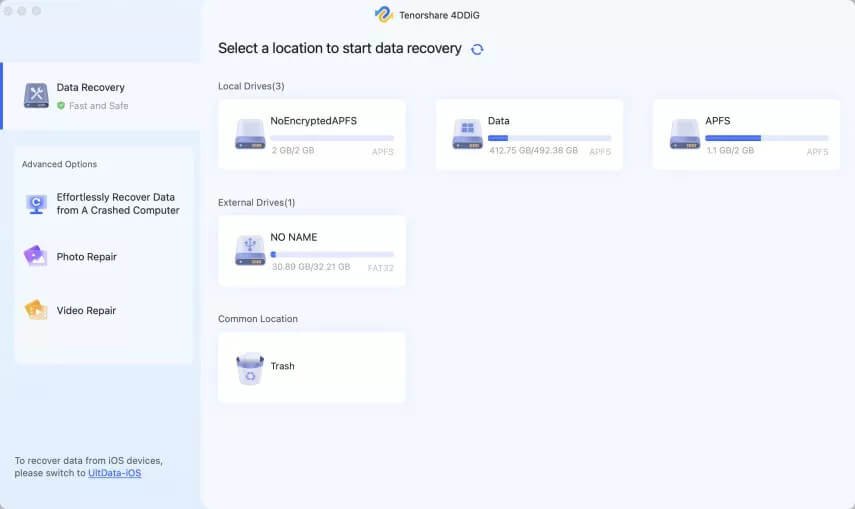 Step 2. Scan and Preview.
It takes a while to scan all files in a USB flash drive. After the scanning result is generated, you can click on specific file types to preview more detail.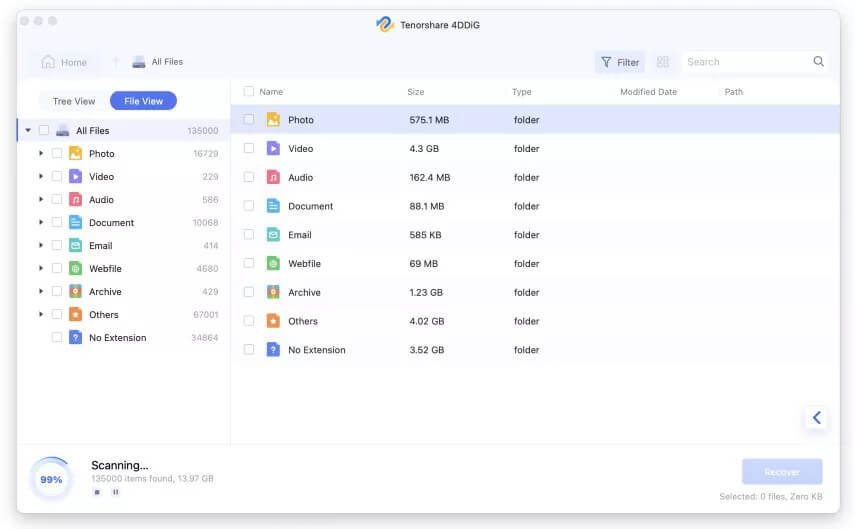 Step 3. Preview and recover data from a USB drive.
After the scan, all lost contents on the USB flash drive will be displayed according to the file category. You can preview and check file validity before recovery. Finally, choose the files you intend to recover and click on the Recover button to retrieve your lost items on a USB flash drive.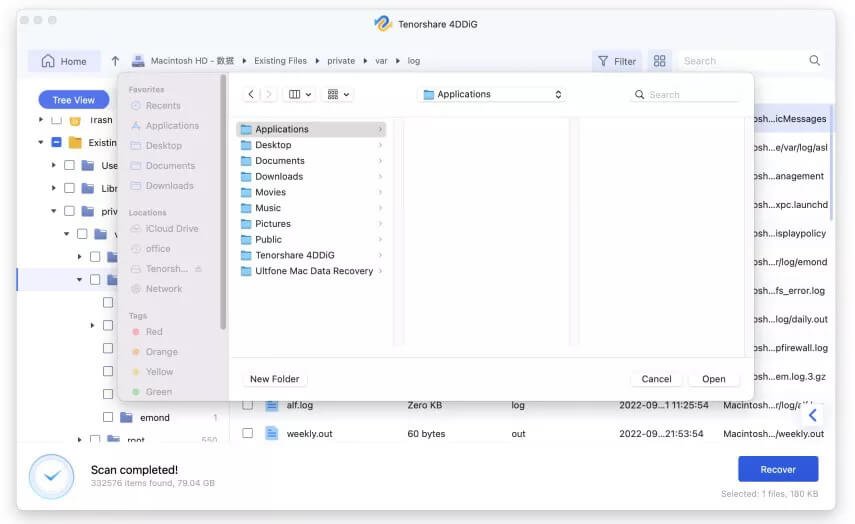 Step 5. Safely Eject USB Flash Drive.
When you want to remove the USB flash drive, don't pull it out directly. You'd better disconnect it properly to avoid damaging files on the drive: Right-click the USB flash drive and choose Eject > Click the Eject button below the Devices section in Finder > Drag your USB flash drive to the trash.
Conclusion
As USB flash drive brings so much convenience and is used frequently by us, issues tend to occur beyond our expectations. Finishing reading this guide, you will never worry about the "flash drive not showing up or recognized on Mac" problem.
The possible way to avoid troubles is to eject the USB flash drive safely, keep backing up important data and install anti-virus software to ensure security. If you think these are not enough, the safest insurance is to install a USB flash drive recovery for the Mac tool.
Best Data Recovery for Mac and Windows – Recover Data from Flash Drive Quickly
Restore data from a deleted, formatted flash drive
Recover all sorts of your files, including photos, videos, music, emails, etc.
Offer professional data recovery solutions for different data loss situations
Preview flash drive files before recovery
Filter files with keyword, file size, date created, date modified
Recover files to a local drive or cloud platforms