Apple Mail files are typically stored in the ~/Library/Mail/ folder on Mac. Many Mac users have experienced or are experiencing the Mac Mail folders disappeared issue. The issue may be due to an accidental deletion of the Mail folder, an upgrade from macOS Monterey to the latest macOS 13 Ventura, from Big Sur to macOS 12 Monterey, from Catalina to macOS 11 Big Sur, or other situations. This article will show you different ways to restore Mac mail and make folders show up again.
In some cases, you need to restore the missing Mail folders from Time Machine backup (if available) or with the help of data recovery software for Mac. In other cases, the Mac Mail mailboxes, folders, or subfolders only disappear from the sidebar in the application and different methods will be needed. All the methods provided in this article are applicable to macOS Ventura, Monterey, Big Sur, Catalina, Mojave, High Sierra, Sierra, and some older versions.
Method 1. Restore Disappeared or Deleted Mac Mails without Failure
I lost all of my Mail files but I didn't backup the system by Time Machine, and also didn't do any other backups, how can I restore my Mail files?" ― The question asked by a Mac user
Not all Mac users back up their Macs with Time Machine. Also, sometimes, restoring Mail from Time Machine just doesn't work. Is there a universal way to restore the disappeared Mac Mail folders?
MacDeed Data Recovery is an easy-to-use and powerful app to recover lost, deleted, or formatted photos, videos, documents, and other types of files on Mac, including Mac Mailbox emlx files. It can also recover data from external hard drives, SD cards, USB flash drives, digital cameras, iPods, etc. If some important data say Mac Mail mailboxes, have disappeared, don't panic. This app will be able to recover them efficiently. A free trial is available for all Mac users.
Compared with restoring the Mail folder from Time Machine, it's a lot easier to restore deleted or lost Mail using MacDeed Data Recovery. Below are the steps.
Step 1. Download and install MacDeed Data Recovery on your Mac. Launch it.
Step 2. Choose the location where you want to recover the mail files.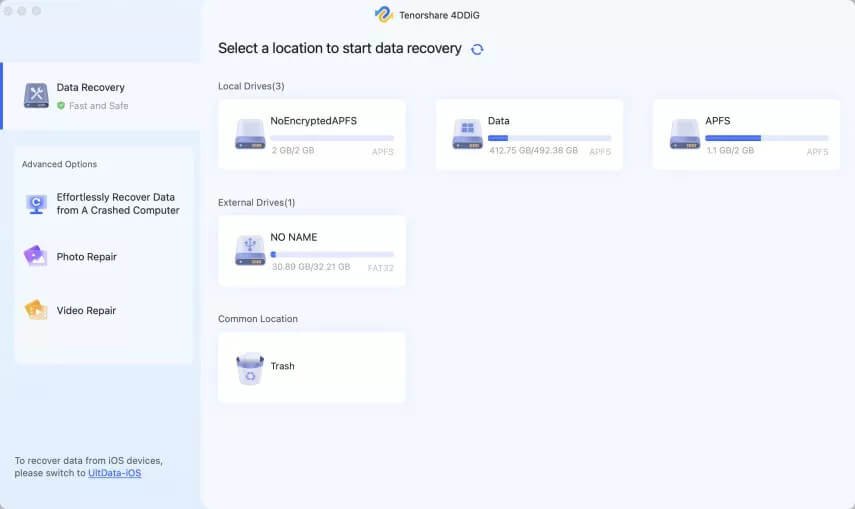 Step 3. Click on Scan and go to All Files> Email, check the mail files, or use the filter tool to quickly search a mail file.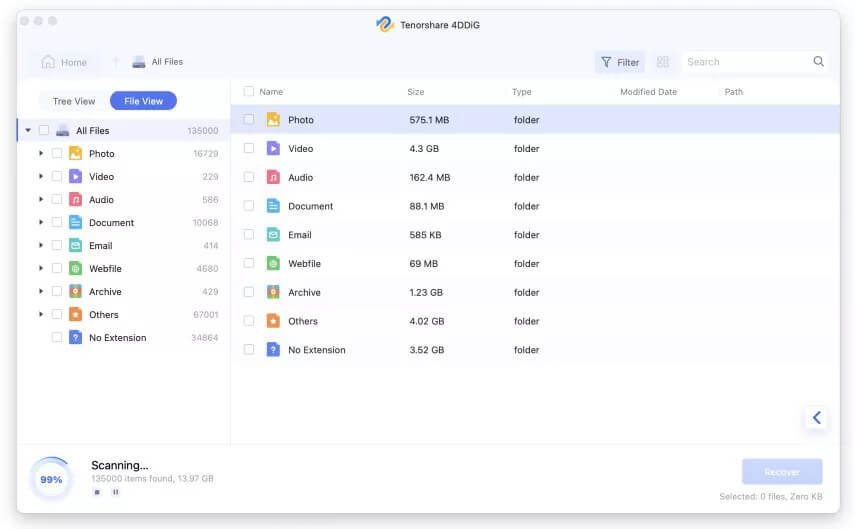 Step 4. Select the mail files and click Recover to get them all back to your Mac.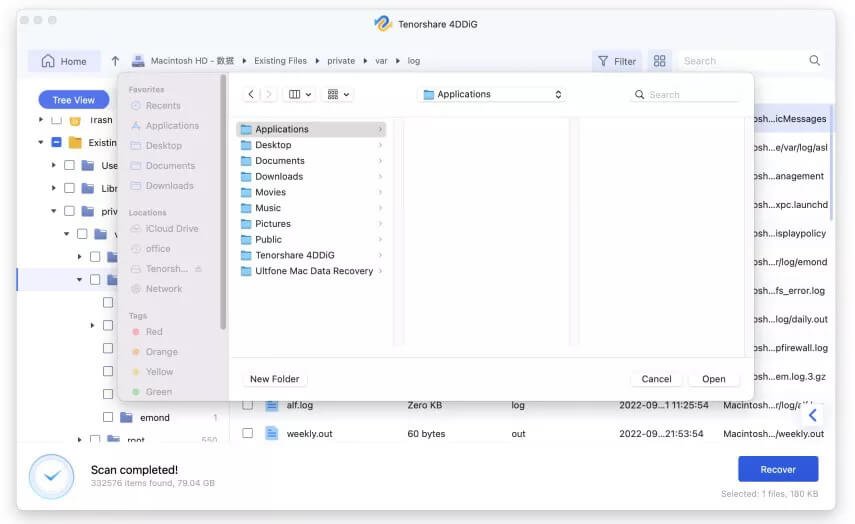 Step 6. Find the recovered Mac Mail files in the Finder app and open them with the Mail app to view or send emails. Also, you can move all these files to INBOX. mbox or Outbox. Mbox folders under ~/Library/Mail/V8(V7,6,5…) folder for recovery.
It is the easiest way to restore Mac Mail files. There is nothing complicated. All the Mail files can be recovered without loss. This data recovery app is easy and safe to use.
Method 2. Restore Missing Mac Mail Folder or Subfolder by Re-set Preferences
Here's a scenario. When opening mail, you find that all the folders previously associated with your iCloud or Gmail account are not showing. When you select "Get Account Info", they are all listed. They just don't display in the mailbox. If it's your case, you can go to "Preferences" and change the settings. By doing so, you will restore the Mail folders. This method works in many cases.
Open the Mail app on your Mac. From the top menu bar, and then you should go to "Mail" on the top bar. Select Mail > Preferences.

Go to the Accounts tab, and unselect the "Enable this account" option.

Wait for 5-10 seconds, and select "Enable this account" again.

Close this window and go back to the Mail app to check if the mail folders are back in the Mailboxes.
Method 3. Fix "Mac Mail Mailboxes Disappeared" by Synchronize
The missing or disappeared Mac Mail Mailboxes may be just caused by sync problems, all the mails are kept updated to date in the original mail account but not synchronized in the Mail app.
Launch the Mail app on your Mac.
Go to Mailbox>Synchronize "Google", click and check if the disappeared mail folders are restored in Mailboxes.

If not working for you, keep reading and try the following methods.
Method 4. Re-index to Fix Mac Mail Folders that Disappeared
If the Email accounts are working, but the mailboxes have disappeared, the second method will probably be of little help. That being said, you can still try it out. On the Apple discussions forum, there are a number of threads about Mac Mail mailboxes disappearing. In a situation like this, you can try re-indexing the mailboxes to do email recovery on Mac by following the instructions below.
Quit the Mail app if it is running on your Mac.
Go to Apple Menu>Go>Go to Folder.

Input ~/Library/Mail/ and click Go to find the Mail folder location.

Then go to the MailData folder, find the files with names starting with Envelope Index, select them all and copy them for backup on your mac first.

Then delete all these files.

Then launch the Mail app and wait for the reindexing until you see the disappeared mail folders back in your Apple Mail Mailboxes.
Hopefully, this method can work. But there are some users to whom this method is not useful. They rebuilt the mailbox and still can't get the messages to appear. The re-indexing will not work if the Mail folder files don't exist on the computer anymore. If it's the case, it means that your Mail folder is lost and you need to use a professional tool to restore your Mail folder.
Method 5. Fix "Mac Mail Mailboxes Disappeared" by Re-Add Account
Sometimes when our social media or mail account runs into errors, we will log out and re-login to fix the problem, and most of the time, it solves the problem magically. To fix "Mac Mail Mailboxes Disappeared", we can also use this workaround, delete the account first, then re-add and re-load mails in the Apple Mail app.
Run the Apple Mail app, and go to Mail>Preferecens.

Choose the mail account you use to manage mail in the Mail app. Click "-" to remove the account.

Click "OK" to delete the account.

Quit the Mail app and launch it again, you will be asked to choose a Mail account provider, and input the account name and password.

Select Mail to use with this account and click Done.

Now, you will see all the emails and mail folders appearing in the Mail Mailboxes.

Method 6. Recover Missing or Disappeared Mac Mail with Time Machine
Many Mac users back up their Macs with Time Machine. If you are one of them and you have lost Mail messages recently, you can restore Mail from Time Machine. An article on macissues.com provides three options to manually restore disappeared Mail folders from Time Machine.
Open Finder on your Mac. Enter Time Machine.
From the top menu bar, select Go > Go to Folder. Enter ~/Library/Mail/. Find the folder starting with V, say V8 for Big Sur. Open it.
Apart from the folder MailData, there are several folders with long names. Open them one by one to find the mail account that has the mailbox you need to restore.
Find the files with the name of the mailboxes that have disappeared. Restore them to the desktop. Exit Time Machine.

Import the .mbox file into Apple Mail on your Mac. From the Import mailbox, drag the email messages into the mailbox you want them to go to.
Sometimes, restoring missing Mac Mail folders from Time Machine is just able to recover a few messages. This approach may simply not work in some cases. And if you want to restore your entire system to a prior backup, you need to guess what if something terrible happens and we need to give up one of the three. Because the whole process of the full system restoration will take you some time, and you lose some third-party application registrations, which will take some terrible things for you. You'd better have mental preparation.
Tips for Backing up Mail Folder on Mac
The Mac mail folder that contains email accounts, mailboxes, messages, etc. is entitled Mail. Access it by going to Go > Go to Folder and typing ~/Library/Mail/.
Before backing up the Mail folder, you should quit the Mail app. Go to the Mail folder, copy and store it to a different storage device.
When you restore the Mail folder by simply copying and pasting, the system will ask if you want to replace the existing folder with it. If you have lost all of your messages, simply confirm by clicking the Yes button.
It's sensible to back up your Mail folder or other important files of yours on a regular basis.