-"How do I recover deleted downloaded movies in Chrome Mac?"
-"How can I recover the deleted downloaded offline videos on YouTube?"
-"How can I recover deleted downloads on the download app?"
Questions like those above are frequently asked on the Quora site. Accidental deletion is so common that most Mac users have the experience to wonder whether recovering their deleted downloads is possible. Is it possible? Gladly yes! Read on, this article will fill you in on the solution.
Why is it Possible to Recover Deleted Downloads from Mac?
Whenever a downloaded file or folder gets deleted, it is not actually removed from your Mac computer. It just becomes invisible, while its raw data still keeps unchanged on the hard drive. Your Mac will mark the space of this deleted download as free and available for new data. That's exactly what makes a chance to restore deleted downloads from Mac.
Consequently, once you download any new data on your Mac, which will occupy the marked "available" space, the deleted downloads will be overwritten and erased from your Mac permanently. That's it. The sooner you find out a suitable downloads recovery way, the better. 4 options as follows are for your reference.
4 Options to Deal with Deleted Downloads Recovery on Mac
Option 1. Recover deleted downloads on Mac with Trash Bin
A trash Bin is a specific folder on Mac, used to temporarily store deleted files until it is emptied manually or automatically after 30 days. In general, a deleted file usually ends up in Trash Bin. So it is the first place you have to check when your downloads are missing. Here are the steps to follow:
Open the Trash Bin by clicking its icon at the end of your Dock.

Locate the deleted download that you want to recover. You can enter the file name into the search bar for quick positioning.
Right-click on the selected file and choose the "Put Back" option. Then the download will be named and returned to its original location. You can also drag the item out or use the "Copy Item" to save it to any position you like.

As you can see, with a few simple clicks, your deleted downloads can be retrieved from Trash Bin. Nonetheless, this is not always the case. If you click Empty Trash habitually or you have lost your downloads over 30 days, the deleted downloads are never in Trash Bin anymore. Don't panic. Turn to other options for help.
Option 2. Recover deleted downloads on Mac via data recovery software
Even when the Trash Bin is emptied, removed files won't be erased immediately from your Mac. A specialized data recovery tool has the ability to dig your lost downloads out from the hard drive. Our recommendation is MacDeed Data Recovery.
Your downloads can be a piece of song, a film, a picture, a document, an email message, or other file types, which are probably downloaded from a Mac built-in utility, a program, or a popular search engine. Whatever, this dedicated software can tackle virtually any download loss obstacles you may encounter.
Prominent features of MacDeed Data Recovery:
Quick access to check and recover Downloads-type files
Restore deleted, lost, trash-emptied, and formatted data
Support recovering 200+ types of files: photo, video, audio, email, document, archive, etc.
Preview options before delivery
Filter files based on the file name, size, date created, and date modified
Scan status retained to resume scanning at anytime
Download MacDeed Data Recovery for free to resume deleted downloads on Mac right away.
Here's the tutorial:
Step 1. Select the partition where your download got deleted, and click the "Scan" button.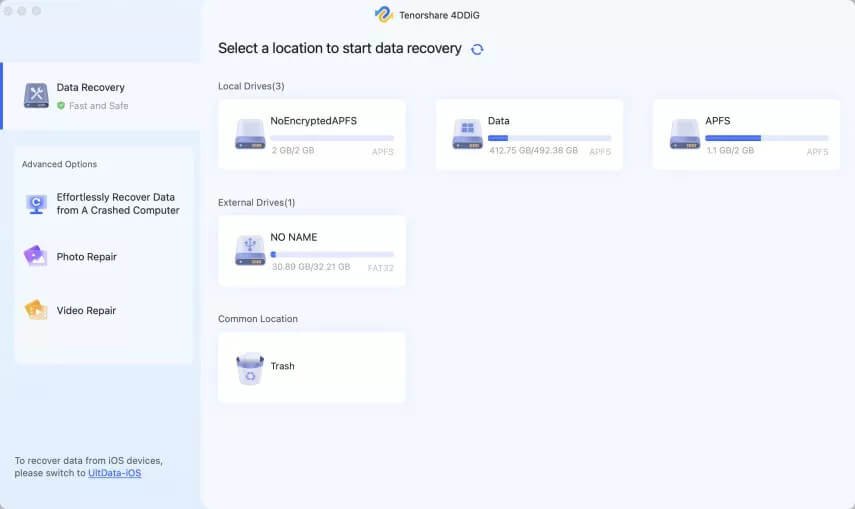 Step 2. Choose "Scan," and MacDeed Data Recovery will start scanning for deleted downloads. You can preview your targeted downloads mid-scan to check their details.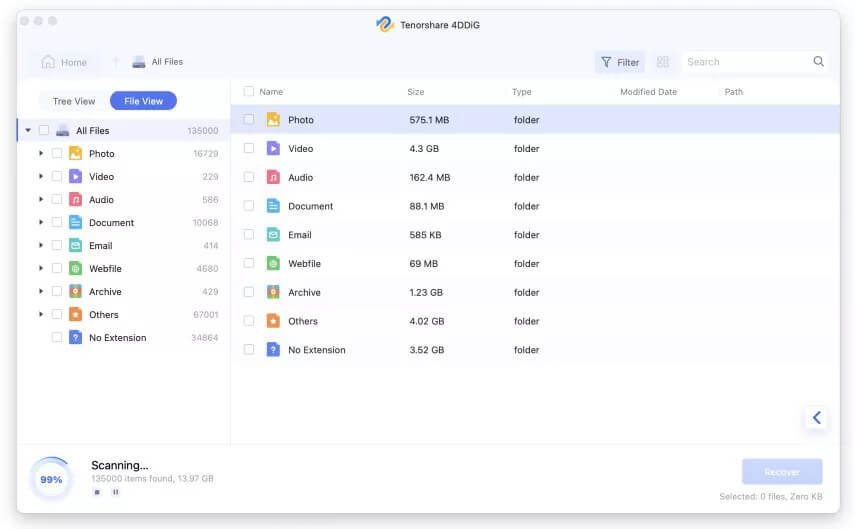 Step 3. Once the scan is finished, you can recover the downloads by pressing the "Recover" button. Choose the path where you want to save files.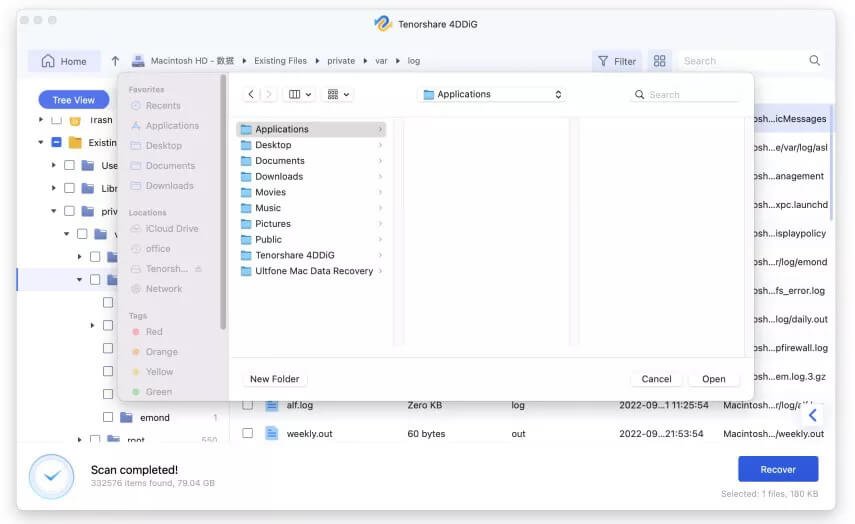 Option 3. Recover recently deleted downloads on Mac by App's built-in recovery feature
In addition to Trash Bin and data recovery software, on the assumption that your recently deleted file was originally downloaded from an application, it is possible to gain a quicker recovery by exploring the app-specific recovery function. So far many macOS apps or third-party apps have their own recovery options to avoid data loss. These options cover features like Cloud backing up, Auto-save, etc. Namely, these apps are designed with a special folder to store recently deleted items. If your download app belongs to this kind exactly, luckily enough, try this option to recover deleted downloads on your Mac.
Although the recovery feature of each app runs in a slightly different manner, the recovery process is likely to be similar to the below:
Open the app from which you got the deleted download.
Look for a Recently Deleted folder of the app.
Choose the item you want to recover.
Click the Recover/Restore/Put Back option to save it to a safe place.
Option 4. Recover deleted downloads on Mac by re-downloading from a web browser
In case you have downloaded a file from a web browser but deleted it unexpectedly, there is another solution that suits you most.
A majority of web browsers will save the file download URL path, making it easy to download the file again later if necessary. This considerate feature still works even if you have deleted or lost the downloads on your Mac.
To get deleted downloads back within web browsers, the steps are more or less the same. Here take Google Chrome as an example.
Open Google Chrome on your Mac.
Click on the three cascading dots at its upper-right corner.
From the drop-down menu, select the "Downloads" option. As well, you can open the download page by typing "chrome://downloads" into the address bar and then pressing Enter.

On the download page, the download history within Google Chrome will be displayed. Find the deleted download you want. A search bar is also available if there are too many files.

The URL path of your deleted download is below the file name. Click this link to re-download the file again.
Conclusion
Now that you have suffered a catastrophic download loss and struggled to find solutions, you probably notice that it is a wiser choice to back up your valuable data regularly on Mac in the future.
As a built-in backup facility on Mac, Time Machine is a free option to protect your Mac downloads, making it convenient to keep track of your data and recover deleted or missing files easily as long as they have been backed up. All you need is an external storage device to provide the backup space.
Supposing you wish to protect the downloads without an external drive, some third-party cloud storage platforms can also be used to do data backup, like Dropbox, OneDrive, Backblaze, etc.