How do I read from a bad drive?
I have a drive from a PC that won't boot up because of a bad sector. I have connected this drive as an external drive to another operating PC. The aim is recognized as "Microsoft Office click-to-run 2010 (protected) 2010" but when I click on it, the PC says "access denied". I want to be able to read the data off of this corrupted disc. Is this possible?
– a question from Quora
The hard disk role in a computer system can't be argued as it is where you will store the operating system and other files. Though other storage devices like USB flash drives, CD/DVD, etc., can't be used to keep the operating system for one or other reasons. Hard drive bad sectors make the hard drive inaccessible to read and write operations and are very common. The bad sectors' data may be lost temporarily and permanently depending on the cause, i.e., hardware or software. Hardware errors are impossible to fix, and it would be best to back up the hard drive and replace it. Software errors can be corrected with a software application designed for a specific task.
Part 1. The Best 5 Hard Disk Bad Sector Removal Software
HDD Regenerator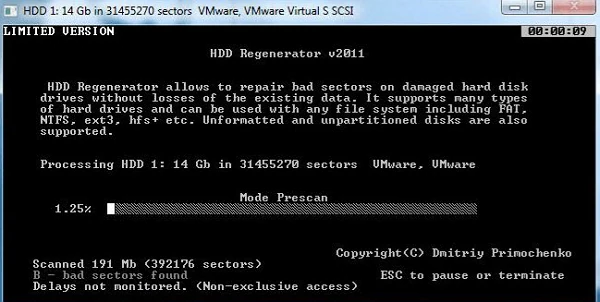 It is one of the best software to repair hard drive bad sectors that you can find online. HDD Regenerator can scan the hard drive for bad sectors and correct them if possible. If repair is not possible, you can at least some information stored on it with an HDD Regenerator's help.
Pros:
Allow repair damage that otherwise is not possible.
Ensure data security in bad sectors.
Easy retrieval of information stored on it.
Cons:
The free version can only repair one bad sector.
Expensive to buy the full version.
Flobo Hard Disk Repair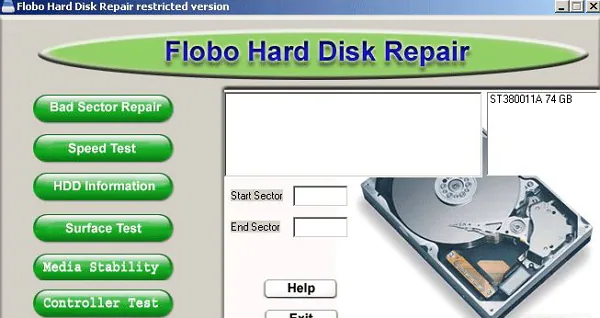 Flobo hard disk regenerator is lousy sector removal software that allows users to recover their hard drive. Flobo hard disk bad sector repair software makes the operating system of your computer working again. This utility creates a scan of the hard drive, shows the bad sectors, and predicts the hard drive failure. It monitors the health status of the hard drive and repairs any errors encountered. With the predictions about the hard drive failure, you will be able to save your data from being lost by making a backup at the right time.
Pros:
Repair hard disk errors.
Check the health status of the hard drive.
Accurate predictions about drive failure.
Suggestion for backing up data.
Cons:
Not compatible with the latest version of Windows, like Windows 8.1/10.
HDDScan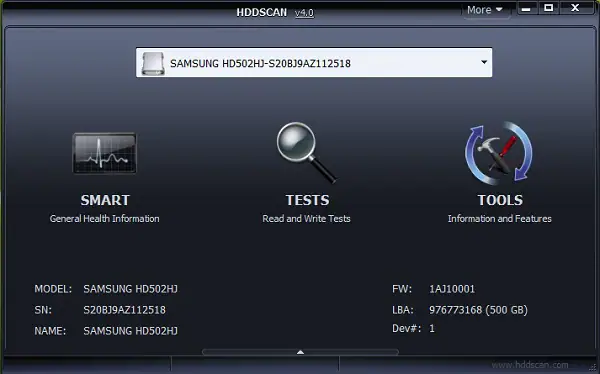 HDDScan utility is a hard drive diagnostics tool that you can use to repair the hard drive's bad sectors. When you work with HDDScan, you will perform a detailed check on the errors on the hard drive due to software problems. You can also perform a health check of the hard drive for degradation and predict possible failure. This will be helpful as it will help make a backup of your hard drive band to prevent permanent loss of the data.
Pros:
Supports a large number of storage devices.
Fast disk checkup.
Allow reading and analyzing S.M.A.R.T. parameters.
Compatible with the latest Windows 8.1/10.
Cons:
The simultaneous test may generate different reports.
Not reliable for checking USB drives.
Active@ Hard Disk Monitor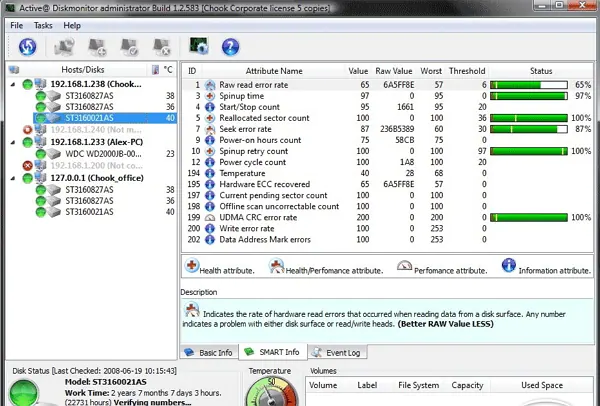 As the name suggests, Active@ Hard Disk Monitor is a utility software to check the hard drive's health status. It supports monitoring and displaying hard drive bad sectors. The temperature is also shown in it. The reports can be used to prevent data loss due to hard drive corruption.
Pros:
Remote monitoring.
Monitors temperature and makes a temperature graph.
Send email notifications about the condition of critical drives.
Straightforward to use and simple interface.
Cons:
The same license can't be used for more computers.
Macrorit Disk Scanner
Macrorit Disk Scanner is a disk checkup utility that checks the hard drive for bad sectors and marks the bad sectors. This is one of the fastest tools to scan for the hard drive bad sectors and supports many hard drives. It also supports portable operation, meaning you can check an offline disk by copying the tool to a USB flash drive.
Pros:
It supports many storage devices.
Compatible with all versions of Windows.
Selective scanning options.
Automatic saving of scan results.
Cons:
The free version supports limited features.
The unlimited edition is as expensive as $99.
Part 2. How to Recover Data from External Hard Disk?
The major problem with hard drive bad sectors is that it can make the data stored inaccessible, making it permanently lost. That is why you need MacDeed Data Recovery to recover data from corrupted hard drives, USB flash drives, memory cards, and others. This recovery tool has been the best software for recovering lost data due to accident deletion, storage corruption, virus infection, etc.
Why Choose This Hard Drive Data Recovery Software:
It is compatible with both Windows and Mac operating systems.
It supports many storage device types, including hard drives, USB flash drives, SD cards, etc.
All major types of files can be recovered, including music, images, video, documents, emails, and archives.
It has deep scan features for in-depth scanning of the hard drive for searching files to recover.
Easy Steps to Recover Lost Data from External Hard Drive
Step 1: Get Hard Drive Recovery Software
Download and install MacDeed Data Recovery on your computer. After installing it, launch the software.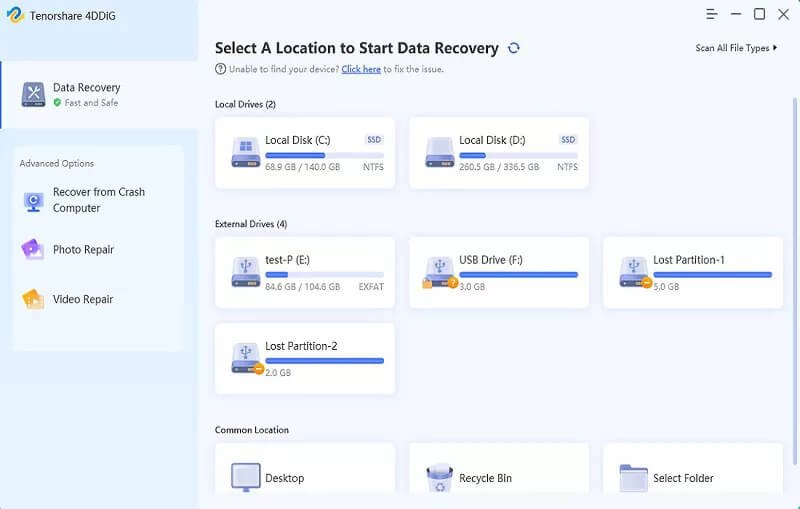 Step 2: Choose the Hard Drive
Select the drive from which you want to recover files and click "Start". This will start the scanning process. It is also possible to recover data from mobile devices if they support mounting the internal storage.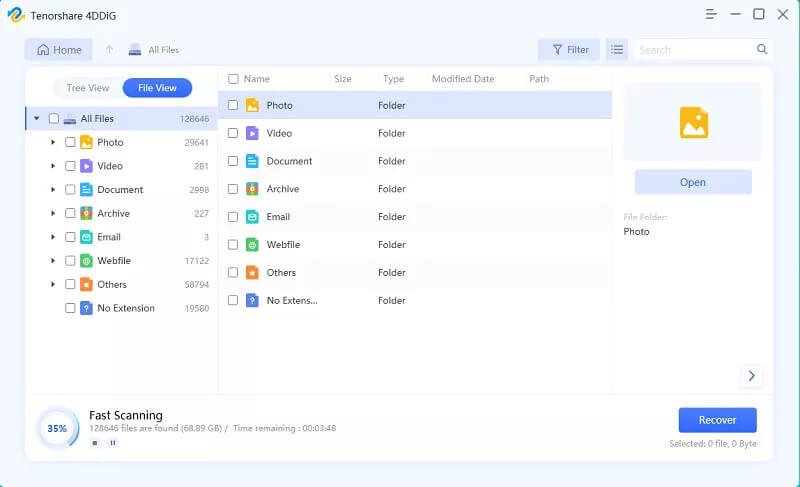 Step 3. Recover Data from External Hard Drive
Preview the files that are found on the drive for recovery. The results will have all the files like file type, name, and size in MacDeed Data Recovery. Hit the "Recover" button and select the location where to recover the file.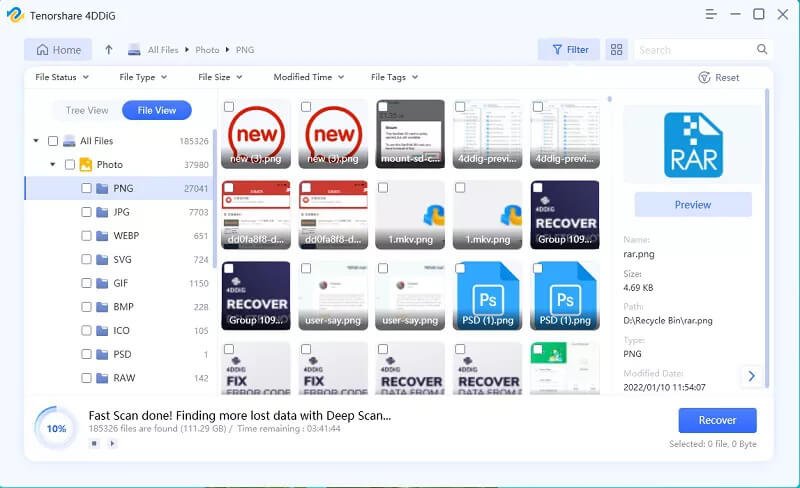 Part 3. How to Check and Repair Bad Sector in Hard Drive
In Windows, there is a built-in utility that allows checking hard drive bad sectors. It can also repair the bad sectors if they are not caused by physical damage or device failure. The tool's working is similar for all versions of Windows like XP, 7, 8, 8.1, 10 and Windows 11. Follow the below steps to check and repair bad driving sectors with the Windows built-in Error Checking tool.
Step 1: Go to My Computer/Computer/This PC as per the Windows version.
Step 2: Right-click on the hard drive you want to scan for errors and click "Properties".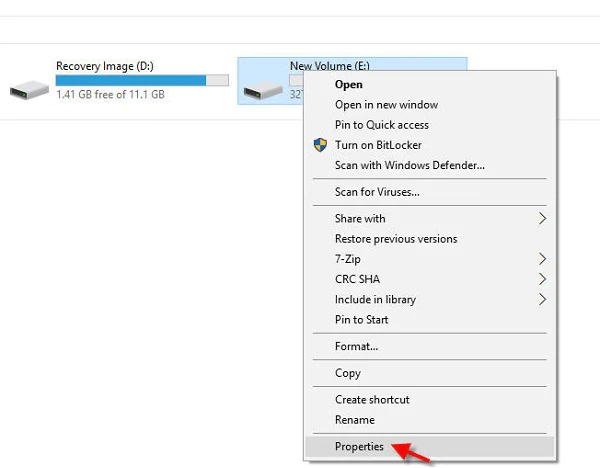 Step 3: Now, click on the "Tools" tab in the Properties dialog box.
Step 4: Then click on the "Check Now" button below the "Error-Checking" section.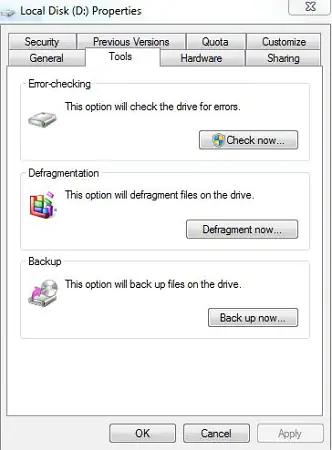 Step 5: Check both options in the dialog box that appeared and clicked "Start." This will start the scan and repair task.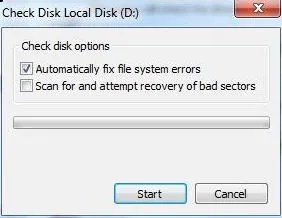 Close the programs and files in use on the drive which you want to check. This is because the Error Checking tool needs to dismount the drive before starting the checkup, and opened files can cause conflict with it. You can also schedule a disk checkup. Error Checker will automatically run the disk checkup when you boot the system the next time.
Part 4. The 5 Main Reasons May Cause Hard Disk Bad Sector
Virus Attack May Cause Hard Disk Bad Sector
Virus infection is one of the main reasons that can cause hard disk bad sectors. Many viruses can remove or modify system registries and file system tables. If they release a link to a file or folder from the system registry, it will become inaccessible. Viruses can cause logical hard drive bad sectors, but they can't damage the hard drive physically. Generally, repairing destructive analytical industries are more comfortable to remove, and for physical damage, you would need to replace the hard drive. Removing the viruses from the system will solve any lousy sector errors on your hard drive.
Sudden Shutdown May Cause Hard Disk Bad Sector
The hard drive uses physical parts such as drive heads to read and write the data on it. When the aim is active, it always moves from one location of the hard drive to another. If you don't correctly shut down the system, the drive head may damage the disk. Once the hard drive is damaged, the damaged part won't be available for reading and writing operations and cause bad sectors. Moreover, this type of physical hard drive bad sectors can't be repaired. They should be marked off-limits for write operations as the data may not be written and get lost. Blue Screen of Death error may also cause a sudden shutdown.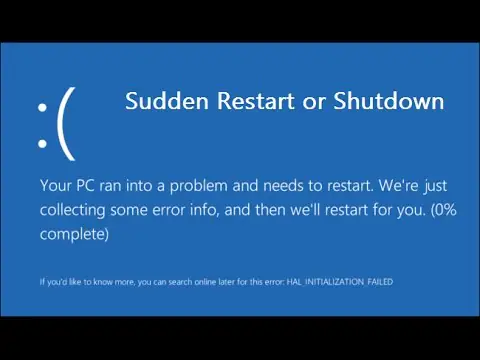 File System Error May Cause Hard Disk Bad Sector
The data on a hard drive is stored adhering to a specific design. The file system does the task of allocating space to a file, and an error in the file system can compromise the whole system integrity. Some parts on the hard drive may become inaccessible for reading and write operations. You can use the chad utility on Windows to scan and fix file system errors.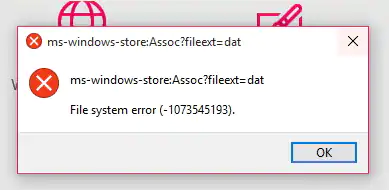 Excess Heat May Cause Hard Disk Bad Sector
Heat is the enemy of every computer component, and the same is the case with the hard drive. Hard drives are not meant to be used at high temperatures as the disk can get damaged. Moreover, it can damage other internal components in the hard disk. So, hard drive bad sectors can be caused by overheating, and if you don't want to lose data due to this, use the hard drive at optimum temperatures.
Age
Every hard drive suffers from wear and tear with use and has a fixed life. If you haven't replaced your hard disks for a long time, your data may be at risk. Hard Drive accumulates some damage over time, and this can cause hard drive bad sectors. The rate at which this can occur depends on how you use it, but it will give in someday. So it is better to keep a backup of your data so that it can be recovered in case your hard drive fails.
Conclusion
Now, you've learned more about 5 Hard Disk Bad Sector Removal Software. You can choose the right software according to your own needs. MacDeed Data Recovery comes with powerful functions to help you recover data from external hard drives. You can free download it and have a try.